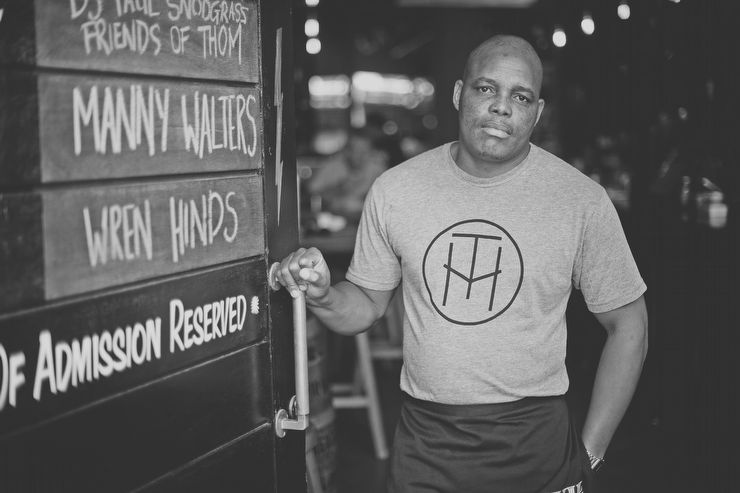 Barista Proflie: Professor X
When you hear the name "The House Of Machines" one does not think of a coffee bar. This immediately sparked my interest. Situated in the narrow Shortmarket Street in Cape Town, I quickly notices some mean looking customised Cafe Racer style bikes and I must admit I thought to myself… "surely this is a type of bar". But as I proceeded through the heavy wooden doorway I was greeted by the lovely coffee aromas, large smiles, not only from the the people behind the coffee machines, but from the customers too. I knew I was in a good place. After awhile I realised it wasn't because of my good looks I received those smiles, it was because everyone was relaxed and happy to be enjoying their breakfasts, wonderful cups of home brewed coffee and getting on with business and informal meetings. My photographer walks up to the counter and asks the first man there… "good morning are you the barista?" The man let's out a big smile and replies… "no, I wish thou." He then points to a man with a freckled smile standing behind him. This is the guys I had come to interview, this is the barista, and his name is X.
A man who lived and grew up in the Eastern Cape, X started his coffee journey in 2004 when he worked at Vida Cafe. I see him as the captain of coffee, with 11 years experience, you kind of know you will receive a coffee with a great taste of history behind it. X is greeted by all the customers with smiles, hand shakes and bantering style chatter. He is a well known man in the cafe, he loves meeting new faces and treating them to his specialty, the Flat White or his "Expresso Bon Bon" which has a strong but tasty kick, based with condense milk and topped with a single espresso you are bound to have an energy boost after throwing that one back. We were also treated to a great coffee called the "Bullet Proof" It is a mixture of coconut oil, unfiltered butter and coffee which is labelled with an interesting name "Evil Twin" beans. These are then thrown into a blender which creates the smoothest and creamiest coffee that I' have ever tasted. It has definitely hit my top 10 on the list of my favourite coffees.
I asked X if he had ever thought he would become a Barista, he laughs and says… "Never. I actually wanted to become a traffic officer believe it or not." Being in the coffee business for so long, X once tried to leave the industry, but he kept on finding more and more inspiration from others around him making coffee, so this has now become his career. He confesses that he never gets bored of making Cuppachinos, it is his passion to please his customers.
What is his favourite start to the day… "An espresso to give me that kick start in the morning."
X has been at The House Of Machines since its opening about a year and a half ago. It also became a "chop shop", as X calls it, for Cafe Racer style rebuilds. With a large glass wall at the back of the cafe where you can see the body of a motorcycle, and the rebuilds taking place, The House Of Machines is indeed an interesting place. A coffee shop, with a fully stocked bar, that offers live music and becomes a place of late night entertainment is certainly a place to be seen for Cape Town's locals.
I hope to see X opening his own coffee shop one day but for now The House of Machines are indeed privileged to have a man with his experience and his friendly demeanour serving their loyal patrons.
With a name like X, and myself thinking Professor X the whole time while I was interviewing him I just had to ask him one last parting question… " What super hero would you be?" X laughs hard and replies with a great smile… "Superman, of course"