The motorcycle and coffee cultures have always been intertwined and now more than ever we've seen a resurgence of the Cafe Racer culture.
We have
Wikipedia
to thank for this very brief intro to the term Cafe Racer.


"The term café racer developed among British motorcycle enthusiasts of the early 1960s, specifically the Rocker (or ton-up boy) subculture.
The term describes a style of motorcycle for quick rides from one "transport café" or coffee bar to another. Cafe Racers were also common in Italy, France and other European countries.
The café racer is a light-weight, lightly-powered motorcycle optimized for speed and handling rather than comfort. The bodywork and control layout of a café racer typically mimicked the style of a contemporary Grand Prix roadracer, featuring an elongated fuel tank (often with dents to allow the rider's knees to grip the tank), low slung racing handlebars, and a single-person, elongated, humped seat.
A signature trait was the use of low, narrow handlebars that allowed the rider to "tuck in" — a posture with reduced wind resistance and better control.
"

Two Durban gentlemen have undertaken to drive cross country on an epic cafe racer adventure to raise awareness and promote help for a very worthy cause. We wanted to know more so we set up an interview with Tim and Jason, the gentlemen in question.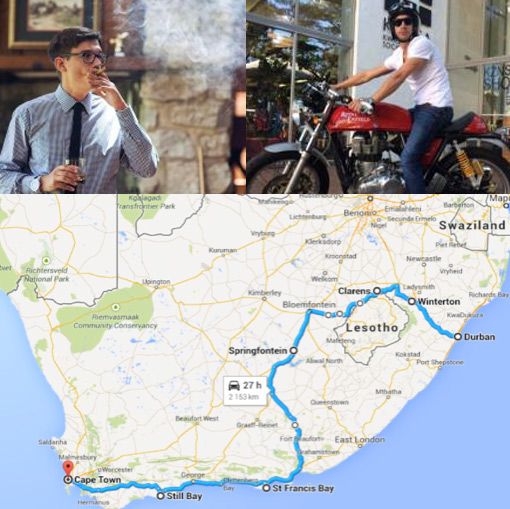 Full names:
Tim Mingay and Jason Mets
Motorcyles:
Tim: Black Royal Enfield Gt 535 Continental Cafe Racer
Jason: Red Royal Enfield Gt 535 Continental GT Cafe Racer
Describe yourself in 5 words:
Tim
:Adventurous, fun-loving, passionate, resourceful, creative
Jason:
Explorer, adventure, focused, compassionate, driven
How was this plan hatched?

Tim:
Over a beer, we decided we should hit the road for a bit of an adventure, a bike is fun around town but getting out takes it to another level and Cape town is the perfect destination, the other side of the country and that with our route will expose us to such a variety of scenery and places. The plan was to keep it simple, bikes, tents, explore, but once we decided to share the ride by blogging it along the way, partly for our mom's and partly for those like minded friends and fans, we figured the interest it may attract could be used to someone's benefit too, hence hooking up with HOLAH.
What is your connection to HOLAH?

Tim:
I had the pleasure of meeting one of the little guys who came from there, Sammy, (who has since been adopted) when friends would take him out for weekends. then when the time came for the company I work for to make a charitable contribution, I picked Holah and got to know Kim and Leanne and the work they do a little better.
Jason:
I was introduced to Holah through Tim and after our first meeting I realised what a great cause they are and how much help they need help in the way of sponsors. Seeing these abandoned kids waiting for a home was very moving for me and I would like to help well after our adventure is over.
How would you describe your relationship with coffee?
Tim:
Some days it's the only the thing I get out of bed for, and some days it's the only thing that gets me out of bed, but one of the things I'm most looking forward too and when I probably love it the most is early morning, sun shining, middle of nowhere, listening to the percolator bubble on the fire as that rich aroma hits, you know the next adventure has begun.
Jason:
I have always been a great coffee lover and about 2 year ago I read an article in the coffee mag about the Giotto Rocket V2 machine which I sourced through Deon at the coffee merchant. SInce then I use my machine which has become one of my prized possessions everyday to master the perfect cup of various artisanal coffees.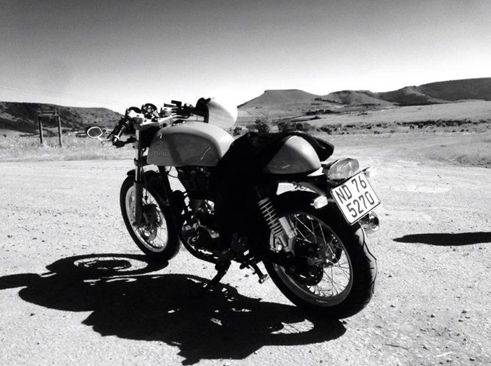 When did you first ride a motorbike?
Were you naturals or did it take some getting used to?
Tim:
I've been riding for years, my first own bike being a rusted old Yamaha 100cc called the Beemer which I inherited from my great uncle when I was about 15, It became a communal bike amongst my friends and ended up losing track of it somewhere along the way when a mates girlfriend immigrated and he ran out of petrol going to say goodbye to her... I have the scars to prove I wasn't a natural...
Jason:
I have always been a Vespa rider and only over the last few yearsI fell in love with Café racer culture. My Royal Enfield GT Continental is my first bike and Im sure its the first of many. Tim and myself both agree we will never sell our GT's but might invest in a Truimph Scrammbler next for more off road rinding adventure but in keeping with the classic café culture as done by Steve Mc Queen.

Why should people follow your adventure?
Inspiration, so much to do and see, and our modern lifestyles don't always allow this. Our trip is a reminder to everyone to remember to take some time and get out there, and help those in need where you can.

Technical question: you can't keep a spare tyre, what happens with flats on the road?
Tyre weld is a wonderful invention, fills the tyre up with air and gum out of a tin can, spare tubes to replace in the next town.
So a road trip across country is always going to be interesting personality wise, what would you say is your most annoying quality? And what do you think makes you a compatible travelling team?
Tim
: Sometimes my sense of adventure gets the better of my common sense and I need to be reigned in a bit. Jason is more level headed less of a risk taker so he can reign me in, that way we have an adventure but I don't have to admit anyone was right when we get stuck in the middle of no where, because I thought it looked like a short cut. Plus the added benefit of being on a bike, is when you get a little moody or the next coffee shop is miles away, its not like you have to speak to each other and things blow over.
Jason:
I can be very impatient at times and I think Tim is the same so we often take turns ranting and raving about certain issue with our bikes which invariably end in fits of laughter which really softens the situation so that we can come to a solution.
If you would like to support this
initiative please visit their blog.
For all the discoveries of their trip
follow them on facebook.