We got word from Alessandro Morrico of
Morrico Imports
this week that the Victoria Arduino Black Eagle has landed in South Africa! Dun dun dunnnnnnn! But who could it be for? This state of the art machine is worth a pretty penny and it would certainly make a very happy owner. And then today, World Coffee Events announced the Black Eagle would be the official competition machine for the next three years! Could the two stories be connected? Will the baristas of South Africa get a chance to work on this amazing piece of machinery?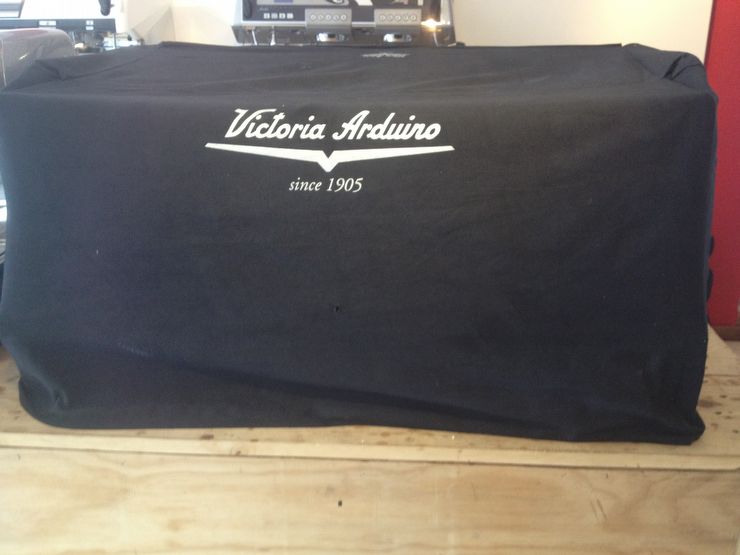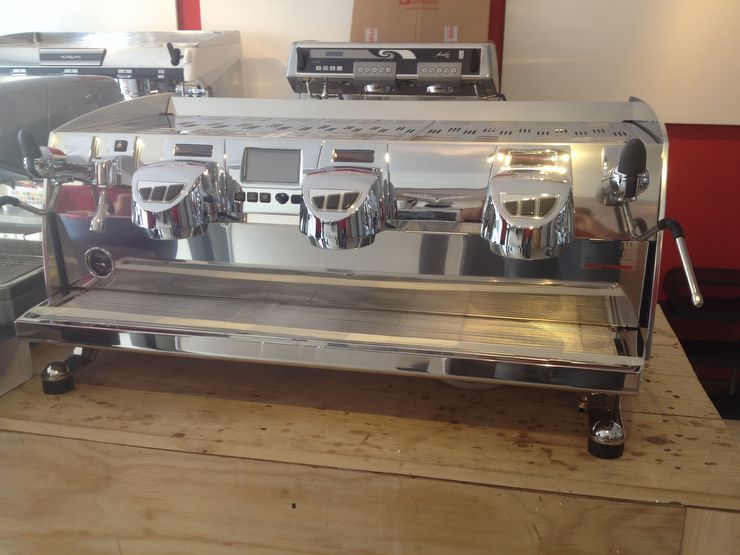 We were lucky enough to attend a talk with
James Hoffman on the Black Eagle in Italy earlier this year
.
OFFICIAL PRESS RELEASE FROM WCE:
DUBLIN, IRELAND (November 20, 2014)
– The World Barista Championship will visit the world's largest specialty coffee trade show, the SCAA's Event, April 9-12, 2015. With WBC's online reach of over 60,000 unique viewers and the massive onsite audience expected in Seattle, the 2015 WBC is planned to be the most watched in its history.
Once every 3 years, leading commercial coffee equipment suppliers vie for the prestigious opportunity to have products featured as the official tools used by competitors of World Coffee Events' competitions, including the World Barista Championship.
All candidates considered for equipment sponsorship must meet exacting technical standards set and tested by the organization, but only one supplier from each category may prevail as the official sponsor.
"Each of these companies shares a strong commitment to advance specialty coffee by supporting this premier [WBC] event," said Cindy Ludviksen, World Coffee Events Managing Director. "We are honored to work together with them for these next 3 years to pursue our common goal of promoting coffee excellence worldwide."
Official sponsors for the 2015 – 2017 World Barista Championship competition season are:
World Barista Championship:
Espresso Machine: The Victoria Arduino "Black Eagle" by Nuova Simonelli
Espresso Grinder: The K30 Vario, K30 Twin, EK43 by Mahlkoenig
Cleaning Products: EVO®Espresso Machine Cleaner by Cafetto
The 2015 World Barista Championship will take place at the Specialty Coffee Association of America's 27th Event in Seattle, USA, from April 9-12, 2015. For more information about the World Barista Championship and its Qualified Partners, visit www.worldbaristachampionship.org.
About World Coffee Events:
The World Coffee Events' mission is to develop events that engage the specialty coffee community and promote coffee excellence. Founded in 2011 by joint cooperation of the Speciality Coffee Associations of Europe and America, World Coffee Events is the premier producer of events for the coffee community and licenses national championships in more than 60 countries involving thousands of participants worldwide. For more information, visit our website at
http://www.worldcoffeeevents.org.
About Victoria Arduino:
Victoria Arduino is a brand that has made the history of coffee in the world and today it also represents the future. Since 1905 coffee machines with this brand combine the best technical aspect to a particularly elegant design. Continuing in combining perfectly aspects of functionality and design, today Victoria Arduino is enriched by the most innovative technologies and has also turned to the area of specialty. The VA388 Black Eagle, the new official coffee machine of the WBC, it's the ultimate expression of Victoria Arduino brand. For more info:
www.victoriaarduino.com
About Mahlkoenig:
Please visit Mahlkoenig for more information on their K30 Vario, K30 Twin, and EK43grinders (
www.mahlkoenig.de
).
About
Cafetto
:
Cafetto is a specialist manufacturer of cleaning and sanitation products for espresso, coffee brewing and dispensing equipment. Cafetto prides itself on innovative and thoughtful solutions always keeping abreast of customers' needs to ensure a clean machine every time. Get the best from your equipment, keep it Cafetto Clean.
For more information about the sponsors and their products, please visit:
Victoria Arduino: www.victoriaarduino.com, Mahlkoenig: www.mahlkoenig.de, and Cafetto:www.cafetto.com