We all know that the festive season can be tiring, wonderful but tiring. You've got to embrace every opportunity and party that the season throws upon you and the best way to do that is to keep good coffee in the house. Not only is it a win for you, but your guests will love you for it.

So if you have a palate that loves doing some exploring through taste sensations, then order a Discover Great Coffee Box and at the beginning of December a care package of deliciousness will arrive on your doorstep!

And as amazing gifting idea, why not buy your loved one a year's subscription to the Club? That way they get to taste 24 different coffees from around the country in 2015.





Below we let you in on a little insider info on the 6 incredible coffees on offer in the Festive Season Drop: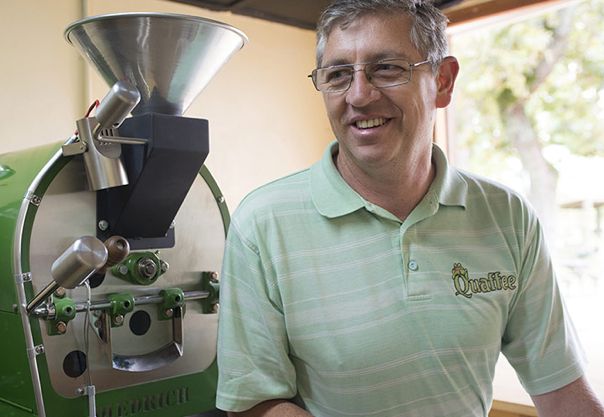 Quaffee
Constantia
Based at Buitenverwachting in Constantia Cape Town, Quaffee's Roastery sources pure Arabica coffee as direct as possible. Each coffee is roasted to a unique profile, to best expose each coffee's flavour.
With Africa being the origin of coffee and South and Central America having made it famous, Bunna is Quaffee's tribute to these continents. An African biased blend with a touch of a Central American to soften the bright fruity flavours of Africa with a little body. A coffee you can enjoy all day long.
---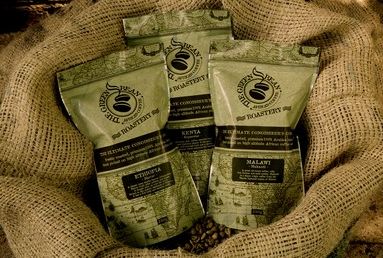 The Green Bean Coffee Roastery
Muldersdrift
A boutique roastery based at the Casalinga Restaurant and established in 2007, The Green Bean Coffee Roastery focuses on premium African Arabica coffees – both single origin and customized blends. Not to be confused with the Bean Green Roastery in Durban, this Roastery is one of very few "direct-to-consumer" coffee roasteries in Gauteng, which aims to bring the finest, "roast-to-order" coffee to South African consumers.
Tasting notes - a wicked blend of East African coffees combining the berry fruitiness of Kenya, with the smoothe, richer body of Uganda and the dark chocolate undertones of Rwanda. Great blend for pour-over and plunger coffee.
---

Heavenly Coffees
Centurion
Heavenly Coffees is a true family business. Owners Francois & Elsabe are ably assisted by their daughter Michelle, who started out in 2012 and were one of the first Coffee Roasteries to procure a Genio roaster with which to ply their trade. The St. Expeditus is a blend specially developed from Ethiopian and South-American coffees and it makes awesome espressos and cappuccinos.
---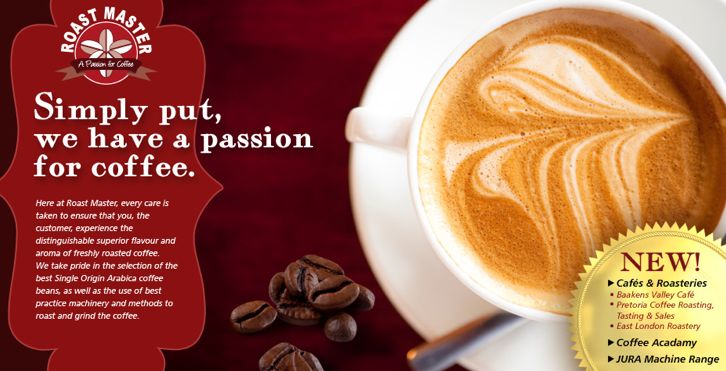 RoastMasters
Pretoria
Formerly known as San Francisco Coffee, Roastmasters has been roasting coffee since 1994. A company that strives to deliver a superior coffee and excellent service to their many clients, Roastmasters roasts 100% Arabica beans, only on order to ensure freshness. Based in Pretoria, this roastery caters for clients from individuals to large Corporate entities and Coffee shops, and they delivery nationwide.
---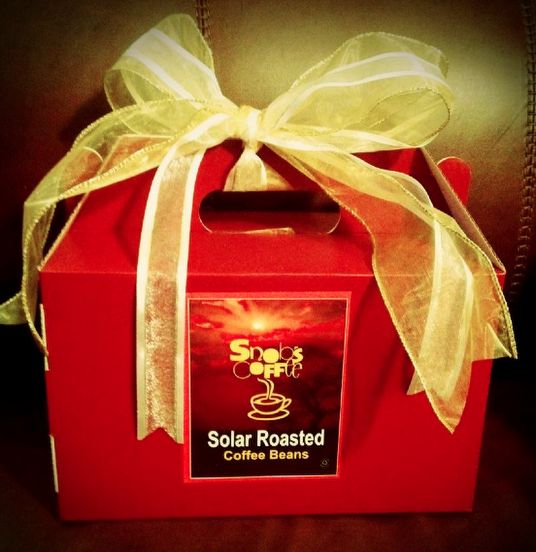 Snobs Coffee Roastery
Somerset West
Snob's Coffee – Solar roastery: This roastery is unique and like no other around. It uses Coffee-Tech Engineering's infrared roasters, powered by Solar Energy to produce a clean coffee taste. The roasted coffee is therefore "green" even though its roasted to perfection.
Coffee: India Monsooned Basanally roasted to a Full City roast is medium to full bodied
It has a promounced dark chocolate taste with spicy, nutty undertones and clear cardomon notes.
---

Coffee Unplugged
Coffee Unplugged are roasters & blenders of green beans. Started by Matt Abelheim in 2004 at the Rosebank Flea Market, this little gem of a company quickly progressed to roasting their own beans and moving into premises in Corlett Drive. They are now situated in Kyalami and have customers as far north as Namibia and as far east as Mauritius.
With business Partner Yisroel Stein, Matt continues to grow the business and currently represent some exciting new brands in South Africa like Magister Traditional 1 and 2 group Machines, Cunill Coffee Grinders and Caffe CostaDoro Italian Coffee.