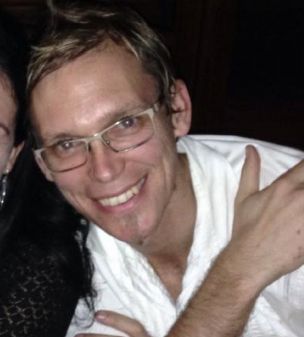 By Steve Evans
---
Some people have all the luck…in my case, it was an opportunity to join the
Origin Barista Training Program
run by Bilbo Steyn, a well known coffee professional based in Cape Town. The intensive 3 day training course serves primarily to support the businesses that stock and serve Origin coffee, and to ensure a uniformity and consistency of their product in our beloved coffee shops around South Africa. But while this is only the beginning, its actually also the end – lets rewind!!
A long, long time ago, whilst still in my youth, I spent a lot of time playing sport in Europe & Australia, and fell in love with coffee and coffee culture. Perhaps it was the allure of the sweet and sensational coffee aromas that would captivate your senses whilst walking down the high street, or perhaps rather the safety and anonymity of a sidewalk table from which to watch the world pass by? Either way it was the start of a coffee journey that is best described like Alice's journey down the rabbit hole into Wonderland, or perhaps like the line from the Eagle's song Hotel California, "You can check-out any time you like, But you can never leave! "
In the South African context, my "coffee love" was a little more hit and miss, always being able to tell when you'd had a good coffee, but not really knowing why or how? I eventually settled on the definition of a good coffee being determined by how little sugar you might have to add to make it palatable! So whilst much has changed, and the standard of coffee here is evolving, in the context of my personal evolution, I now know what I'm tasting, and can spot a few telltale signs of a poorly trained barista, where an order for sparkling water is perhaps a safer option.
The turning point for me in my coffee journey was about 2 or 3 years ago when I was doing some due diligence for TheCoffeeMag with my brothers, and my wife gave me an Origin Home Barista Training Course as a birthday present. What that course did was give a little context to the coffee industry, to the rich history of how the coffee plant was "exported" round the world by sailors, explorers and traders, and to the various facets from seed to bean to cup. The depth of the industry still amazes me to this day, and I find it most fascinating yet not surprising that it is the world's second most traded commodity after oil. From a coffee brewing point of view, the Home Barista course was very insightful, helping me to understand the basic metrics of "alternative" brewing methods, and how to get the best out of my Moka pot, Aeropress and Plunger which I still use extensively to this day. On the espresso side, I did have a good chuckle, trying to apply the golden rule of 18g ground coffee, 60ml extraction in 25sec on my little entry level Breville, using a full bag of beans and literally being "high" on caffeine for the better part of 24hours! Through extensive experimentation (and Youtube), I since learned that how the shot runs visually is usually the best indicator of a good extraction. Fun and games aside, its been a cool journey of discovery, particularly regarding taste and flavour, and breaking my preconceived perception that coffee is black and bitter stuff that all tastes the same, that people drink only for the kick.
So enter Bilbo & the Full Barista Training Course at Origin. The three day course literally blew my mind, and would be a strong recommendation to any serious "Home Professionals" aspiring to coffee greatness. The course was split into three parts, namely History & Theory, Espresso Preparation and Milk Manipulation, and finally pulling it all together in a mock Café environment.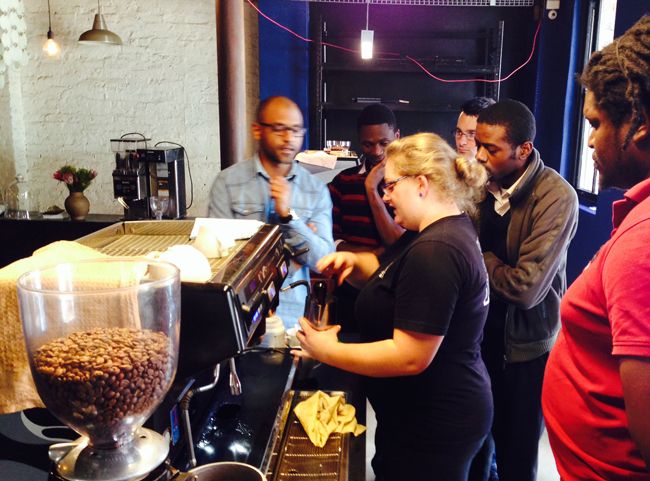 The classmates and the master: Imran, Antonio, Gray, Stephan and Cameron
Aside from the obvious benefits of being trained to work to industry standard in a cafe environment, the course opened my eyes to so many new facets of coffee that I had never really previously considered that important. In particular, how the cultivation, harvesting and processing affect your green beans (think terroir and wine!) and then the thermo-dynamics of the roasting process that play such an important part in being able to extract a flavourful espresso shot that does justice to the entire process! So fortunately as a consumer, we're pretty oblivious to these first two parts of the process, and trust that our local specialty coffee shops and roasteries know their stuff. Also a word of warning…specialty coffee is technically classified as being the top 7% of traded green beans, where they are of known origin, varietal & type and are therefore only available and sold in small microlots.
They say knowledge is power, and it has been amazing how having a deeper understanding of the type of taste profiles that are typical of a particular region, or how the processing of the bean affects the flavour notes, empowers you.
On the technical side, espresso preparation and milk manipulation is all about consistency & technique. As you develop your knowledge of your grinder and espresso machine, you are able to apply it to your extraction, and can start to play around with the variables to get the best out of your beans & maximise your flavours. On the milk side, with practise and experience, you'll be pouring latte art (rosettas, hearts and tulips) in no time...sorry Bilbo!
The final part of the course was our pressure test (think Masterchef) where we simulated working as a team in a busy café environment with all sorts of tricky orders being placed to keep us on our toes. The pressure test was a great reminder of how much we take for granted as a consumer, and how important consistency is to keep our customers happy and coming back for more. Bring on the next dinner party!
Finally, whilst this is end, its actually only the beginning of the journey, and this knowledge will form the basis of my continuing coffee journey & certainly one of the best investments you might make. Many thanks to my classmates, Imran, Antonio, Gray, Stephan and Cameron, and to our "barista momma" Bilbo for her patience and encouragement.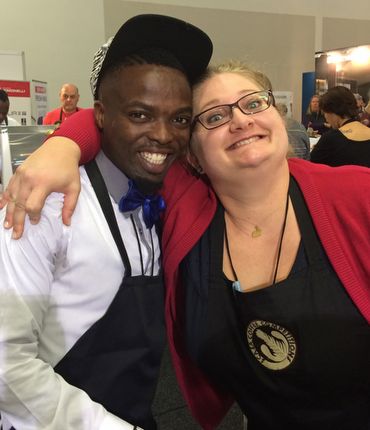 Barista Mamma extraodinaire! Bilbo pictured here with Luyolo from Hazz at the recent Western Cape Barista Regionals
.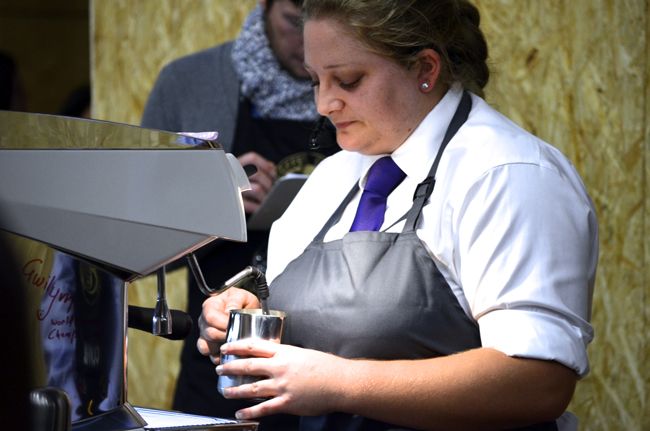 Bilbo has years of competition experience, she has so much knowledge to share
.