By Iain.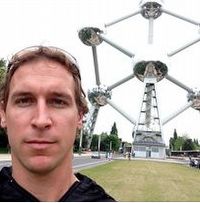 ---
Amsterdam - a city of contrasts. A city of crazy people, with crazy bikes whizzing everywhere and despite so many tourists and the hundreds of outlets that cater for them, not too many really good coffee bars or roasteries. Lot's of "Coffee shops" but in this city, that means something completely different!
There are two resources that you can use to find good coffee in this part of the world. The one is a book, called the Belgium and Netherlands Coffee guide and the other is word of mouth. We started with the word of mouth option. Our new friend, Michael, from Creme de La Creme in Belgium (
see this blog for more on him
- he's awesome!) advised us to find two places in Amsterdam: Head First Coffee Roasters, and EspressoFabriek. Michael is SCAE level II barista and an International judge, so we took his word, and his regards along with us. "Hi, there guys - Michael sent us all the way from Belgium to taste your coffee" will get you amazing service and extra care - that and and producing a copy of TheCoffeeMag and just chatting about coffee in general.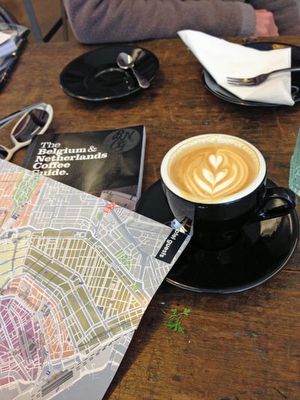 The Belgium & Netherlands Coffee Guide.
The difference between the book and word-of-mouth- options is that neither of the above two places are in the book! Well, EF is, but in a different location - even though it's the 2012 edition. Word-of-mouth is always up to date! The book is published by
Allegra publishers
, the same guys that do the London, New York and Vienna Coffee Guides - and the foreword is written by
Kees van der Westen
. For those of you not familiar with Kees, he is a very famous coffee machine designer - with a range of Espresso machines under the Kees van der Westen name like the Spirit, Speedster and Mirage - absolutely beautiful machines and highly regarded, the world over.
Kees is based here in the Netherlands, and so not surprisingly many of the best espresso bars have his machines. But back to the Coffee bars - So Head First Coffee Roastery is a very cool spot located in a very trendy, not so touristy neighborhood and run by two guys Lex and Jonathan. It's a very hipster type coffee bar - minimalist furnishings and sharing a space with an antique dealership. They don't roast on the premises and in fact are looking to move to a new venue soon, so they can roast and serve coffee in the same place. Their coffee was incredible. They use a La Marzocco Strada for their espresso and you can also have pour-overs.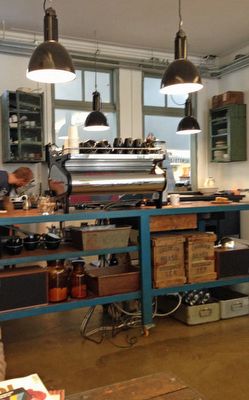 The La Marzocco Strada at Head First Coffee Roasters.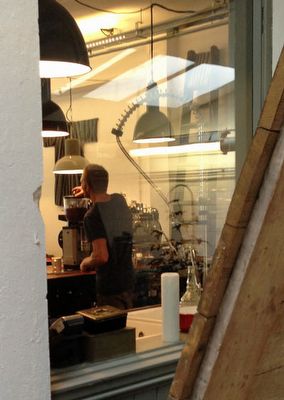 That's Lex, one of the duo that runs Head First.
He used to serve coffee from a converted Volksiebus turned mobile coffeeshop
!
Next we headed about an hour out of town to the Westergasfabriek to find Espressofabriek. This is nowhere near central Amsterdam, so locals only.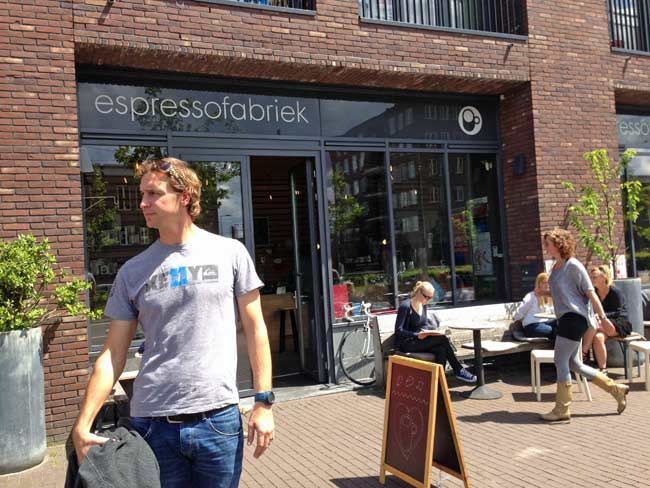 Sunshine is a rare commodity - much like quality coffee in the inner city.
Thankfully there's Espressofabriek.

It's in a pretty new neighborhood on the marina, and also run by two cool guys. They do manual methods too, which I tried, but the espresso from the Kees Mirage lever machine was miles better.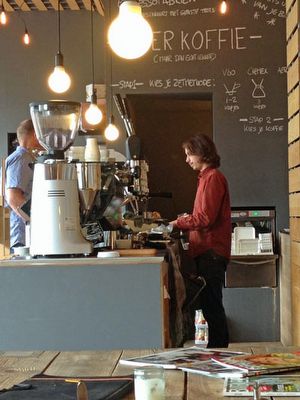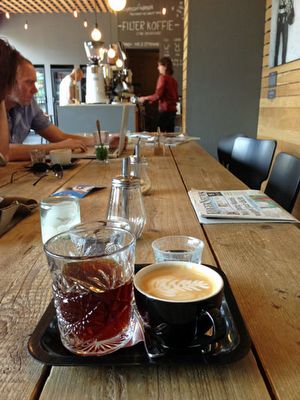 I tried the Panama as a pour over. Even the baristas weren't that impressed with it. The house blend espresso in the cappuccino, however, was pretty amazing.
They also have a roastery - not on the same premises. They had a range of single origin coffees - Brazil, Ecuador, Panama and Ethiopian Sidamo and their house blend for the espresso.
We then headed back into town, with some more word-of-mouth tips. "If you ignore the snobby decor, you can really get good coffee at Screaming Beans" said Lex. Snobby decor it was - someone had clearly sunk a couple of millions of Euros into this place - with 2 Kees Van Der Western Mirage Lever machines AND a speedster!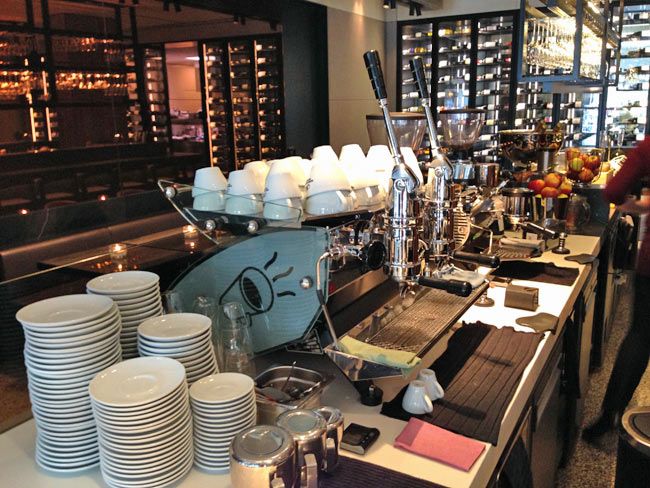 The Kees van der Westen Mirage with custom Screaming Beans logo on the frosted glass. They had TWO of these...and...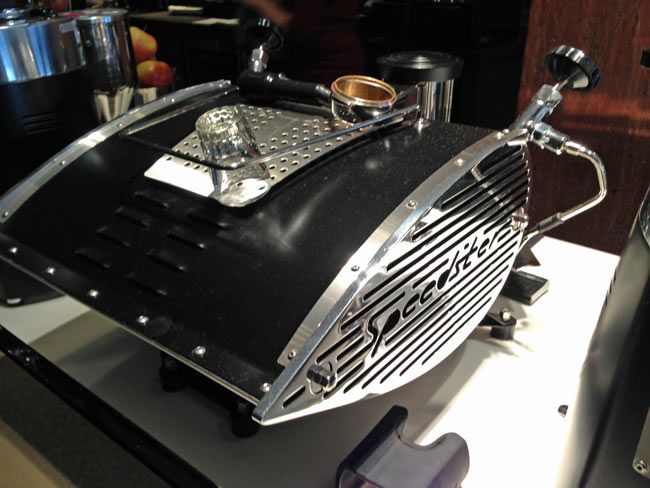 ...this Speedster right next to them. Now that's just showing off.
They have over 250 different wines from all over the world, a full time sommelier, a chef trained in a Michelin-starred restaurant. All their baristas are at least SCAE level I, but the main guys are all level II. Very good food, coffee and wine! They are in the book, and were recommended!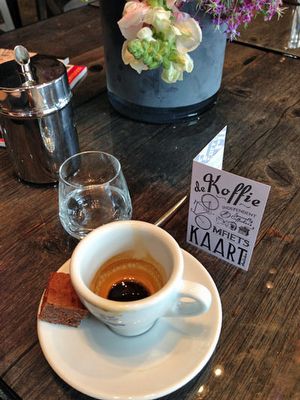 Excellent espresso from Screaming Beans, in a very posh setting!
We picked up a cool little loyalty card from Screaming Beans - basically if you get a stamp from all of the shops, you can hand in your card and get a free coffee too, so these shops are collaborating and obviously have similar high standards - again, most of these were not in the Coffee Guide book.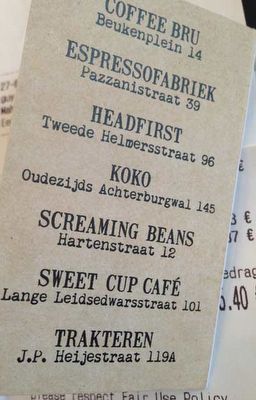 The loyalty card from the photo above, showing the 7 cafe's that are collaborating.
Our last stop before leaving Amsterdam was from the book - a place called Two for Joy. It was one of the few places where the coffee is roasted on-site. They also had a brand spanking new Mirage and the coffee was excellent!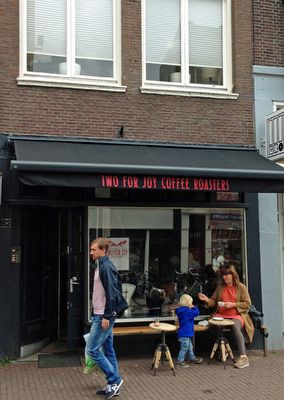 Two for Joy.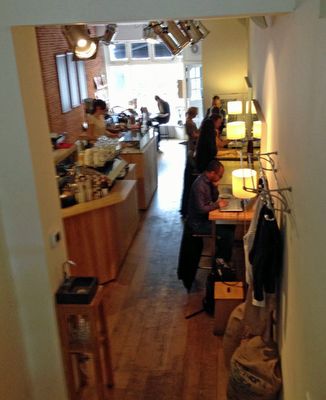 Inside the Cafe
..
.it's narrower than it looks!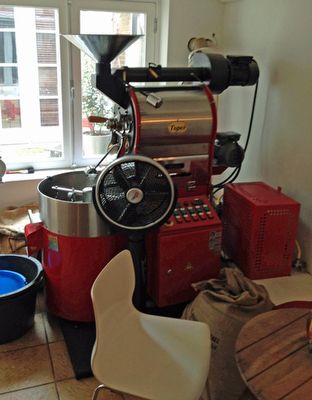 The Toper Coffee Roaster at Two for Joy, located downstairs from the cafe.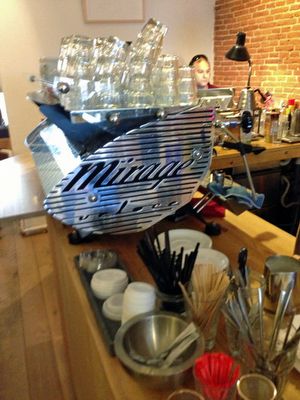 Beautiful machine. Beautiful coffee.
Goes to show that with freshly roasted coffee, good equipment and passionate baristas, you're almost certain to get great coffee.
My advice to travelers to Netherlands and Belgium would be to reference the book to get an idea of what's in the area, but definitely chat to the baristas because some of the info could be out if date, shops seems to open and close, or at least move quite frequently and a recommendation from a local barista or roaster in the area always goes a long way!
Enjoy.