By Jessica Steele
---
Ubuntu Education Fund
is guided by a simple, all-encompassing, yet radical mission: to raise Port Elizabeth's orphaned and vulnerable children by providing them with everything that they deserve.
Working within the heart of the city's townships, we developed a innovative poverty reduction strategy that has been recognised by leaders in the development sector from President Bill Clinton to the World Economic Forum. The Ubuntu Model is rooted in four guiding tenets--individualised cradle to career care, focus on the depth rather than the breadth of impact, sustained institutional investments, and committment to community partnerships.
Standing alone, they generate small but significant changes in the every day lives of South Africa's poor. When implemented together, these household stability, health, and education initiatives will profoundly transform lives. The integration of these programmes is what makes the Ubuntu Model unique; it's what makes our impact transformative.
Launch of the Barista Program:
The Ubuntu Barista Programme was launched in February 2014, in partnership with
Urban Espress Coffee Co
. The barista program is one of three vocational tracts offered in the Ubuntu Pathways programme, which equips young adults between the ages of 18-28 with employability skills in order to gain access to the world of work and stabilize their families.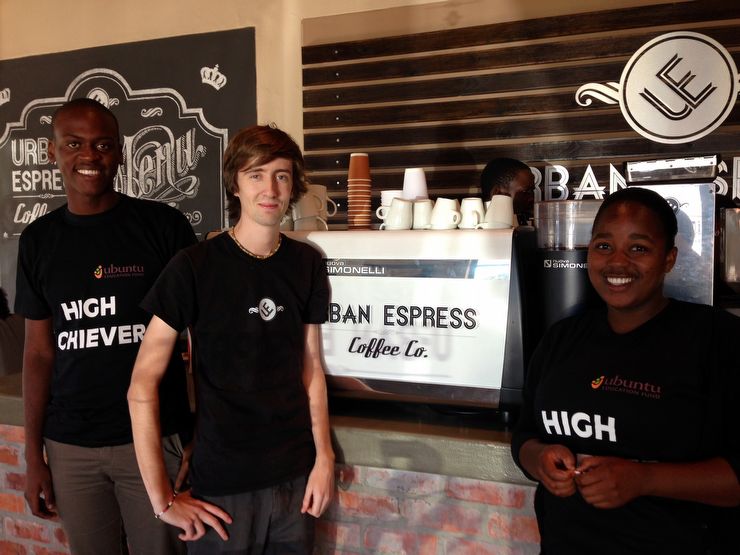 Byron, Urban Espress Coffee Co's Head Barista and Trainer with the two winner's of the Ubuntu Education Fund's first Barista Competition. Left to Right: Momelezi Noyazi, Byron Keet, Cwayita Sizani
Ubuntu identified a gap in the Eastern Cape market for passionate, well-trained baristas and approached Urban Espress about forming a partnership which involved Donovan spending 8 weeks on site, in Zwide, training the programme's administrator and the young adults that were enrolled in the program.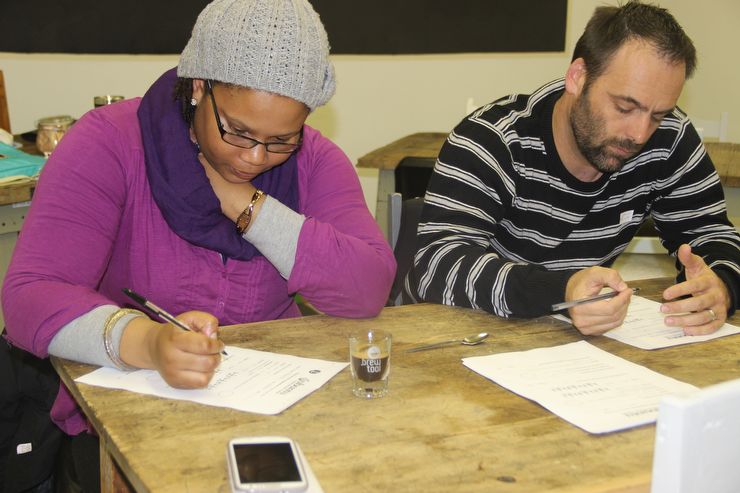 Phindiwe Mtyobo, of Ubuntu Education Fund and Donovan McLagan of Urban Espress, judging the barista trainees, using a scaled down version of the WBC scoring sheet. Candidates are judged on their espresso, cappuccino and technical. The winner(s) are offered an 8 week learnership with Ubuntu, in conjunction with Urban Espress to further enhance their skill set.
Ubuntu's training facility features a
9Bar Espresso machine
and a
Nuova Simonelli
grinder and uses beans from Urban Espress. The training room is affectionately referred to as the Cradle to Carafe and serves as practical exposure for trainees and interns alike, as they serve Ubuntu staff and visitors.
At the culmination of the 8-week program, barista candidates compete in a scaled down version of the WBC Barista Competition being judged on their technical, espresso and cappuccino. The winner(s) of the competition enter into an 8-week Internship, which splits their time across Ubuntu's Cradle to Carafe and Urban Espress' shop in Walmer. Ubuntu Barista Interns then run the Cradle to Carafe, as a student initiative, in which they hone their barista and customer service skills by serving staff and visitors to the center. Perhaps the most exciting part is that their internship at Ubuntu allows them the opportunity to impart their knowledge and passion onto the next round of young baristas.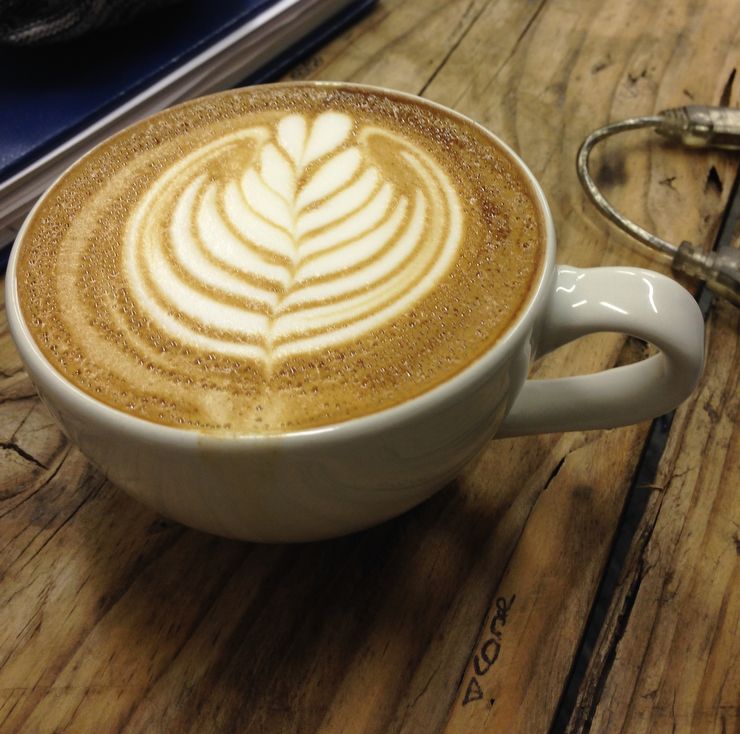 Single cappuccino, with exquisite latte art, made by Cwayita Sizani, at Ubuntu's Cradle to Carafe, which launched in July 2014, in Zwide Township. The Cradle to Carafe is exclusively a training facility for Ubuntu's barista candidates and interns. Staff are encouraged to use the facility for meetings and independent work, as they might a local café, in order to provide baristas with the practical experience of serving customers and flexing their barista abilities. NB: We do NOT sell coffee to the clients whom we serve, nor do our staff pay for their drinks—its "staff perk" as the intention is for the café to be operated by our baristas and is practical learning environment.



If you're interested in reading more about Ubuntu and their work visit: http://www.ubuntufund.org and if you'd like to visit, hear more and speak to someone directly you can contact nozibele@ubuntufund.org