The First Batch Delivery of The Discover Great Coffee Club has landed! On Friday morning our first Club Members woke up to this: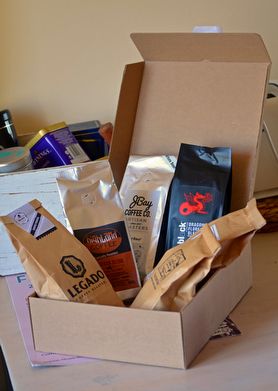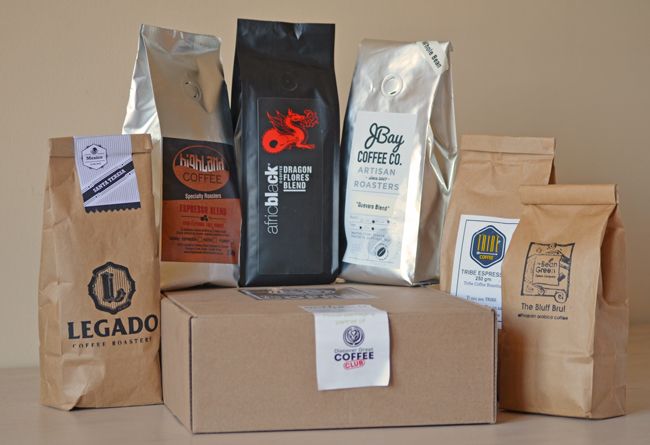 We've already got our next batch of Roasters lined up and rearing to go. It's time to meet the new guys and
if you haven't signed up yet, do it now.
You're really missing out. Ask our happy members!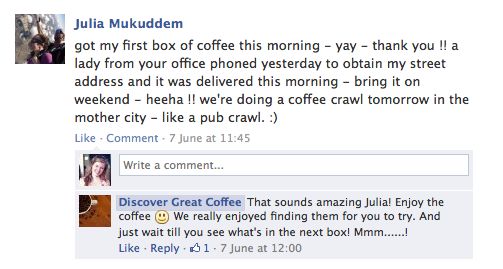 And of course the first thing one does is to boast about it to all one's virtual friends :) Thanks Gavin Leask and Gareth Pietersen - the most popular people in the office, as a result!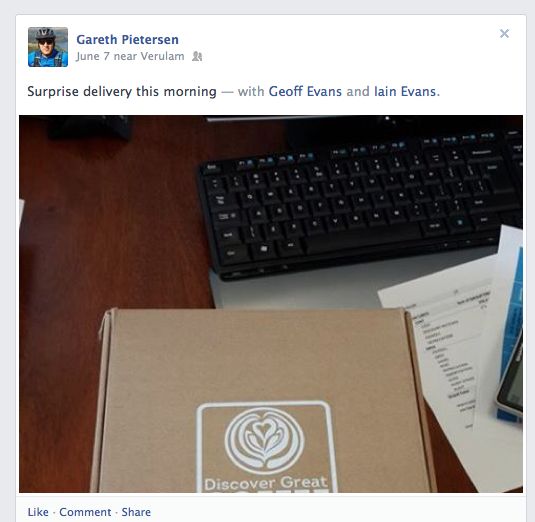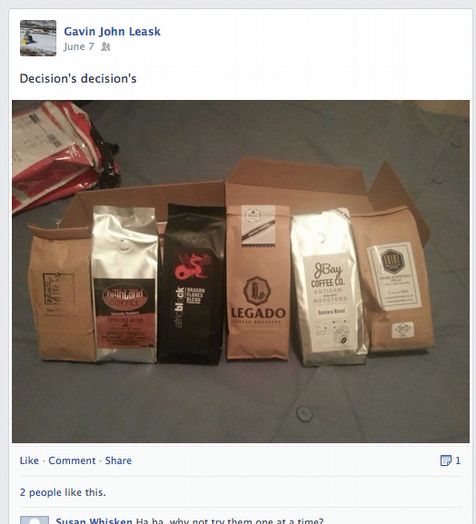 Our Club members received their freshly roasted coffee beans last week via courier which we sourced from some of the best independent Roasteries from Clarens, Stellebosch, Cape Town, Durban, JBay and Joburg.
If you missed out on the first drop, you can sign up now to receive the next delivery which will be on
3rd September 2013
. This is a great way to sample the best of what local South African Roasteries are producing, so if you want to serve something special in your home, or share a great coffee experience with colleagues in the office,
then join the Discover Great Coffee Club now!

The Second batch. Delivery 2 : 3rd September 2013.

Doubleshot (Braamfontein, Johannesburg)
Malawi single Estate: Satemwa -
Direct trade from Seed to cup! Direct from Alex's estate in Satemwa, Malawi, this reserve lot is exclusive to Doubleshot. A firm favourite and the backbone of Doubeshots offerings. The bean is big, bold, chocolaty with mild acidity and makes extremely punchy cappuccinos. This is a milk based coffee! It was voted best coffee in JHB by Finweek. This coffee is UTZ and Rainforest alliance certified. The estate is world famous for its progressive practices ( both in growing and labour management) and high quality offering.
Homeground (Grahamstown)
Homeground Signature African Blend.
The Homeground signature African blend is roasted in Grahamstown, The City of The Saints. According to it's Roaster's "This coffee's got soul!" and is Grahamstown's answer to top quality Specialty coffee. Homeground uses their sister company Bean Addiction to source their green coffee beans from Sustainable Harvest Coffee Importers. This coffee is designed to allow you to "Enjoy the Homeground Advantage." which according to everyone in Grahamstown is something very very special indeed. Enjoy!
Colombo Coffee & Tea (Umbilo, Durban)
The AGGRESSIVE CHOCOLATE ESPRESSO BLEND
This is one of the most in-demand coffees on the East Coast, with restaurants, cafe's and businesses favoring it for their customers. As the name suggests, one can expect Cacao nibs, floral-sweet vanilla & cinnamon notes from the Sul De Minas, La Varsovia and Yirgacheffe combination. Kyle Fraser and his team at Colombo Coffee & Tea have created an iconic blend, which as is well marketed as it is delicious. If you haven't tasted Aggressive Chocolate yet, you're in for a treat!
Baruch's Coffee Roastery (Mossel Bay)
Baruch's Espresso Gold
Arahon Baruch's and his Roastery in Mossel Bay are one of the highlights of any Garden Route trip. Baruch's only use 100% Arabica beans and has been roasting for over 10 years.The description of this coffee from the man himself: " In the Espresso Gold we get south American beans from Guatemala, Colombia and Brazil. I roast these beans with our drum roaster to a secret spot between dark and medium - a full city roast. It has a full body taste a wonderful aroma and excellent crema.
Aroma Gourmet Coffee Roastery. (Pretoria)
Ethiopian Sidamo.
"Anybody that tries this Ethiopian coffee is bound to fall in love with it just like we did." says Head Roaster Rael Shiller. Having complex citrus, candy apple and chocolate notes, you will be amazed by these strong flavors that are present in the cup. This Sidamo a personal favorite single Origin coffee from the Team at Aroma. Brew this coffee when you need some time for yourself. Enjoy all the complexities this coffee has to offer.
ROUVIERE'S PREMIUM BLEND
(Sedgefield)
Husband and wife team, Moller and Lize de la Rouviere are another fixture on the Garden Route, supplying Gourmet coffee to the local trade and directly to the public on Saturday mornings at the Wild Oats Market outside Sedgefield. This coffee, the Rouviere's Premium blend, is made up with India's flagship Mysore Nuggets as base, folded into organic Honduras, Ethiopian Limu and a touch of Columbian coffees. A connoisseur's choice.