Gordon Ramsay loves South Africa. He's run the Comrades five times. He's going to be a guest judge on the next season of Master Chef SA and he keeps coming back to spoil audiences at The Good Food and Wine Show.
And South African audiences certainly love him. The crowd went wild as chef Gordon Ramsay joked and charmed his way through a mouth-watering three course meal. Lightly crumbed salt and pepper squid and crayfish on a vinaigrette of fresh citrus fruits. Creating a rub from instant coffee (eek, Gordon! but he did say fresh ground coffee also works), sugar, chilli flakes and a number of other delicious ingredients. Topped with a fresh made chimmichurri, served with a new potato, wild mushroom and shallot fry up lathered in butter and garlic and a creamed spinach with a hint of nutmeg. Finally an apple and pear tarte tatin.
This man is not afraid of butter or chilli or salt. This is our kind of cooking! We left hungry, but extremely happy and excited to try some of his tips at home, using freshly ground coffee of course!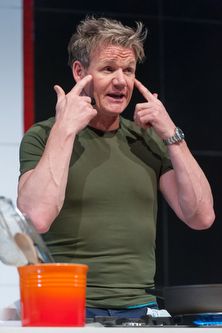 Photo credit: Jurie Senekal
Thank you to
The Good Food and Wine Show
and
Checkers
for pulling out all the stops and making it a delightful culinary experience.