If you want to watch and support Lovejoy at the World Barista Championships tomorrow morning at 06h40 South African time (it's early, so be prepared with coffee in hand!) check this link: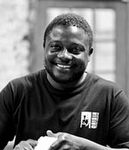 Lovejoy Chirambasukwa, from Origin Coffee Roasting, representing Southern Africa!

There is a live comments feed - so it would be great to have as many South Africans tuning in and sending their support to LJ.

"I am the lead Barista and Assistant Trainer at Origin Coffee Roasting in Cape Town, South Africa. I am originally from Zimbabwe, and have been living and working in South Africa for the past 5 years. Coffee and the serving of coffee to clients has become the passion that drives me to work even harder, to learn more and experience all the joy and information that the coffee industry can impart on me. Coming to the Worlds and representing my adopted country is a massive stepping stone for me. I hope that it will open new and exciting doors for me, and the people I engage with on a daily basis." LJ.
@LovejoyLJ on Twitter
Lovejoy Chirambasukwa
on Facebook.