Saturday the 7th of May heralded the inaugural meeting of the Midlands coffee club at Terbodore Coffee Roasters in the KZN Midlands, with all in attendance being left in awe as well as highly caffeinated after Bulwer resident; Johan Smal had demonstrated his miniature drum roaster.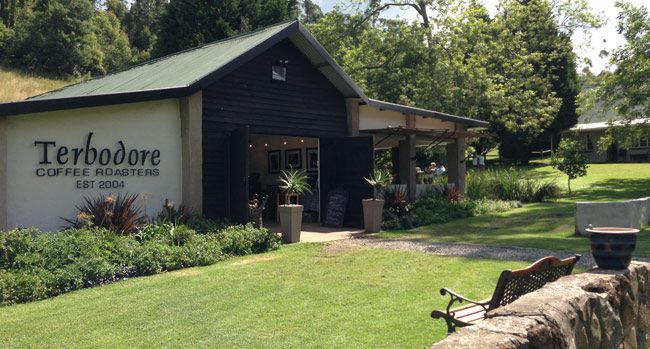 Johan started work on this ingenious labour of love after traveling throughout the South American continent bouncing from coffee plantation to coffee plantation with his wife. This enviable journey led Johan, a self-confessed former instant coffee drinker to question the age and quality of the soluble granules that one can buy off the shelves. Needless to say, after a little research he wasn't impressed with what he discovered. He then began reading into the mechanics of drum roasters, observing the machines at work, taking countless pages of notes, and talking to those familiar with the intricacies of the machinery of the roaster and began to conceptualise a design for his portable miniature roaster.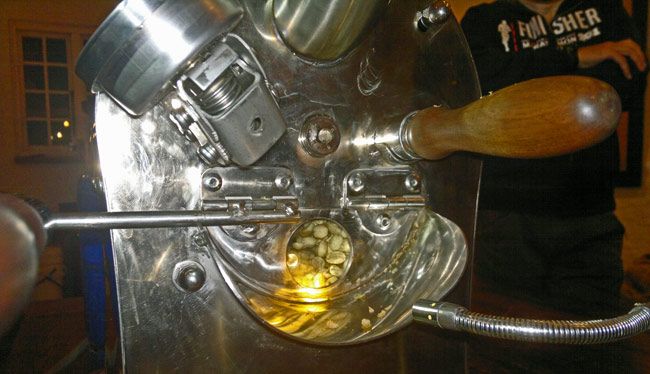 Some of the unit, which Johan has dubbed the Mk 1 is comprised of repurposed items, ranging from an upturned Bain-Marie tray to form a base, and a section of exhaust pipe that acts as a channel through which chaff from the roasted beans escapes through with the help of a fan. The body of the machine itself was designed by Johan, who then had it engineered in Durban. The aforementioned fan to aid in the removal of chaff also serves the dual function of speeding up the process of cooling the roasted beans while they sit in the cooling bowl.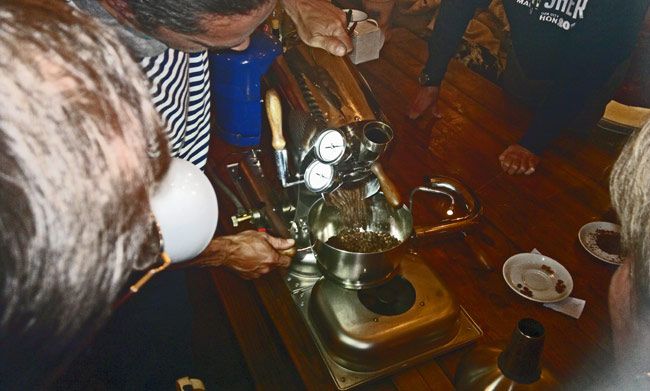 The small, but surprisingly powerful fan pulls 138 cubic feet/per minute of air through the freshly roasted beans, making them cool to the touch after little over a minute, (the fan is highly adjustable to make for very accurate temperature control) Johan says that despite the odd rattle or squeak emitted from the unbelievably small machine it is able to ascend from 0 to the 165 degree drop-in temperature in little over 10 minutes, and the drop-out temperature of 200 degree's was reached in about 20 minutes.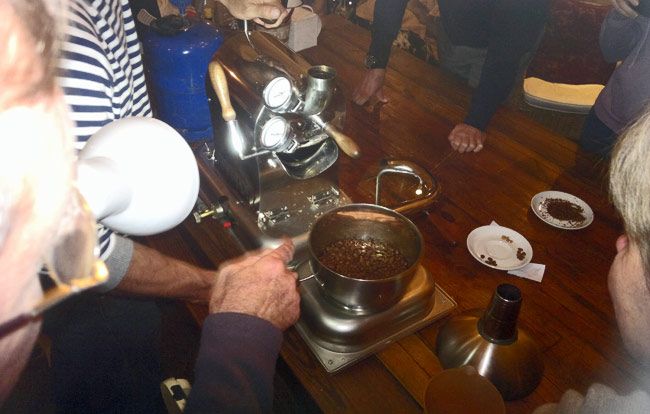 The Mk1 can roast between 50g up to 1kg of coffee at a time, with a Mk2 version in production with a capacity of up to 1.5kg. Johan also adds with understated pride that the Mk2 version of his roaster makes its predecessor look pre-historic. After the deliciously smooth espresso made from Peruvian beans roasted in Johan's roaster, we're all eagerly awaiting its next incarnation.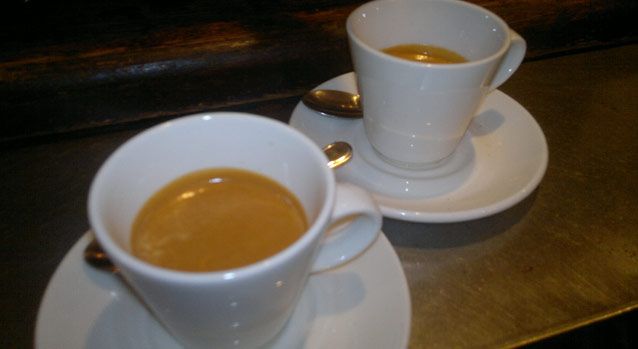 The next meeting of the Midlands coffee club will be held in 7 weeks-time at Terbodore Coffee Roasters, for any inquiries email
info@terbodorecoffee.co.za.