This weekend the southern hemisphere will be caffeinated in crazy creative ways, with the world's best baristas taking to the stage.
The
Good Food & Wine Show
plays host to the Cape Town Regional Barista Championships. We will be there to cover the events! Come down and watch machine baristas at work and try out a few coffee gadgets for yourself. It's going to be a tough competition. Stephan Britz, last year's number 2 nationally is throwing his name into the the hat again. Bilbo Steyn of Origin, a veteran of the competition returns to the ring after judging last year. Roddy of Union Hand Roasted has last years Top 6 finalist Gerald Charles as his trainer. The ever charismatic Romeo of Bean There is back and determined to win! And could Dave Coleman of our
More Flavour videos
impress the judges? It's all happening at the Cape Town Internation Convention Centre!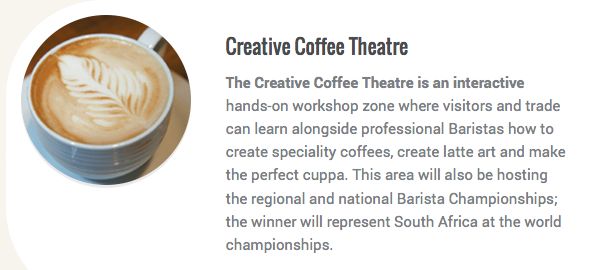 All the competitors will have an eye on their phones as they watch the battle for the World Championship.

Across the Indian Ocean, the National Champions from more than 55 countries have gathered in Melbourne at the Melbourne International Coffee Expo to fight it out for the world title!
Our very own Lovejoy is there!

We wish him all the best, we're so proud already!
Now a few words of gratitude written by Wayne Oberholzer, on behalf of himself and Lovejoy.
THANK YOU!

So the time has come, the set has been done more times then I dare to count, but this is only halfwa. Before we get on with the "fun" side, we need to send a shout out to a lot of people. So if you will bare with me here.
Firstly to
SCASA
. Thank you for putting this whole competition together. For the tireless effort that the board and the members of SCASA put in every time we run one of these events. Never mind the staggering costs of sending our champs, year after year to all these crazy countries and cities. As someone that has been on every side of the coin, Judge, Organiser, Competitor and Champ. I can promise anyone out there that doubts what you guys do, that those doubts are unfounded and ignorant.

Morrico Imports
AKA Alessandro AKA King Cockroach. Thank you for all the effort that you and your team put in behind the scenes. From the sponsorship of Hundreds of thousands of rands worth of equipment for every competition, to the sending of a full size T3 to us to use just to practice. Your loyalty to this industry knows no bounds, and your willingness to help wherever you can, is just amazing. You are a great friend to me, and a great asset to this industry. Thank you.
Koldserve
. Too many great people to mention here. George (Little) thank you for all the help with the prep for the worlds. Your willingness to travel country wide for the competitions, on your own account, is one of the reasons why people like myself respect you so highly. But moreover your willingness to help anyone in a time of need. George (Big) thank you for all the equipment sponsorship you give every year to the comp. Not to mention the cash injections and other amazing things that go on behind the background that no body every gets to know about. Thank you.
Partshub.
Johan, thank you so much for the very gracious sponsorship of all of LJ's competition equipment. Jugs, tamp mats, knock boxes, competition cups. Thank you for this massive help with these very expensive and much needed items. Thank you.
Ultimate Water.
Andre, another massive trooper and supporter of SCASA and the competition. Your cash prize for LJ was just amazing. Your help and assistance with questions on water and equipment have been invaluable. Always giving up your and that of your staffs own time to help setup and run the comps is always so greatly appreciated. Thank you.
Last, and by no means least.
Origin Coffee Roasting
and Joel. Firstly Joel. Thank you mate. I know what an expense this whole endeavour has been to you and to the company. Your willingness to help wherever you can has been amazing. The pure cash costs of sending us on such an adventure just boggles the mind. The coffee for training, the equipment, the visas… All of these things and more are just beyond the call. And we thank you so much for that. To the Team at Origin, the family rather. A massive thank you to you all. Everyone has banded together to help prep LJ, covered shifts, helped out after hours and more importantly, keeping your cools when the pressures got the better of us. Thank you.
There are many many more people that have helped in the background. I huge thank you to you all. Thank you to all those that have supported from day one. Those who send messages everyday to wish LJ good luck. We both thank you all from the bottom of our hearts. We promise to represent South Africa, and this amazing industry with pride.
If I have left anyone out of this, I apologise, but just know that we are extremely grateful to you all!
---