Well done to the 13 lucky bidders who are taking home a bag of coffee at a steal :)
Lot 24 is still up for grabs, it could be yours now!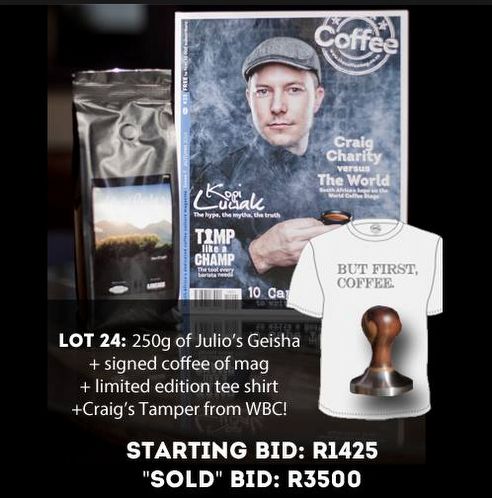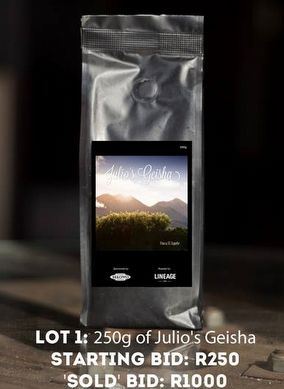 Get your bag NOW!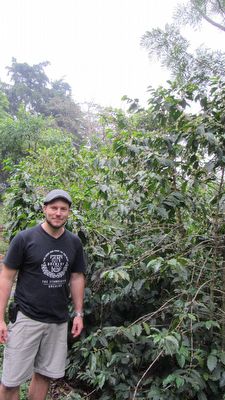 Time was running out. The special micro lot of sun-dried Geisha from a highly regarded Guatemalan farm, Finca El Zapote needed to get to South Africa in time for the World Barista Championship. There was only one option left, Craig Charity, the South African Barista Champ had to fly half way around the world to collect it himself. Meeting Julio Melendez, the farmer behind these outstanding beans was a dream come true for Craig. He took them to the World Barista Championships and placed as the number 15 barista in the world, the best a South African has ever done. We are so proud of our National Champ! You could be holding 250g of the 60kgs of sun dried Geisha that was produced. This is a once in a lifetime coffee. You could be holding a little piece of history and it is going to be delicious!
All you have to do is BID!
We are very excited to host our first online auction for Craig's Coffee!
Date of Auction: 21st - 23rd July 2014
There are exactly 24 bags of Julio's Geisha left. This trip to Finca El Zapote, along with his travels to AFCA in Burundi, would not have been possible without the generous sponsorship of Illovo Sugar Group South Africa, who have shown their dedication to the speciality coffee industry in this country with their overwhelming support.
The chance to experience this phenomenal coffee that helped Craig to his 15th position in the world, first hand.

How the auction works:
There are only 24 bags of coffee available for auction. They are 250g bags of Julio's sun-dried, natural Geisha. The same coffee Craig took to the World Championships. Each bag comes with a limited edition, personalised keepsake from SA barista Champ and 15th best barista in the World, Mr. Craig Charity himself.
Go to Discover Great Coffee's facebook page,
http://www.facebook.com/DiscoverGreatCoffee
and Like the page. Then click on Photos, then Albums. Click on the Craig Charity Coffee Auction Album.
And follow us on
Twitter for updates
Lots for auction will uploaded to a Facebook gallery and will be marked 1- 24:
Each lots will have a 250g Julio's Geisha coffee and a signed copy of TheCoffeeMag by Craig Charity, and some special marked lots will have other high value items, which will have descriptors and info on the products for auction:
1. Scroll through the Gallery and decide which items you want to bid on.
2. Each Lot will have a "Reserve price" which is the lowest amount required to sell that lot, a "Outright purchase" amount which is the amount that a person can bid to own the item and may not be outbid, and all the prices between will be in increments of R50, the Lot going to the highest bidder at the end of the time period of the auction.
3. In Order to bid, you just type in the amount you want to bid, or the Outright bid amount to secure the lot.
For example:
Lot 1: "Reserve Price" is R250 (i.e the bidding starts at R250) and the "Outright purchase" price is R2500.
If you like the lot and want to bid, in the comments section of the picture you type in R300. As the auction progresses other people will come and bid in R50 increments - R350, R400, R450, etc or they might jump straight up to R600...or whatever they feel they want to bid. The highest bidder at the end of the time period of the auction wins the Lot.
If someone REALLY wants that item, they can type in "R2500" the "Outright purchase" amount, and they will be guaranteed that Lot, and they cannot be outbid. This is on a first come first served basis - so any buyer who pays the "Outright Purchase" amount wins it, and that Lot will be close to further bidding.