Cape Town has one of the most exciting coffee scene's in SA, and must surely be among one of the most vibrant coffee communities in the world. And often the question is asked, who makes the best coffee in Cape Town? Who is the Best in the West? Who will be the one barista to rule them all?
The Speciality Coffee Association of South Africa is holding the Western cape Regional Coffee Competitions from 21-23rd May at
Hostex
, at the ICC, to determine the best Barista, best Cup-Taster and best Latte Artist, according to World Coffee Competition standards. The top finalist in each of these categories further qualify to attend the National finals and from there an SA Champion in each category is chosen to represent SA at the World Coffee Competitions in 2015.
Do you think your local barista is the best in the land? Then challenge them to enter the SCASA W Cape Coffee Competitions. Who knows, they may go all the way!
Click here to Download the Entry form!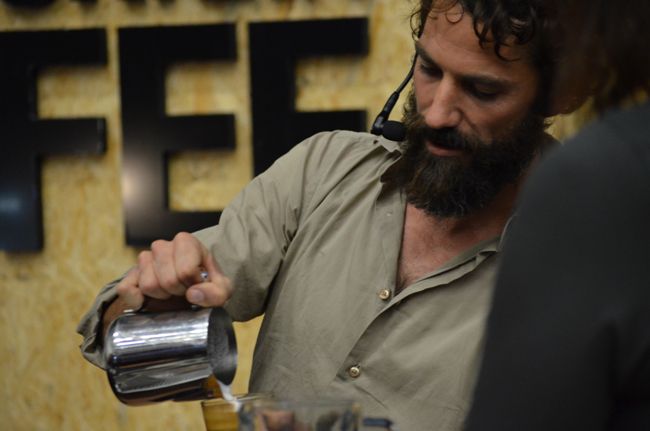 David Coleman, current Western Cape Champion, returns this year to defend his title!
If you are interested in coffee and have a passion for the bean, then enquire with SCASA about taking part in the Western Cape Regional Coffee Competitions. SCASA is always looking for passionate coffee volunteers to help with the event, to become trained as Judges, to assist with Audio/visual and to take part. This year a Manual Brewers event is being added to the programme, a fun - interactive no-holds barred brewing competition, that will be launched at the W Cape competition, with a view to becoming formally affiliated with SCASA according to the Brewer's Cup global contest of World Coffee Events in 2015. So if you rate you aeropress, chemex, siphon or pour-over as the Best in the West -
click this link to find out more!
CALL for JUDGES! Seriously, SCASA needs to train as many passionate coffee people, from inside and outside the coffee industry to be Judges at the Regional Coffee Events. These are Gauteng, W Cape, E Cape and KZN. If you enjoy the process and are deemed to be talented, you may be invited to judge at Nationals, and who knows...with some time and experience, go all the way to the World Barista Championships as a certified Coffee JUDGE! (Wouldn't that be cool?)
Enquire here.
What is Hostex?


The hospitality, catering and foodservice exhibition that has built a reputation over nearly three decades for bringing the industry together to network, source and be inspired is set to reinforce this reputation with a bumper show in Cape Town in May.

The latest trends, products, services and innovations will be discussed and displayed as exhibitors showcase the very best of the best this year.

Why you MUST visit HOSTEX CAPE 2014:

Meet your favourite suppliers & services providers under one roof
See, touch, smell and taste the latest products & services
Learn about all the latest technologies, developments & trends
Meet & network with peers and industry professionals
Learn from free seminars at HOST-ED, where industry experts will share their knowledge and trade secrets