I've had the privilege of growing up in a household where good coffee came standard. My dad's daily ritual always involved making coffee for he and my mum and when I was old enough, I was lucky enough to get the same treatment. One of my parents favourite indulgences and my dad's end-of-every-braai offering has always been an
Irish Coffee
. He has a moustache and one of my childhood memories is him getting a cream dipped 'stach :)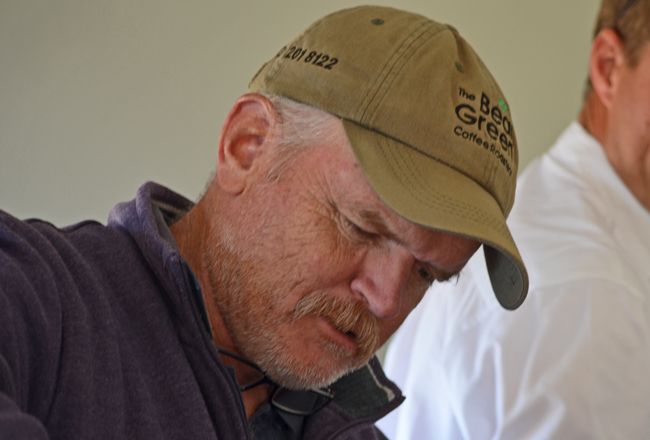 Look at the moustache!!!
The classic drink as we know it now hasn't been around that long. It was created in the 1940's as a means to warm weary travellers on a dreary Winter's day at Shannon Airport in the West of Ireland by a chef (Joe Sheridan) who wanted to warm up hearts and lift spirits. What a great idea to cheer people up, slip a little whiskey in their coffee without them knowing it. Only the Irish ;)
So in honour of St. Patrick's Day and because it's getting a little cooler everyday I'm sharing his recipe which has been passed down to another generation of coffee (and whiskey) loving Winter's.
His recipe is pretty simple, but there are some key things to remember:

Generous shot of good quality whiskey

2 teaspoons brown sugar.

Brew a plunger of coffee. Make it a little bit stronger than you normally would (throw an extra scoop of coffee in the plunger for the luck of the Irish.) Alternatively you can extract an espresso per glass and top up with around 100ml hot water.

Prepare the cream. The important thing to remember is that it needs to be smooth, thick pouring consistency.

When the coffee is ready combine the coffee, whisky and brown sugar, then very carefully pour the cream over the back of a teaspoon so that the cream sits on the top of the coffee, creating two layers of sinful deliciousness. Don't be afraid to try it, the spoon thing works, I promise!

Why is this important? The point is to let the hot liquid be drunk through the cold cream, which floats beautifully atop it. This will leave you with that killer white moustache after each sip.
Have fun :)
And if you want to have a giggle, this little video was made by some university students of my hood, the Glenwood coffee bowl featuring Corner Cafe, The Factory Cafe and Bean Green. It was from a couple years back now, but you get to see the moustache in action ;)