Let the games begin! This is definitely going to the year that the barista is put front and centre of coffee culture in this country. We're off to a flying start, along with Craig Charity's There is no X is Espresso Road Show, there is an event at The Factory Cafe in Durban, held by the Barista Guild of South Africa. Never heard of it? Don't worry, it's new and hopefully soon it will be a force to be reckoned with.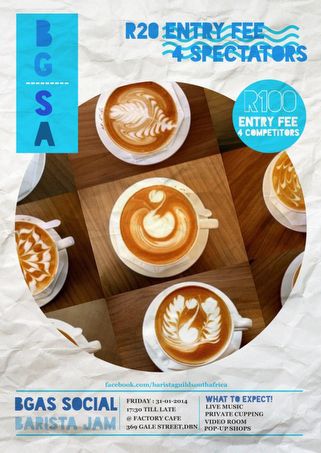 We asked Dylan Botha of Corner Cafe, who is helping to set up the Guild, to let us in on the details for the event:
Well to start off the Barista Guild South Africa is a non profit organization, backed by SCASA. Our goal is to educate, empower and unite the baristas of S.A. The funds we generate will go towards events such as the one we are hosting at Factory Cafe next Friday, excursions to the coffee farms, Skype sessions with Barista Champs all over the world and so much more!
This B.G.S.A Social Jam is essentially a platform to launch the Guild.
What can the spectators expect:
-Pop-up shops, (eg: I Art Ink, Nev the Barber).
-Beer on tap will be sold by Sean at
That Brewing Co
.
-Food will be on sale from
The Factory Cafe
.
-Video room, clips of latte art champs from Live-stream.
-The
first 14 people
to sign up at the entrance can participate in a free cupping with Arno Els (current National Latte Art Champion and roaster at Colombo Coffee & Tea) and will receive a coffee hamper.
-There will be a raffle for one nights stay for 2, including dinner, bed and breakfast, at the Belaire -Suites Hotel.
-And to end the event there will be live music from the likes of Nje and Karma Arcade.
For the Baristas:
-Every barista that enters the event will get 1 year free membership to the B.G.S.A.
-We will be rating them on Latte Art as well as Technical merit, but
Latte Art
is the main focus for this event. There will be and open day as well as a memo going out so every competitor will know the criteria they will be rated on.
-We will nominate 5 winners, a 1st, 2nd and 3rd place as well as best Latte and best Technical. There will be individual challenges to determine the best In Latte and Technical.
-Each winner will receive
massive prizes
, and every competitor will receive a certificate of participation.
Craig Charity
is the guest speaker for the event and will be offering a few words of encouragement to the barista before they compete.