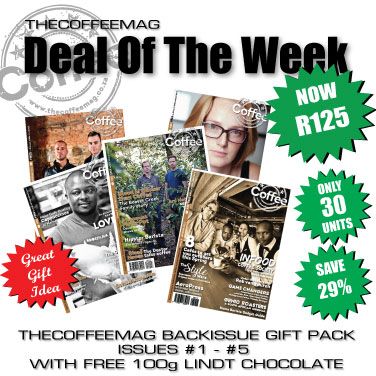 TheCoffeeMag has been going for over a year now and our 5 editions so far have made for some delicious coffee exploration.
We have introduced you to some of the amazing personalities making waves in coffee. We have given you tips on how to be a better home barista, we have exploring different methods of making coffee and we've told you about our favourite cafes. These magazines are great guides for anybody just starting on their coffee journey or anyone who is deeply obsessed with the stuff already
TERMS:
· For 7 days only or until sold out!
· Only 30 units available – no plans to reprint issues.
· Save R50 on the Recommended Retail Price
· Free Delivery
· Orders collated and shipped when deal closes on 14 November 2013
HIGHLIGHTS
· Get the first 5 editions of TheCoffeeMag to round out your collection.
· Free 100g Lindt 90% Chocolate (while stocks last)
· Perfect as a Gift for a coffee loving friend or family member.
· Gift idea for under R150!
· Five beautiful magazine publications for display on your coffee table
· Lots of interesting insights in the amazing world of South Africa's speciality coffee industry.
PRODUCT SPECS
· 5 x 64 page glossy "coffee table" magazines
· Original content and insights into South Africa's Coffee Culture
· Feature Articles, Travel, History, Brewing tips, Product Reviews and more