All words and pictures by Gary Hirson


My 6 week travels through Laos had brought me to the Bolaven Plateau – Southern Laos. It's the main coffee producing region and the area where I experienced a tutorial on how to wok-roast coffee. I was "home staying" with a local coffee producing family who invited me into their house so that I could enjoy their hospitality and experience local family life.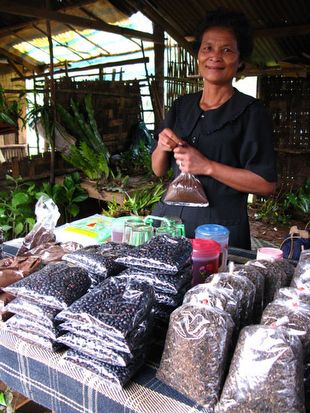 Being the rainy season I arrived in the middle of an afternoon rain storm and I was greeted by Koffie with a cup of his homemade black brew in hand. I've gotten used to and enjoy the taste of coffee with sweet condensed milk and I balk at the idea of drinking it pure. Reluctantly I take a sip and I'm pleasantly surprised. It's smooth, gentle with no bitter aftertaste. Koffie just smiles knowingly.
As we sit around and chat about life in Laos, Won and her extended family go about making the evening meal. Out of the corner of my eye I notice some Grasshoppers being roasted and I silently hope that being a vegetarian will be excuse enough for me to not have to try one. I'm extremely thankful as I notice noodle soup being boiled alongside on the fire.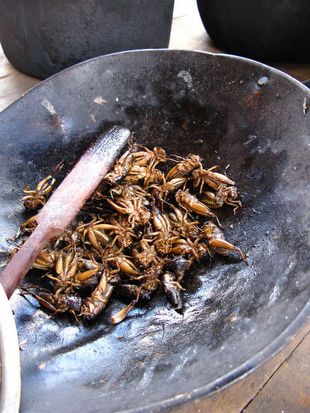 Family is of huge importance in Laos and before long all of Won's family in the region visit for the evening meal and to have a look at the South African visitor coming to learn about coffee. It's not often that a "Falang" (foreigner) is seen in the area.
Early the next morning, after a cup of freshly roasted black coffee, we head out to one of the plantations. The trees, of different ages and sizes, are planted just like vineyards, lined in perfect rows.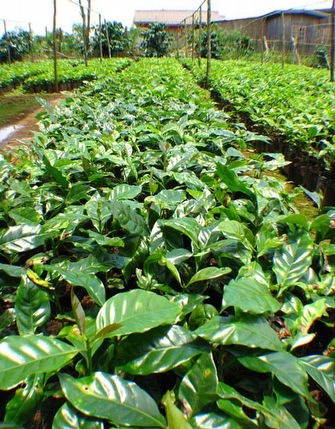 Unfortunately it's too early in the season to see the pickers at work, but I am shown how the coffee cherries are busy changing from green to red.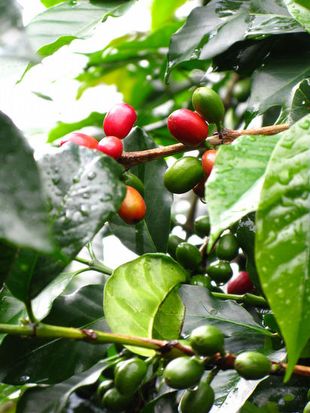 "On the Bolaven Plateau there are only 2 seasons," says Cornelius, "the hot rainy season which runs from April to September, and the cold dry season from October through to March."
The coffee in Laos has its origin in Costa Rica, Colombia and Java. The harvested beans consist of Arabica beans, harvested first in October, and Robusta beans form the second harvest at the end of January.
"I compare the two different beans to a violin and a complete symphony orchestra," says Cornelius,
"The Arabica has very subtle taste and the Robusta is a mouth filled with tastes."
During the Vietnam War, the Americans had an air force base nearby and any bombs that weren't dropped on their targets were released over the plateau before the planes could land. Laos is also one of the most bombed country's per capita in the world and there are still vast areas of undetonated bombs and land mines. Strolling through the plantation we pass two bomb craters that are now filled with life as bushes and trees sprout forth. I'm told that there are still many "live" bombs in the area, but the plantations have been cleared.
Koffie is passionate about making the perfect cup of coffee, and once back at the house he goes about teaching me everything there is to know about wok roasting coffee. It's not a difficult process and it's done in a normal wok as used for stir-frying food.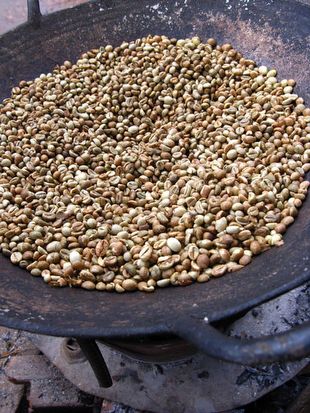 "I like the process of Wok roasting coffee, as I have more control over the temperature of the flame," mentions Koffie. "I can only roast a maximum of 1.5 kg at a time but controlling the temperature is of more importance than the size of the roast"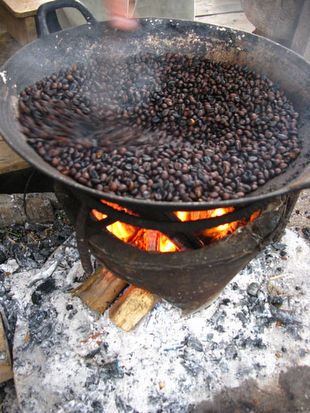 From start to finish the beans have to be stirred and the temperature of the beans must be constant. Starting with a low heat, which is later switched off to allowing for the beans to heat at the same rate, the heat is once again increased and the beans begin to darken in colour. About an hour later my kilogram of coffee is dark brown, fully roasted and smells like it'll be the perfect cup when brewed.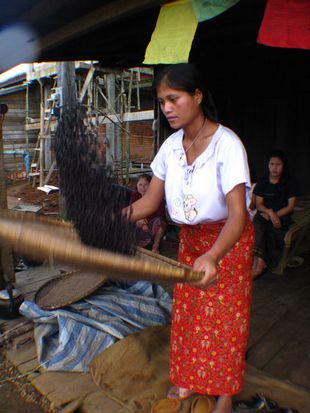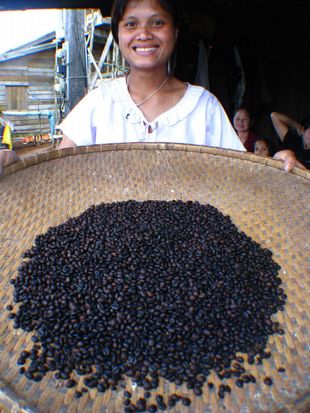 The beans are spread out in a basket and all the lightly roasted or burnt beans are discarded. Once cool they're ground and ready to be brewed. Won and her family are as proud of me as I am of myself. They're extremely happy that they've been able to impart their knowledge to someone who appreciates a good cup of coffee as much as they do. Koffie presents me with a cup of my own freshly roasted coffee and eagerly I take a sip. The taste is good. Black with no sugar, just the way I've gotten used to it.
---
Yes we agree, drink black coffee! Thank you for an adventure to the far corners of our coffee producing world!
If you ever find yourself in southern Laos, you should look Koffie and his family up:
COFFEE ROASTING COURSE:
PROPRIETOR: "KOFFIE"
E MAIL: coffee@paksong.info
WEB ADDRESS: www.paksong.info
GETTING THERE: Pakxong is 1 hour by local bus or taxi from Pakxe, which is the main town west of the Plateau. Flights from Bangkok arrive regularly.
VISA: Laos visa: On Entry, 30 US Dollars