In some cities in the world if you are a barista, you are somewhat of a god. A sculptor of fortunes, you make or break the beginning of a day, or the middle, or the end. Businesses are forged or failed by the skill of the coffee made. In the burgeoning SA café scene, are our baristas rewarded for their good work and is there a way we can ensure some sort of standard? What actually qualifies a barista to call themselves a barista?
Following a heated debate on the state of the barista profession in SA on a forum for coffee professionals, the question of what qualifies someone as a barista and how we can change the mentality and treatment of these professionals, the questions have remained on our minds.
We caught up with the person most qualified to answer these questions,
Lani Snyman
. Lani is Chair of the Speciality Coffee Association of Southern Africa, is Ciro Beverage Solutions Training Research and Development Manager, a World Barista Championship judge and founder of the Ciro Coffee Academy.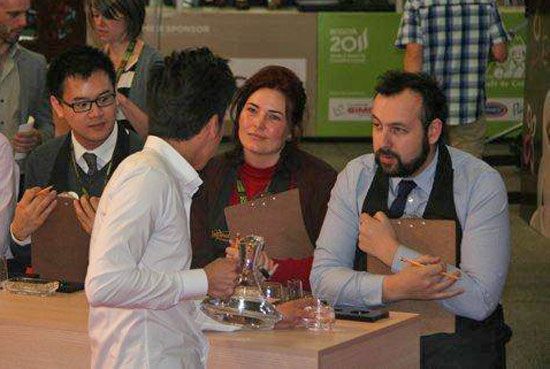 Lani, In action as a Judge in the Semi finals of the WBC Bogota Colombia 2011. The WBC champ that year was Alejandro Mendez from El Salvador.
CM: Hi Lani,

Many thanks for chatting with us - I want to kick off this interview by saying that these are some tough questions! As the Chair of SCASA, a leading business woman in the SA Coffee Industry and as a passionate coffee person, you wear many hats. Hopefully your answers will inform, inspire and educate many of our readers.
As an introduction, this debate started online following an excerpt on a Social Media forum discussion which sparked some serious debate at the end of 2012 among some of SA's most high profile coffee personalities. The burning question essentially is - What qualifies a person to call themselves a Barista?

Like a doctor or an electrician, there are various levels of qualification, which ensures a higher remuneration and higher recognition. Why doesn't this formally exist in the SA coffee industry - specifically, levels of training and qualification linked directly to the National Qualifications Framework (NQF) just like a Matric pass, a trade certificate, apprenticeship/Guild qualification, a diploma from Technikon or a degree from University. Every other industry has it - why not the coffee industry?
Lani: The qualification has not yet been developed due to a few reasons of which one was a lack of funding in the past. The opportunity should be re-investigated and possibly with the current proof of private companies certifying baristas it could prove the absolute need for a national qualification.

I also have to mention that another constraint in the past was that the skill was not comprehensive enough to fill the amount of credits needed for a national certificate. The best solution to solve this was to include it in another hospitality or food and beverage qualification, which means there would be more content in the qualification than just being a barista. Once again, it should be taken up again with the CATHSETA, to investigate opportunities to establish this qualification.

Who's responsibility is it to make this happen?
It is the responsibility of every person who identifies a need for this skill in the coffee industry. It is also the responsibility of the government to recognize this skill and its potential and understand that it is a developing industry with great potential for job creation.
Why is this important?
Lani: I
t is probably one of the quickest ways to provide an unemployed person with a skill to earn an income to provide for his family. It is also important to provide a qualification for a skill that is unique in its methods and techniques. This skill requires a certain amount of commitment and passion to understand and perfect it. It is a skill to be practiced and studied, to be tested and passed, to be qualified before being able to offer a quality coffee. It is important to prepare coffee correctly, otherwise its quality is compromised and precious money, time and effort is wasted by those involved in the planting, harvesting and processing of the coffee. Over and above the skill, the qualification on its own provides a person with a sense of responsibility, to take care of the product and equipment they are trusted with. Taking this responsibility seriously by the barista, will ensure he is looked after financially and emotionally by the company he works for.
CM
: So, right now in South Africa, and around the world, what qualifications does a person need before they can formally call themselves a Barista?

Some international coffee bodies offer courses and certifies candidates with a barista certificate on different levels, but a formal structure in South Africa is needed before anyone can truly state that they have been assessed and passed the criteria to be a barista in South Africa. We do however have great baristas in South Africa who would be capable of passing any barista evaluation, but as stated above, none in existence yet.
You have spent the last 5 years developing a structure for the coffee industry to follow - similar to doctors, lawyers, electricians, architects... any profession really - to ensure that there is a qualification standard for the Industry. Tell us a bit about that process from a Training, Institutional and Government point of view.
We have had some sessions to try and package the barista qualification through Theta a few years ago, but it was unsuccessful. I do believe we should re-investigate this opportunity again. I developed barista courses on different levels starting in 2007, and believe that through this training system we could prove to the government the possibility and opportunity of the qualification, and also the need for this training in South Africa. In 2012 we certified over 1000 candidates with a foundation level for the barista skill at the Ciro Coffee Academy on a national level. I realized that after intense training on the skill, it takes time for people to grasp the concept, thus taking it slower with establishing foundation techniques and procedures, and only thereafter proceeding to more in-depth coffee knowledge. This was also only possible with a very committed training team and company passionate about coffee. I believe that if we present many coffee companies' training records to the government, we would state a valid case for the release of funding to develop this qualification.

Coffee has never been formally recognised as a stand alone industry - we've always been bundled along with either Food & Beverage or Tourism. And recently Catering and Hospitality - Why can't we have a dedicated SETA or Coffee University, along the lines of The Vienna School of Coffee (http://www.viennaschoolofcoffee.at/) ?
Looking at an industry, we will always be part of the hospitality and tourism industry. Coffee is one part of the offering to customers in an outlet, whether it be a restaurant, hotel, fast food service or any other outlet. Coffee will always be part of another bigger industry or SETA. We do however have many training schools in South Africa, just like the Vienna school.

What can we, the interested coffee public and Industry people, do to help this along?
Demand greater coffee and demand specialty coffee. There is a great reward in drinking speciality coffee, the taste is phenomenal!
At the Ciro Coffee Academy, you've trained over 900 people in the last 3 years in the basics of coffee on the equipment, espresso, milk and cleaning, and were found competent in the basic procedure of making coffee, according to WBC specifications and procedures. Ultimately, right now though...can we legitimately call these, and all the other people being trained by individuals and companies in the industry Baristas? Or is this terminology more to describe a job function rather than a level of skill/experience?

This certification is only the start of the journey to become great baristas. To be a great barista one needs a great understanding of all the components of coffee, however more intense knowledge on the preparation (including understanding the coffee to prepare it correctly) and equipment. The people who were certified with this certificate have a good understanding of the foundation of this profession and have been introduced to the career path within this profession and the coffee competitions. It is trusted that they are inspired and have been ignited with coffee passion and will progress to greater achievements and qualifications in their career of the barista profession. I still believe in a national or international coffee qualification to authorize such a claim, however it is not easy at the moment to get that in South Africa, thus we improvise to ensure the industry still grows and develops until such stage that we can offer national or international accredited courses, over and above the International accredited Barista course of City and Guilds which these people will progress to after this first foundational course, at Ciro Coffee Academy

What is the role of SCASA in this situation?

SCASA is the governing body of the South African coffee industry. SCASA is a young organization with great potential to grow and provide the platform for great coffee development in South Africa. SCASA also holds the National Coffee Events license to host the coffee competitions in South Africa, offered and owned by the World Coffee Events. Through the coffee competitions comes great exposure to the barista profession and many people have been trained to evaluate and judge coffee on a world level when being involved with the competitions. SCASA provides the opportunity for coffee champions to attend the world coffee competitions and also funds some of these trips. A lot of the speciality coffee education came from SCASA being involved with the world competitions, which was of course initiated and driven by very coffee passionate people within SCASA.
If you could hypothetically gather all the people in Coffee in SA into one room and have them genuinely listen to you, what would you urge them to do?
Train your baristas!! If I could have all the public in one room, I would say: Drink more speciality coffee: buy beans, and drink freshly ground coffee. This would increase speciality coffee consumption in South Africa which is very low on a world scale compared to other countries. We are mostly a tea drinking country, and if we could increase the speciality coffee consumption in South Africa, it would help with the problem under discussion as well, a formal qualification.
Is it a problem that people can just open up coffee shops without a validation of any kind? Or is it encouraging to see entrepreneurs just winging it and selling terrible coffee to an uninformed public?
We should have a system validating the quality of coffee served. One way of starting an evaluation system is through SCASA's Coffee Excellence Award where the shops are evaluated on-site and scored. This is the start of a grading system for quality coffee shops in South Africa. Any coffee service outlet is welcome to take part in it.
World Barista Champion 2007, James Hoffman in a recent lecture (start watching from 16m40) said: " The price of coffee should not be determined by the guy down the road" Do you believe we have a discerning enough market to support the R30 single-shot cappuccino speciality coffee shops and pay a premium price for the best beans, the most experienced Baristas and a special ambience?
I believe we do have that market, however it is small. As mentioned earlier, we are a tea drinking country and mostly instant coffee as well, so the coffee connoisseur is most definitely present in South Africa, but small compared to the rest of the country.
Would a qualification system that is recognized by the Government (SAQA and NQF) for Baristas grow or hinder the growth in the coffee market in SA?
It would definitely grow the coffee market, as people will realize the value of drinking quality coffee, prepared by a qualified barista. The proof will be in the taste.
What other resources can you point people to for more info, and what do you think the next step is here?

I believe after the informal discussion on social media, we need to establish a forum within SCASA to determine the steps and start the movement towards a national coffee qualification.
---
Thank you to Lani for taking the time to answer these questions. Now people of coffee, we want to hear from you! What is your opinion on the barista profession? This is the forum for the debate!