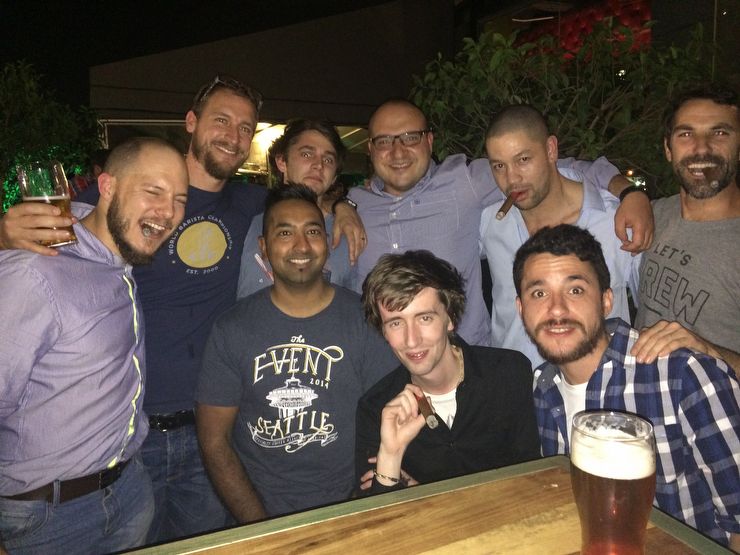 Ishan celebrating with the crazy coffee community after his win!


Well done Ishan! You were very emotional on stage, can you tell us why you were so ecstatic?
I guess it's also a lot of emotions just flooding me all at once – that the hard work towards this has paid off, the voices and cheers of my friends and supporters in the crowd and that sense of "Yes, I did it". It's a huge emotional thing, competitions. The stress, the exhaustion, the anxiety during comp really takes a toll on all of us competitors. I couldn't control the tears hearing and seeing all the people who have worked with me towards this and who have supported and encouraged me.
Does this win feel different to the previous two Championship titles you held? Do you feel different?

Definitely! This win felt like I am truly ready for a top position at the WBC. I have come a long way; I have matured a lot and feel a lot more experienced for competition, especially the world stage. I feel ready and hungry for the WBC win!
April is so soon! Do you have any coffees in mind that you want to try get your hands on for the Worlds?

I have been in consult and discussions with a few fellow professionals/ friends about what coffee to use. Many believe that I should take the same coffee, Kenya Rukira PB, because of the emotional attachment and story/journey to find this coffee that I presented to the judges. Craig advised me to source something that is exclusive to me and I am leaning towards his advice. I've been to Worlds before with coffee readily available in the market locally and internationally, but it seems that all WBC competitors use a specific coffee that they secured and made exclusive to them from the farmer/s. I believe that this is extremely important because it helps with building your presentation on how and why you have chosen and brought a specific coffee for the judges to experience. I am actively searching for coffees myself, Craig is helping me get samples from Guatemala from the farmer/ associated farmers he sourced coffee from for the Worlds. I am open to anyone and everyone assisting towards the goal of representing South Africa as well as Craig did.
Who is going to be part of your Brains Trust, the team that will be with you every step of the way?
Anyone that is willing and able to advise, coach and support me. So far, it's been Matt Carter, Craig Charity and Donnie (Donovan McLagan). Matt assisted me all the way for Nationals and he & I have already met first thing after the comp to start our 'Worlds Strategy & Planning' sessions; he has played a huge role in my achievement. Craig has been amazing as well with helping me get whatever I need and advising me, and Donnie and I have also been in deep discussions.
*Ed's note to readers:
If you want to assist "Team Ishan" and South Africa at the Worlds, and you have experience in absolutely anything that will add value, no matter how big or small....
please email us here
Can you explain that amazing looking signature drink for our readers? We were dying to taste it!
The espresso came through as an Orange juice sweetness, Raspberry acidity, Grapefruit finish and juicy body. In tradition of creating a signature drink, I tried using oranges, raspberries and grapefruit but I just couldn't get it right. The I came up with a crazy idea to make a panacotta style drink with a blueberry and spice reduction. I only enjoyed the reduction. But then I decided to try a reduction of stone fruits because those fruits go well with citrus and bright fruits like the characters in the espresso. I really enjoyed that too. That's when the light bulb came on – leave out the panacotta and just use the reductions. They tasted really good together and with the espresso. Then I went downstairs to my car at the office to fetch something and looked at our meat smoking machine where we use Apple & Cherry wood. I imagined the that flavour from the smoke with my ingredients and it tasted good in my head – that's when I put it all together and found the balance and profile I wanted in the signature drink. The final product was:
Blueberry Spice reduction
1. Cooked 120g of fresh blueberries with 1 star anise, 1 cinnamon quill, 2 tablespoons Demerara sugar and 250g filtered water – 10 minutes on a simmer.
2. Stored in jars overnight (spices removed), blended and passed through a fine sieve to separate the bitter skins and extra pulp.
3. Used the strain reduction because it was light, juicy with a subtle sweet berry tone and spice aroma
Stone fruit reduction
1. Sliced apricots (8), peaches (1) and nectarine (1), all cored and peeled, cooked in 250g filtered water and 1 tablespoon Demerara sugar – 10 minutes on a simmer.
2. Stored in jars overnight and blended for a heavy mouthfeel, deep stone fruit flavour and sweet acidity.
I smoked my glasses with the Apple & Cherry wood and placed my glasses upside down on a wooden board after serving my espresso set – this allowed the moisture from the smoke and sweet bitter aromatics to coat the inner walls of the glasses. At the end, for the signature set, I added 30ml of the Stone Fruit reduction to the glass, topped with 15ml of the Blueberry Spice reduction and sprinkled Coconut Blossom Nectar sugar which I bruleed with a blowtorch for a natural sugar sweetness. Ran my espressos over and asked the judges to stir I well. It was a great balance of fruit sweetness, sweet fruit acidity, sweet bitterness and a heavy mouthfeel.
TriBeCa has a very strong history in the competition, what has inspired that culture to grow through the years?
It all started in 2003 when one of our TriBeCa co-director Dale Mazon gave me a dvd of former world champion Paul Basset's winning set from that year. I was hooked! I had no idea that we could take this skill to that level and so it inspired me to better myself as a barista and enforce discipline. My fellow baristas and I would study every aspect of the video and we waited patiently for our first barista championship. Dale had competed at the World Championship in the very early days of WBC and so this also inspired us because he trained us. All of our baristas and trainers have followed in those footsteps of wanting to experience barista championship and showcase their discipline and skills to the community as a whole. Dale and Martin have always encouraged and supported us to compete. It helps with our baristas working towards excellence and consistency in the craft, sort of a mentorship initiative. Competition makes us better trainers as it's all about quality, discipline and consistency which is what we focus on in our barista training. Barista Championships are also addictive in a sense and very contagious; everyone wants to compete when they are exposed to it. It's the best thing to drive barista standards to the highest level.