How did you discover your love for coffee? And tell us about what you do at Stil.

Well it all started 4 years ago. I was a driver at Stil Coffee and Erina, the owner, was kind enough to share the knowledge of coffee with me. Since then, I never looked back and I'm Stil going strong ;)
I don't have a specific job description which I really enjoy about my work here, but I'm doing a lot of roasting which is a huge passion for me. I've even given our Probat roaster a name(Elma). Me and Elma are really close. She's really special to my heart, roasting is a very personal thing.

What do you love about roasting coffee beans?

Well, I get the opportunity of taking a raw coffee bean which someone has put their time into picking and taking care of, and turning it into a delicious pleasure for coffee drinkers. I love the art of roasting and the best part is the aromas; it's like baking bread or making popcorn. Now that is love! {insert his signature wide smile here :) }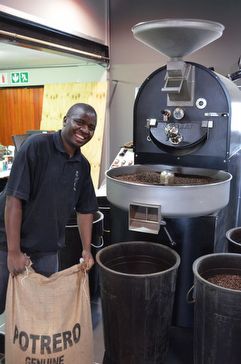 Phumlani with his Elma
Do you have any secrets to making great espresso?

When making an espresso I've always tried to pull a best shot that I can with that specific bean. My secret is really understanding the characteristics of that particular coffee at that particular time. It is a washed or sundried bean. How long has it degassed? The roast profile etc etc. One more thing, is how my heart is feeling that time, I pull my most beautiful shots when I'm happy (which I am most of the time).


What was you signature drink in the regionals? And will you do that again for Nationals or do you have something else up your sleeve?

Well my signature drink was a healthy and sweet drink. I used a special honey from Zimbabwe where the bees make the honey in front of the coffee tree which absorbs the flavours of coffee and was made by Erina`s mom. I added fresh lavender for a herbal wake up call from my friend Peter and a beautiful coffee.So the ingredients where more personal touch.
I'm not doing the same drink and I've definitely got something up my sleeve.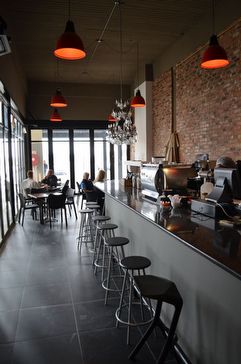 The cafe where Phumlani pulls his beautiful shots.

What is the best part about competing in the Barista Champs?
Well the best part is to be on stage. It's such a rush. A beautiful feeling and explaining the coffee is amazing! Love it to bits. I started off as a helper clearing the cups after the competitors and I was inspired by guys like Ishan Natalie, Wayne Barrows, Neal Murray and now I'm going to compete there. its been a long fruitful journey.
---
Good luck to Phumlani on his road to the Barista Nationals! Who is your favourite barista? Nominate someone for us to interview and win some beans from The Bean Green Coffee Roastery.