By Iain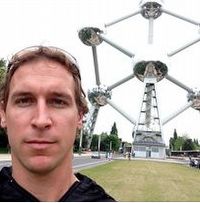 ---
Today I set off to find the best coffee in Belgium. Google had told me that the Belgian Barista Champion for 2013 is a guy called Louis Donck from a town called Roeselare. I couldn't find much else, except for an interview he'd recently done with Barista Magazine in his build up to Melbourne WBC 2013: "Where is the best coffee in Belgium?" Barista asked him to which he replied - "Creme De La Creme" A cafe which happens to be a few doors down from Louis's family roastery called…wait for it…Donko's in Conscienstraat Roeselare.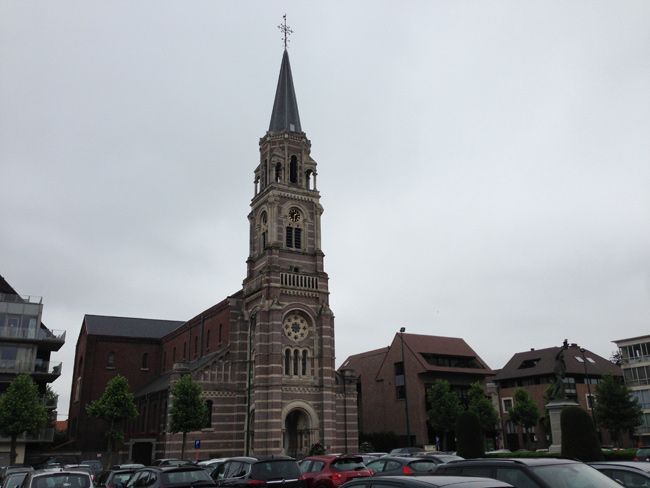 Roeselare. Home to Belgium's barista champ, the best coffee in the country and this cool belltower from around 1500 AD.

Roeselare by train is one and a half hours and a station change away from Brussels. So, family in-tow, we set off to seek out Mr. Donck and the town of Roeselare. According to legend, Roeselare plays various important roles in Flemish history, one being that Baldwin Iron Arm, Count of Flanders, kidnapped Judith, the daughter of Charles the Bold in 862 in Senlis and brought her to a fortress that used to be where the present Rumbeke Castle stands. So this town has serious history and it is apparent all around you as you wander the ancient town.
A bitterly cold wind, light rain and a town gearing up for weekend festivities greeted us as we stepped off the platform and hurried for the shelter and warmth of the coffee shops in Conscienstraat which was thankfully only a few hundred meters from the train station.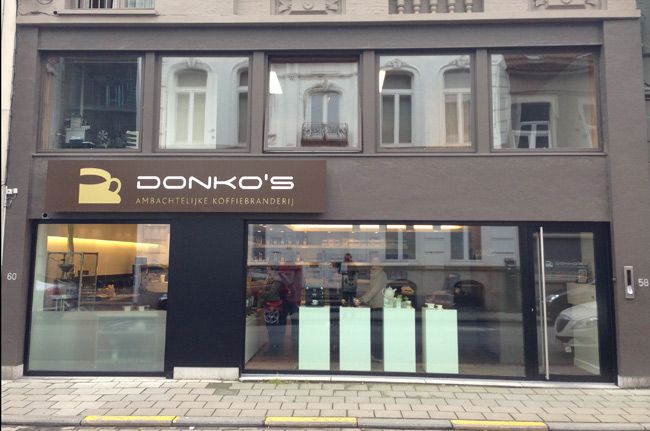 First stop was Donko's Roastery - a beautiful retail shop with the roastery at the back and coffee awards in the front window. "Goeie More. Is Louis hier asseblief?" I attempted in my best Afrikaans. Turns out he was installing a new coffee machine at a customer and wouldn't be back until late afternoon - but we were welcome to take photos.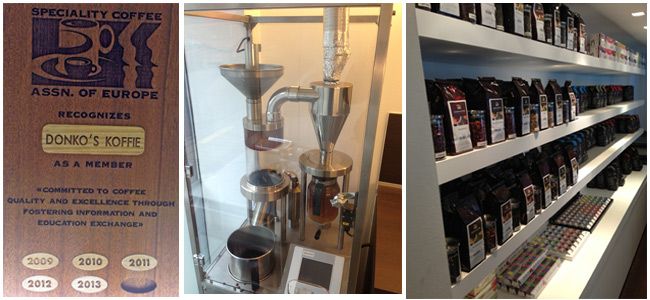 L-R: Donko's, a 3rd generation family roastery. The mini roaster and some of the product on offer in the retail section of the shop.

Luckily, Creme de La Creme, which we'd past a little further back down the road had just opened, so we sought sanctuary of warmth and the promise of amazing coffee inside. Turns out that the shop is owned and run by Michael van de Moortel, SCAE Barista II, Gold Cup Brewmaster and International Judge and his wife Cynthia Jacobs a top jewelry designer.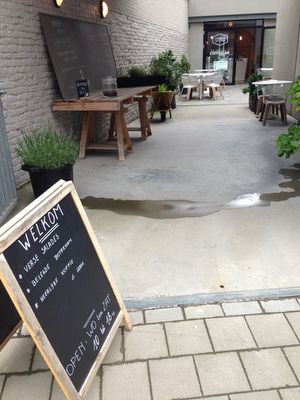 Creme de la creme. We got in early...and thank goodness we did!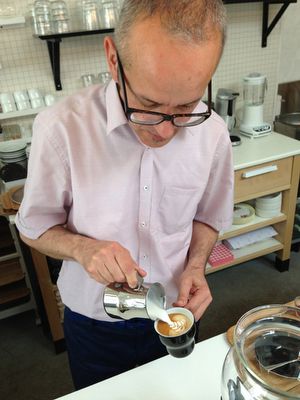 Michael pouring some delicious cappuccinos
.
I showed Michael TheCoffeeMag and told him about our visit and the search for Belgium's best coffee, to which he nodded and said "Just wait here, I have something special for you." I had already noted the bag of Handsome beans behind the counter and Michael had mentioned that he served Intelligensia, so I was curious as to what Michael thought was "special" - A glance up to the day's specials board told me that a Burundian Nemba and the coffee that won the European Title, a Colombian Caguancito were on offer. Both from the famous
Drop Coffee Roastery
in Sweden.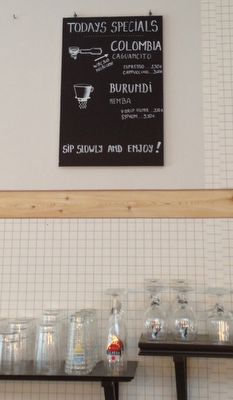 A very special Specials board!
"Lucky you came early" Michael said "In half an hour this place is going to be packed." A few minutes later and he placed 2 beautifully presented cappuccino's down at our table, each one presented on a tray accompanied with home-made chocolate mousse and a slab of Belgian chocolate. (I watched him fulfill numerous other orders later on and every single one was the same!)
The attention to detail was impressive!
Next he returned to the coffee bar and started preparing 2 pour overs - "These are from
Drop Coffee
, this is Cerro Azul it's one of my favourites and this one is from Nemba in Burundi"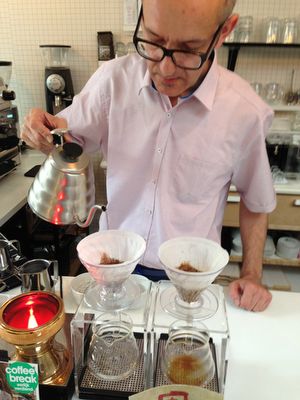 Cerro Azul is an arabica geisha coffee from the Esperanza family farm in Colombia, roasted by Drop Coffee in Sodermalm, Sweden.
They tasted amazing. The Cerro Azul was one of the smoothest and brightest I've ever tasted. It had subtle jasmine like floral notes and a sweetness to it that danced in my mouth. The Nemba was impressive too, with a clean, lemony flavor and hint of biscuits at the finish.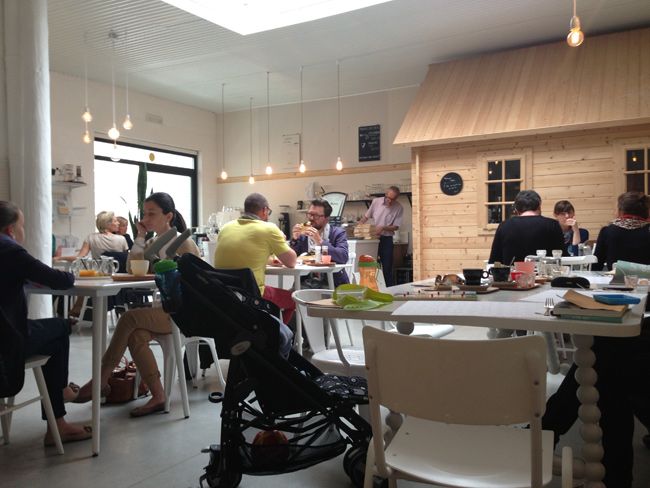 Creme de la creme is cafe, jewelry store and workshop all in one - with the most incredible attention to detail and care with every single item that is served.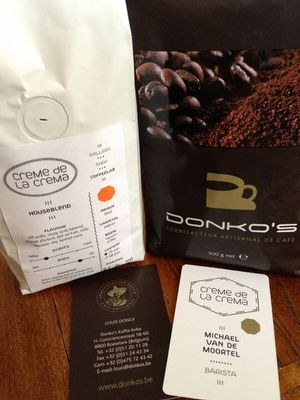 Michael is a soft spoken and gentle character who is clearly very knowledgeable about the food and coffee he serves, but having also curated one of the art galleries in the famous town of Brugge also clearly understands the importance of the aesthetic too, which was evident in the incredible atmosphere he and Cynthia have created in the shop, from the decor, to the furniture, crockery and even the custom printed place mats and serviettes!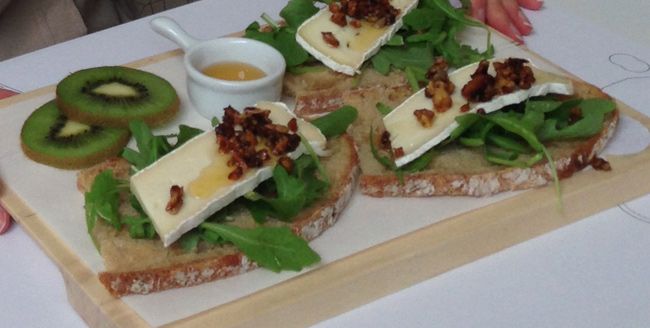 After coffee, we braved the cold once more and enjoyed meandering through the high streets of Roeselare before heading back to the train station. We managed to miss our train, but thankfully, it meant we returned back to seek refuge from the cold in a nearby record store which also housed this most beautiful La Marzocca :) It was purely by accident, but what a happy accident, and a great way to finish our day out.