There's a lot to consider when getting in to the Specialty Coffee Industry, but apart from all the tangible check list type requirements,
knowledge
should always be at the top of that list. Zane Mattisson gives us a reality check.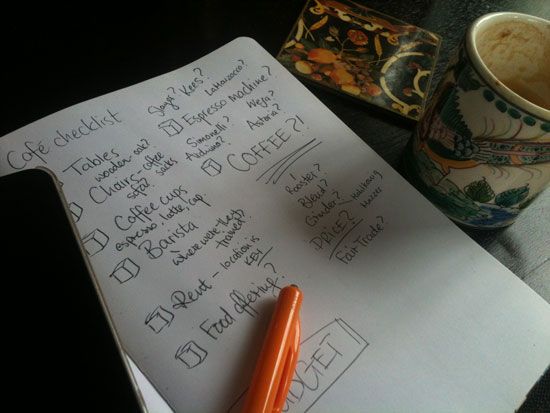 Getting into the specialty coffee industry: the romance versus reality
All words by Zane Mattisson
All around the world, coffee lovers have found themselves sipping their favourite cuppa at their favourite cafe and "by accident" coffee chooses them, and a journey of leaving their current job for the specialty coffee industry starts. Most of the best in the industry started out with similar realisations and "we" warmly welcome those who love great coffee and are keen to jump ship. What I have found is that soon after changing/moving/venturing out, the romance moves aside and reality sets in.
An interesting thing I have noticed is that in South Africa, a would-be specialty coffee professional realises their coffee passion and decides that the best place to start is to start a coffee roastery. Is there anything wrong with wanting to have a coffee roastery? Not at all. They've probably realised that everyone loves coffee and there is potential money to be made in roasting and supplying coffee.
You just need to source some coffee, buy a roaster, hook up the gas and ta-dah! Everyone opening new cafes and retail supermarkets buys your coffee while existing cafes drop their usual supplier for you. So what is the problem? Unfortunately that is not how things usually turn out. Believe it or not but a successful company in this industry isn't made just by having a good business plan with well-tweaked numbers. Coffee-related expertise and experience is very crucial. So too is knowing which sector of the market you are addressing and/or what your unique selling points are, as well as a good and relevant brand (coffee passion that borders on insanity always helps too).
So, my advice to those wanting to enter the industry? Start at the beginning before jumping into the deep end. More specifically:
i. Research
and read top bloggers in the industry as well as coffee-related publications from around the world. On the blogging side, research previous World Barista Champions; the respective companies they work for; various coffee scene's in places like Seattle and Portland, Vancouver, London, Melbourne, Nordic region; and barista and roasting forums (a non-exhaustive list at the end).
And on the publications side, continue with our lovely own Coffee Magazine, as well as the international Roast Magazine, Barista Magazine and Fresh Cup Magazine.
While delving in, it would do you well to note how they collaborate to grow the industry, discuss all the different sides of this industry, as well as the latest updates in techniques and equipment they introduce and critique.
ii. Connect
with others in the industry openly and honestly. You'll be surprised at how many of us would love to connect and spend time chatting and welcome you in. Also, make it to a regional barista competition, have a look at the best baristas in the industry and meet people (visit SCASA.co.za for more info).
iii. Gain first-hand experience
by working at your favourite roastery's cafe, even for free if need be in your spare time. Saturdays, public holidays, etc. With a decent enough entry knowledge about coffee, who wouldn't take on a free employee? (Maybe they'd even pay you in kind with great coffee) Be open with them about your future intentions and ask what level of knowledge is required. Pure interest and passion is sorely needed, so it may even prove to be enough ;)
You may be asking why "lower yourself" to waitering or learning to make coffee for free in your spare time*. Because knowing how to be a professional customer, ordering your favourite single origin coffee at your local cafe where everyone there knows you, is not the same as being on the other side of the counter giving the suggestions, taking the orders and weird requests. You get a taste for what you are in for; it's not all peaches and cream and definitely not for everyone. It's an interesting and rewarding industry but challenging and at times, semi-soul destroying and/or definitely character building.
iv. Start keeping a journal of your coffee journey.
Visit cafes and roasteries outside of your comfort zone cafes. Taste different types of coffee drinks and roast levels and coffees from different countries. You'll be surprised at how many only understand coffee to be one particular roast profile, or one particular roastery's coffee. Explore. Make notes and compare.
In conclusion, I feel that generally you have 2 options: do the above yourself or hire and sufficiently reward coffee professionals who have put in the hours doing the above. I personally advice you to do both if possible.
Blog list:
1.
James Hoffmann
/ 2007 World Barista Champion / self-confessed coffee nerd / Co-owner of London's Square Mile Coffee Roasters. Periodical posts where he questions the norm and rants about irritations.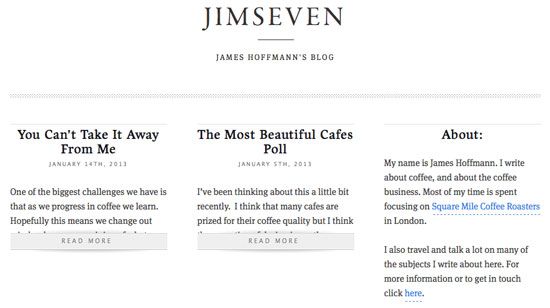 2.
Dear Coffee, I / we love you!
General and sometime random coffee related material. Updated weekly.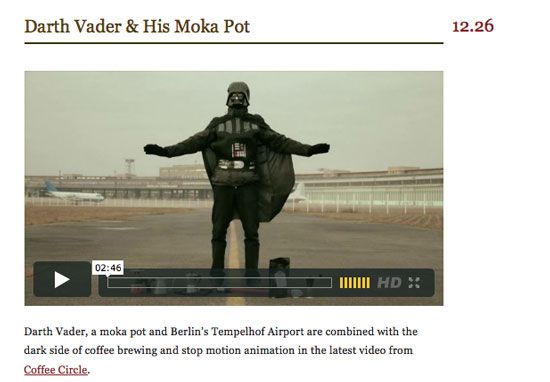 3.
Sweet Maria's.
This is more of an online forum center and info hub on home roasting, green coffee , etc. Very useful.
4.
The Other Black Stuff
is a coffee blog, written by David Walsh.
I was a research scientist and coffee geek, now I work R&D for Marco Beverage Systems. In 2009 I was Irish Cupping Champion, and followed that in 2010 placing 2nd in the World Finals. I retained my national title in 2011.
5
. Hermitudinous
- "Thoughts on coffee. Sometimes they make sense"
* - I started off on a third of my previous salary clearing tables and sweeping floors, all in order to get closer to coffee. I learnt invaluable insights and gained understanding only achieved from getting your own hands dirty. But, this might not be possible for everyone.
---
Thank you Zane! Have you been romancing about opening your own cafe or roastery? If you found this article helpful let us know, we'll get some more insider tips from our network of highly skilled coffee professionals!