Milk Cafe Ballito
Wednesday, 1 May, 2013
Milk Cafe in Ballito celebrated it's Grand Opening, under new management today, and TheCoffeeMag crew was on hand to check it out.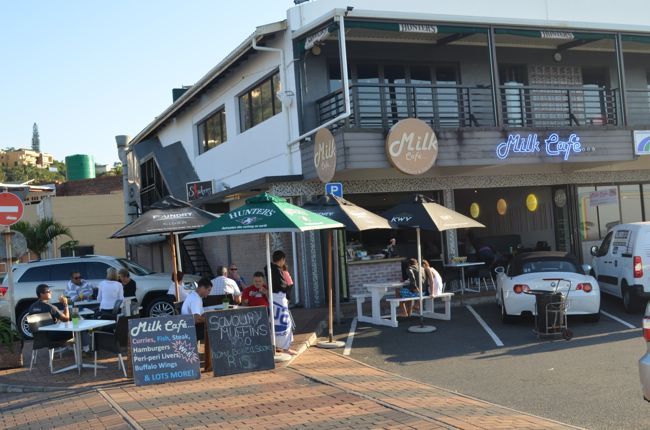 The regulars enjoying the Grand Opening at Milk, on Compensation Beach road, Ballito.

New owners are husband and wife team Roan and Marisa, and Mom, Lizette. Roan has had a good deal of experience in the restaurant business, most recently moving down from St.Lucia where they couple were involved in many of the restaurants in the area. Lizette hails from Vanderbijl Park and explains that they jumped at the chance to open a cafe down at the coast. "I saw the Cafe advertised and immediately though this would be an ideal opportunity."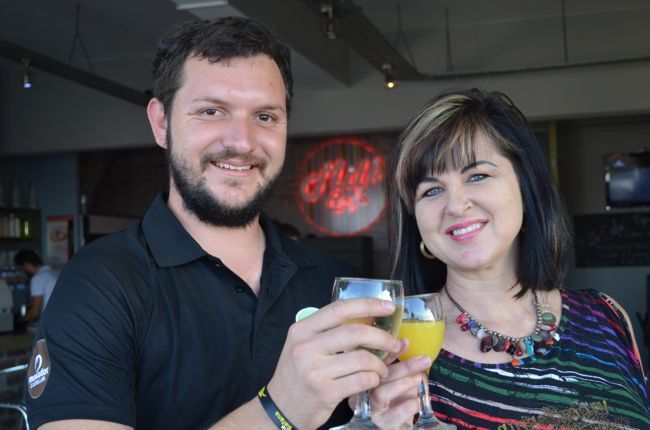 The new owners, Roan and Mom-in-law, Lizette.

Situated on Ballito's main coastal road, Milk is situated just metres from the beach. A relaxed crowd enjoyed soaking up the Autumn sun on the public holiday, gazing at the ocean and sipping on champagne and coffee before breakfast.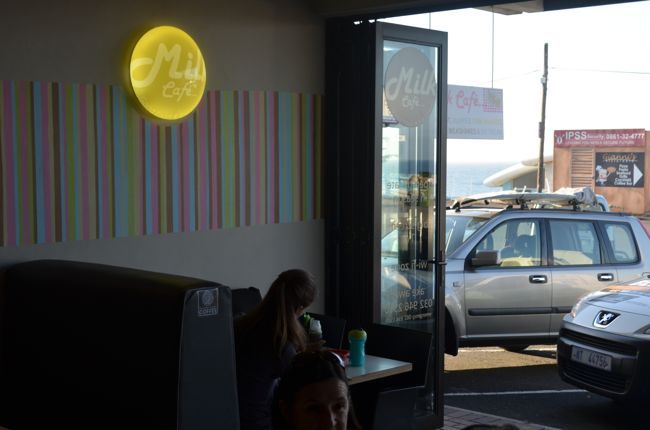 Coffee in a retro booth, while doing a surf-check.

The coffee on offer is a selection of Terbodore Coffee, The Coffee Merchant and Mokador. KZN top 6 barista, Jamie Braun, and Dylan Da Silva from Mokador were at the opening letting guests sample the latest addition to the Milk stable of coffees. Says Roan of the coffee: "I want there to be a wide range of coffee for the customers to choose from. Everyone is different and has different tastes. When I tasted this Mokador blend, with a little hint of robusta, I was blown away. It was exactly what I wanted for the cafe's house blend",
Now that's not something you hear everyday!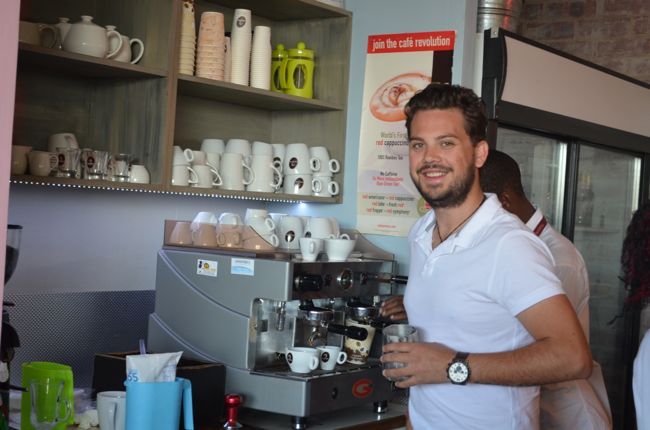 Dylan, from Mokador lending a helping hand during the morning rush.


Roan, who has experience from fine dining right through to running franchise operations such as Wimpy was excited at the potential of Milk: "Ballito is a great little town. It's beautiful here and this cafe has one of the best views I've ever seen. This opportunity was very unexpected, but I'm very happy so far."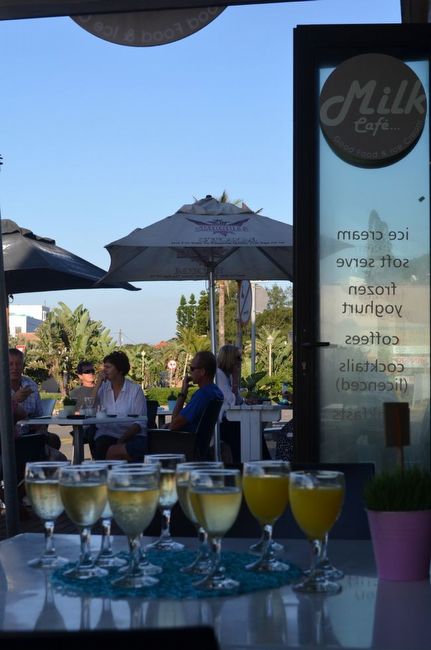 Now that's how you start a public holiday: champagne, coffee and good company!

Roan has high aspiration for the Milk, but wants to stay true to the original concept. "There will be a few tweaks to the menu, but essentially, I want to keep it the same. The locals love it here and I just want to improve on a few things, by keeping it tight and focused."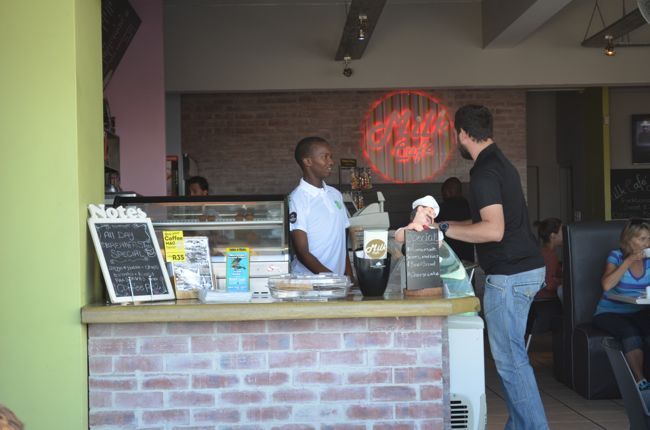 Milk has some quality reading material available for their coffee-loving customers ;)

For bookings call 0724275696 or email
milkcafeballito1@gmail.com
Got something to say? Then leave a comment!
---
The Woodmill Barista Festival
Thursday, 2 May, 2013

The Woodmill Market Barista Coffee Festival – 3rd of May 2013
Go check out this festival at The Woodmill Lifestyle Market in Stellenbosch for a five hour session where you can expect coffee samples, food and live music!
Learn about the various different ways to make and brew coffee at home, visit your favourite Barista and browse your way through the contemporary Woodmill Market.
The baristas have been trained to prepare their coffee based on guidelines from the roaster, so broaden your horizons this is coffee at its best!
Tickets cost R30 (includes a unique mug and tastings) ENTRY to the Market is FREE.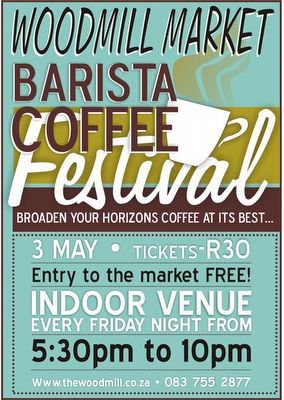 Got something to say? Then leave a comment!
---
Tribe Coffee: The Launch
Friday, 19 April, 2013
By Steve Evans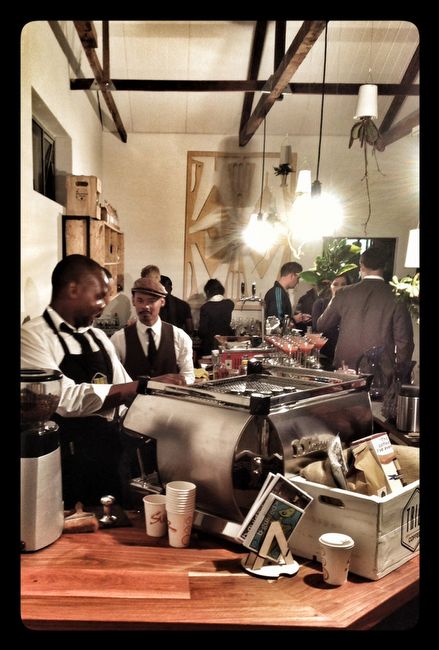 It was a windy, chilly night in Cape Town, but a rather fabulous crowd turned out to support Jake, Kate and Bradley as they launched their new
TRIBE Coffee Shop & Roastery
at The Woodstock Foundry, 160 Albert Road.
This area is part of the East City Precinct development, which has seen a flood of creative urban revitalization projects, including The Old Biscuit Mill, The Woodstock Exchange, The Bromwell and The Woodstock Foundry to mention a few. The area is a mismatch of seedy run down buildings, interspersed with these amazing regenerated spaces, and plenty of street art or graffiti depending on which way you look at it and which building its on! It's become a work haven for the creative industry and as such there is a very exciting vibe going on.
The new home of Tribe Coffee, with a café bar designed by Rivets and Rockets and bamboo recycled set pieces from MBA Architect Design, mirrors this completely, and is an open collaborative space shared with a couple of other businesses.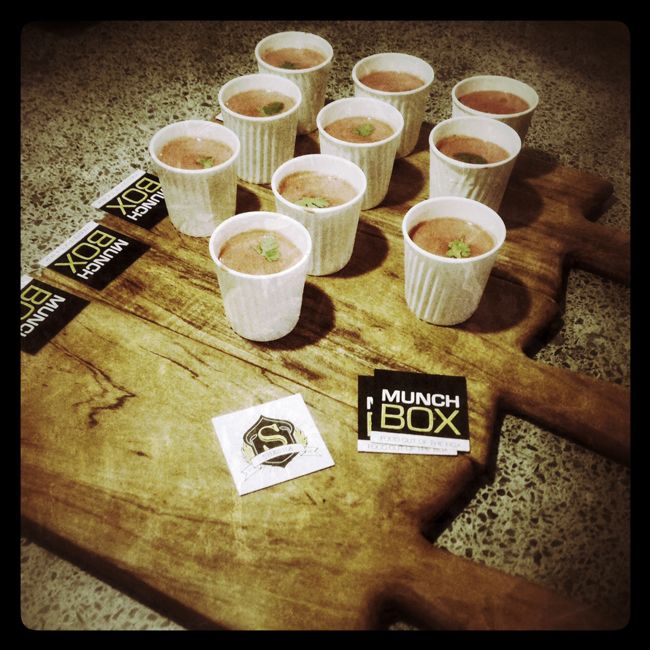 During the speeches, Jake picked up on this theme noting "that if you're passionate about what you do, share your vision and collaborate, you can achieve much more than you ever thought possible...after all, that's what life is about!"
In essence the entire launch was made possible by friends of Tribe coming together to celebrate another milestone in the journey. But the evening was much more than celebrating the new space, it was a working showcase of collaboration with a live graffiti mural being painted by
Fers*
, some cool live guitar, and a very interesting art wall (to ponder).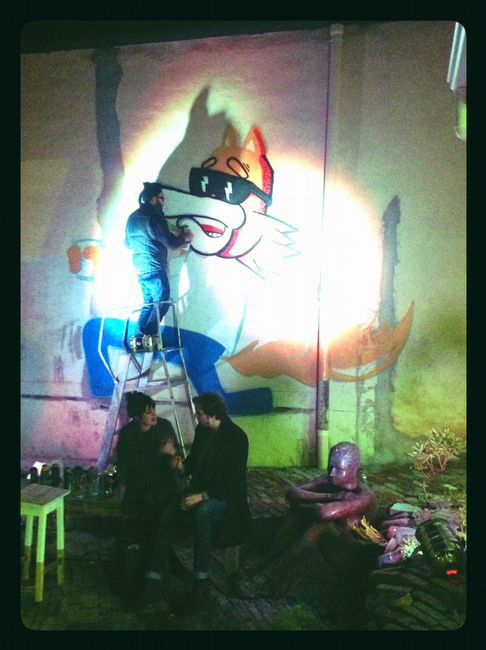 Quite by chance, I met up with an old school contemporary, Oli Marshall who actually sold Jake the old 20kg Probat roaster (fondly known as Bertha, queen of the seven seas) which stands tall and proud in the smallish studio space across the courtyard.
The Tribe coffee bar itself is a spacious, open design, showcasing the trendy MadeByArchitects bamboo furniture, not to mention the Jack Black Draft Tap and of course the La Marzocca Espresso Machine.
As the edge of the cocktails started to wear off, and the buzz of the coffee started to kick in, I quietly sneaked out, but will no doubt be back in a flash to soak up more of the TRIBE energy...and satiate my coffee cravings!
Congrats to the Tribe team on an amazing party and a fantastic space, we expected nothing less from these trailblazers!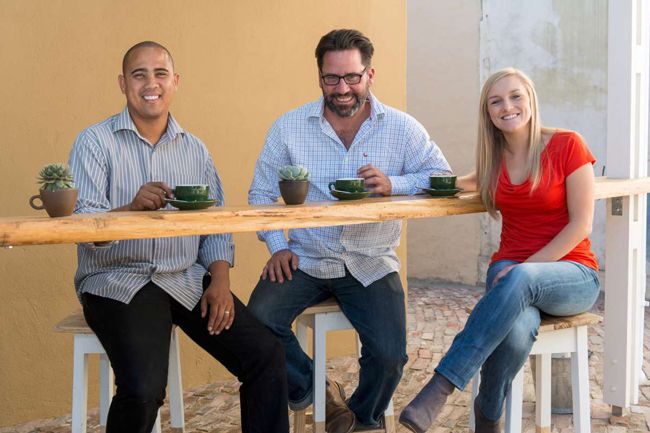 Got something to say? Then leave a comment!
---
Gauteng Coffee Competition final results
Wednesday, 20 March, 2013
The Gauteng Regional Coffee Competitions wrapped up at the Sandton Convention Centre today, with 4 new regional champions being named. The occasion was especially significant thanks to sponsorship from Nuova Simonelli, bringing out 2009 World Barista Champion, Gwilym Davies to SA for the event.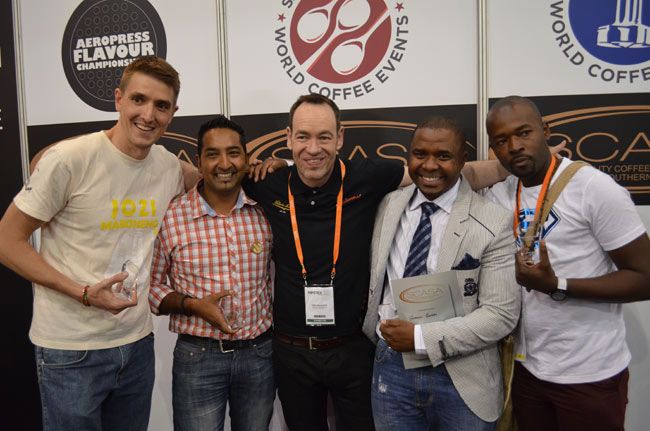 From left to right: Matt Carter (Aeropress winner), Ishan Natalie (Barista competition winner), Gwilym Davies (Coffee Celebrity), Johnson Sehoro (Cup Tasters winner) and Peter Seodisa (Latte Art winner) are the new champions for Gauteng and will (along with the rest of the GP Top 6 baristas) compete in the National finals in September.
Ishan Natalie
took to the stage first, and though a previous 2x SA champion, was still a little nervous "I'm anxious, but I'm excited too. I love competing - it feels like the old me!" Ishan moved smoothly through his routine, using an Indonesian coffee from the island of Flores for the espressos. His signature drink was a granadilla and sugar infusion, served in delicate espresso glasses. A very solid and slick performance from Ishan. "It was nerve wracking but lots of fun. I'm really happy with how it went and with how everything turned out."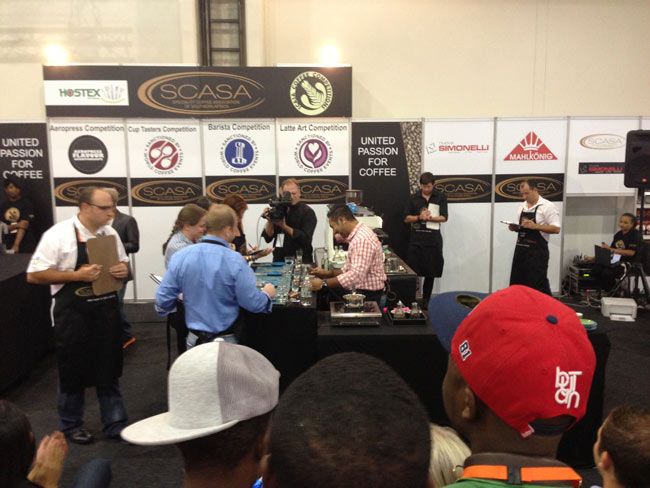 Ishan, smiling and relaxed during his winning set
Next up was the experienced
Bruce Manning
, always an entertainer, and a finalist from last year's KZN Regionals. Bruce took an unusual approach this time, playing zen music and giving the judges newspapers to read while he prepared espresso described as "Pronutro and toffee", and for a change not talking too much! Bruce, created a starchy, basmati infusion in a Bodem and paired it with a Peruvian single origin as his signature drink. "Amazing venue and organization, and I'm really happy. It's great to serve judges like these who know their coffee, and nice to perform for them. I tried to magnify some aspects of the coffee, the mouthfeel, the bitterness and the sourness, hopefully not the coffee's detriment, but to give it a proper punch in the mouth!"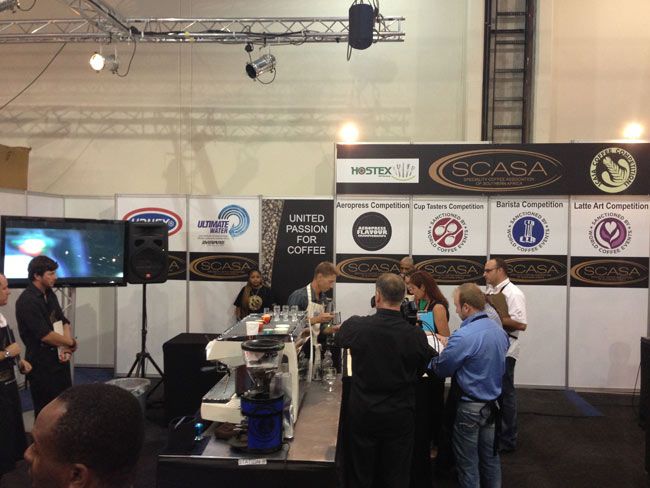 Ommmmmm. Zen music wafted through the Hostex theatre as Bruce created a unique coffee experience for the judges.
Martin Ten Koorden, looking slick in formalwear and a hat, moved quickly around the coffee station, serving up a blend of Tanzanian and Ethiopian Yirgacheffe for all his drinks. The espressos and cappuccinos looked great and despite a small cup-drop, Martin kept the judges and audience well informed through the performance. He ended his set with a smoothie type signature beverage that was designed for sportspeople and quick, on-the-go consumption. "It went alright, at the end of the day you gotta stay calm and recover if something happens and allow time for things that you might not anticipate. But, ja, I was happy, and I'm proud of myself. "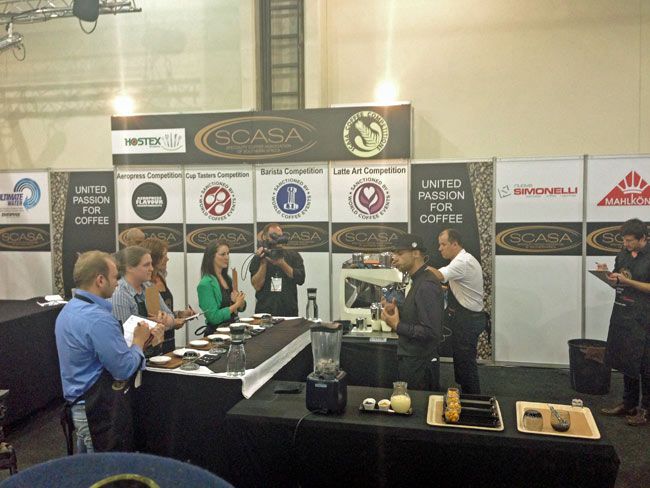 Making every second count during his set, the stylish Martin Ten Krooden aka Bob
Mike Gumbo
from Nino's, a first time finalist at regional level, took the stage next and presented the judges with a Brazilian and Colombian blend. "It was fine, but I was under pressure. I just tried to own the stage and be myself" Mike dedicated his signature drink to his wife Hazel, which he called the Hazelnut special, a caramel and hazelnut reduction, freshly squeezed orange and cinnamon based espresso drink. "My wife introduced me to coffee, so I did this for her!"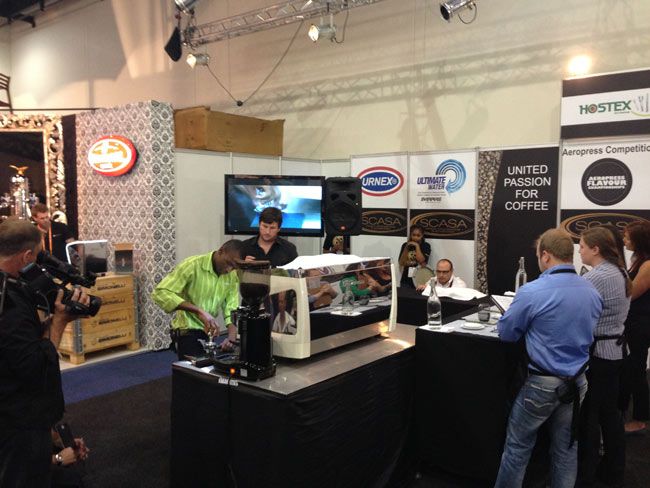 Mike made a signature drink dedicated to his wife. We love a bit of romance!
The 5th barista up was
Johnson Sehoro
- already a finalist in Cup Tasters and Aeropress this week - Johnson, the success story of the Gauteng Coffee Industry, a singing, smiling, happy man of a barista - put his heart and soul into his performance. "It was great, I was prepared, I roasted my own coffee and I had fun. It was a washed Tanzanian with an unwashed Ugandan coffee. His signature drink was a ginger & fennel, coconut and lemon grass tea, paired with espresso.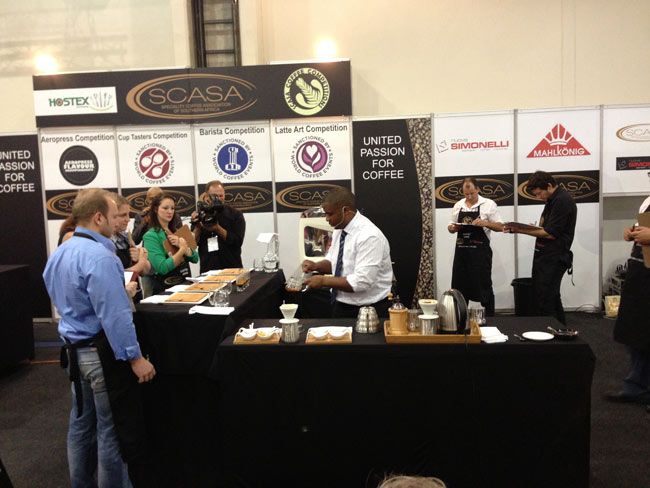 A jack of all trades and master of each of them! Johnson took this competition by storm!
Finally, seasoned competitor
Wayne Burrows
took the stage and immediately clicked into a fast paced, information rich routine. Ugandan Bugiso was used for all drinks. He was very specific with the Judges in their tasting instructions and kept them closely informed. "Sip, stir, smell. Raw tactile balance is what I want you to taste!" Wayne's signature beverage was a raw maple syrup with double thick plain greek yoghurt concoction. "I'm happy with it - the coffee came out exceptionally well. It's all about what's in the cup."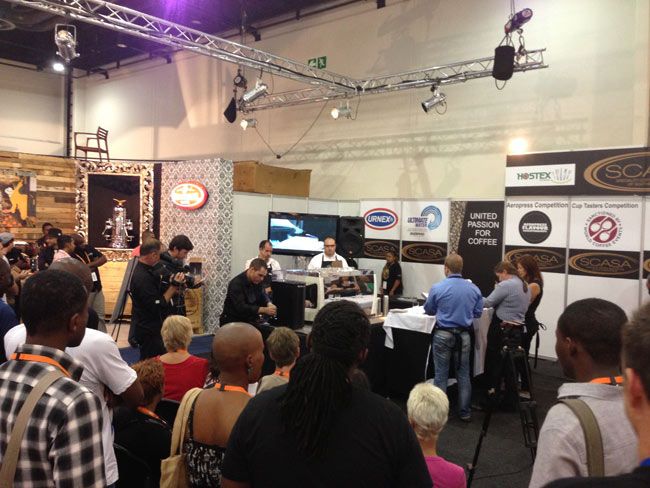 Wayne led the judges and the audience through an extremely well though out and information rich set.


What the winners had to say: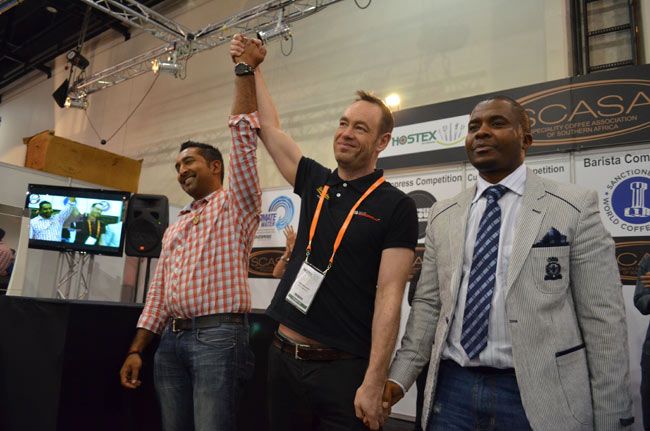 Ishan: "Its an awesome feeling to win. I worked really hard for this. Finding the right coffee was the key. From day one, tasting the Indonesian Flores, I knew it was the one and a coffee I could believe in. Then roasting it right and extracting it right on the day. There was a lot of expectation on me, so I'm glad I could rise to that and do well"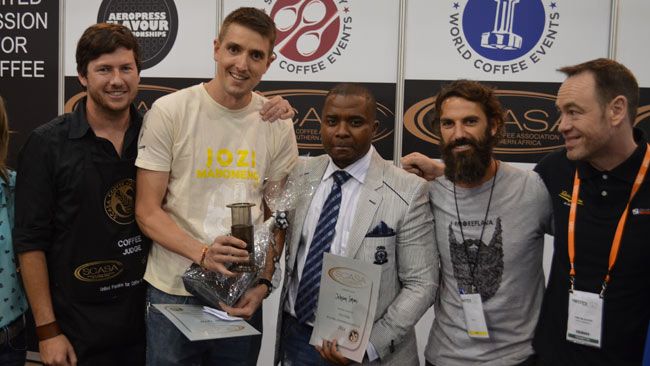 New Aeropress champion Matt Carter:"I'm very very stoked. I didn't make it through last year, and now I've won it. I'm going to go away now, come back with a new recipe, ready for Nationals. "
Zane Mattisson of Aeropress SA, Matt, Johnson, David Coleman of Aeropress SA and of course Gwilym.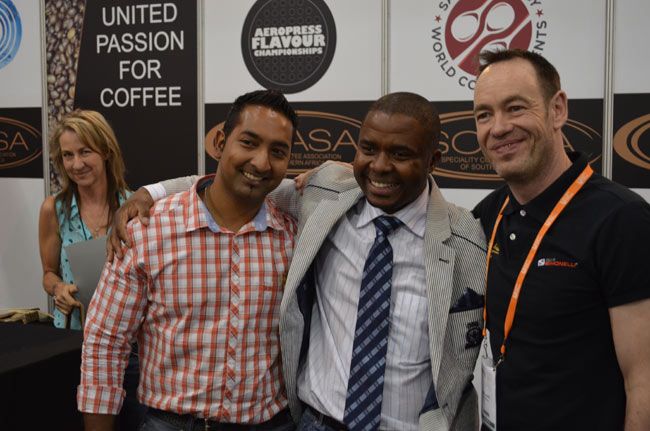 Johnson, on the Cup tasters victory: "This means a lot to me. I love tasting coffee. I'm in love with this thing!"
Ishan, Johnson and Gwilym (and Carol from the SCASA board smiling behind the scenes, she had the difficult task of totalling all those scores!)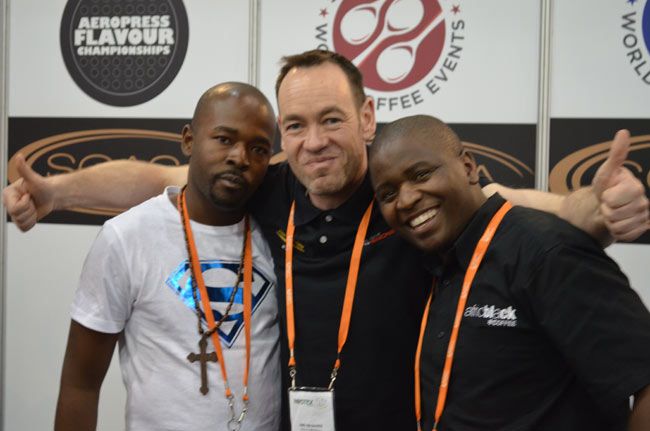 Peter Seodisa, the Latte Art winner: "Its a great feeling and I'm really looking forward to competing in Latte Art again at Nationals"
Peter, Gwilym and Phumlani
Got something to say? Then leave a comment!
---
Update from the floor: Day 3 of the SCASA GP Regionals at Hostex
Tuesday, 19 March, 2013
We're coming to you live from the Hostex floor!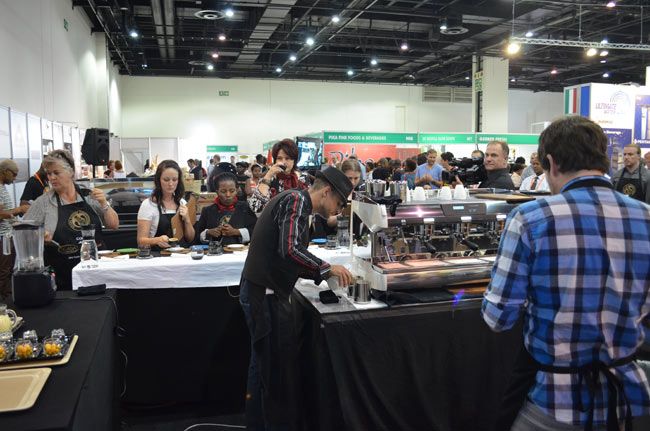 Martin Ten Koorden - through to the top 6
Gwilym Davies, the 2009 World Barista Champion who has been educating and inspiring the baristas and crowds alike here today, has just announced the Top 6 Baristas on behalf of the judges, after a gruelling two days of competition.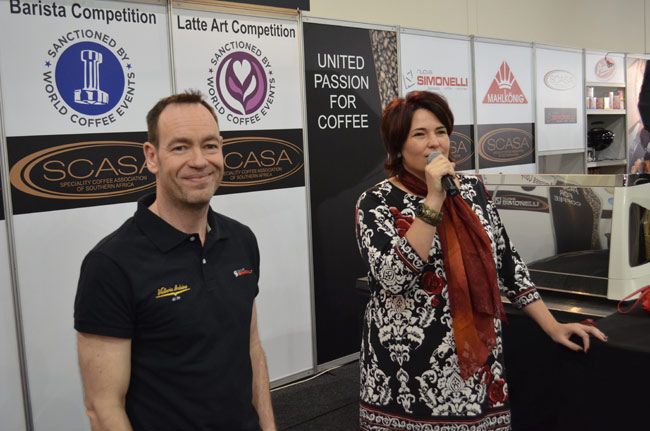 Gwilym Davies (UK) - WBC World Champ 2009, with Lani Snyman of SCASA
announce the finalists


And they are (in the order they will compete tomorrow):
Ishan Natalie (Tribeca)
Bruce Manning (Tribeca)
Martin Ten Kroonden (Tribeca)
Mike Gumbo (Nino's)
Johnson Sehoro (Wimpy)
Wayne Burrows (Independent)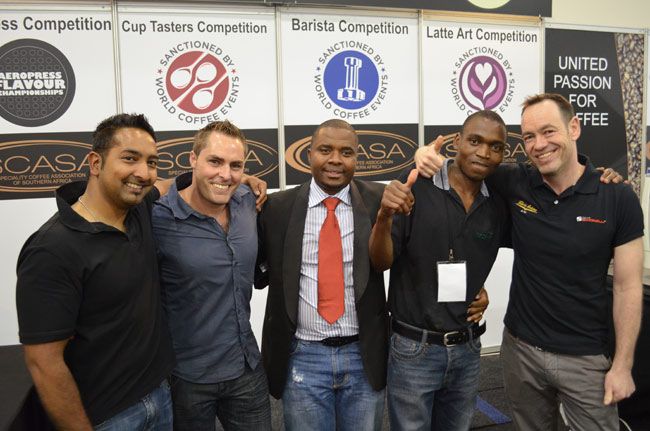 The Barista Finalists, (L_R) Ishan Natalie, Wayne Burrows, Johnson Sehoro, Mike Gumbo,
with Gwilym Davies.
The Cup Taster's, Aeropress and Latte Art competitions were run on Sunday, the winners have already been decided, but will only be announced after the Barista finals tomorrow. The finalists were:
Cup Tasters: Johnson Sehoro and Ishan Natalie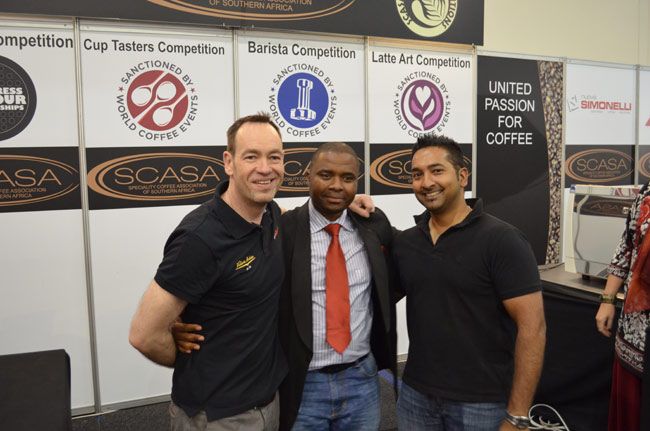 Cup Tasters: Johnson Sehoro and Ishan Natalie
Latte Art: Phumlani Sibeko and Peter Seodisa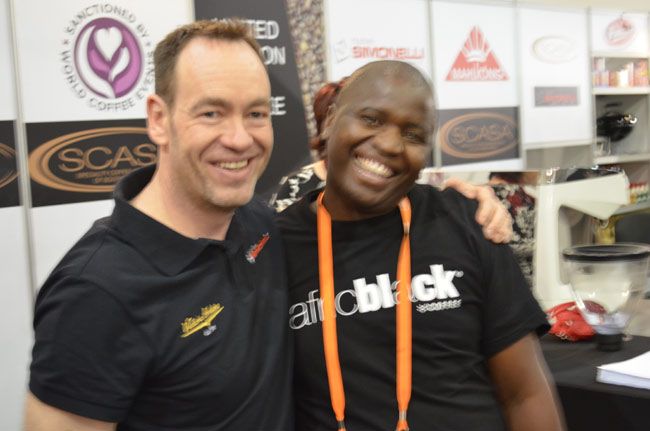 Gwilym and Phumlani (so excited he couldn't stand still for the photo!)
Aeropress: Johnson Sehoro and Matt Carter
The event has been so well run, huge congrats to the SCASA team and special mention to Rochelle McWilliams who has been the behind the scenes champion.
Here are a few other moments from the day: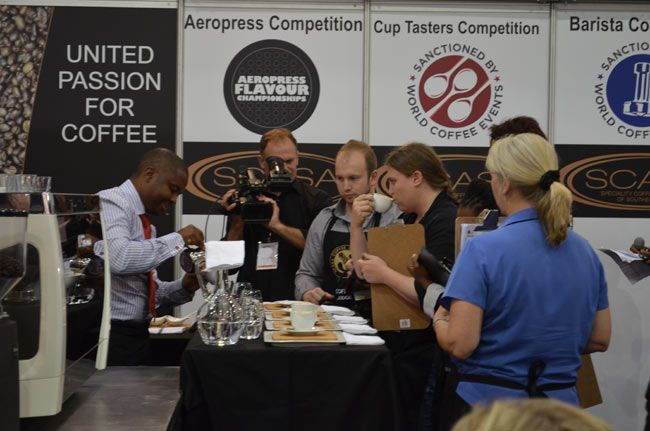 Johnson, smiling and dancing through to the finals.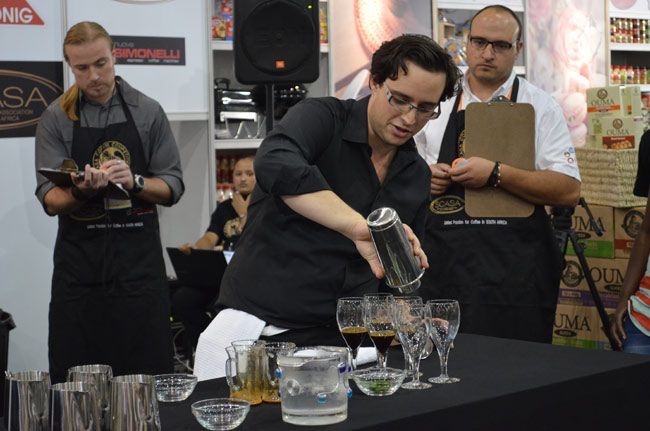 Ori pouring his signature drink - deconstructed virgin mojito.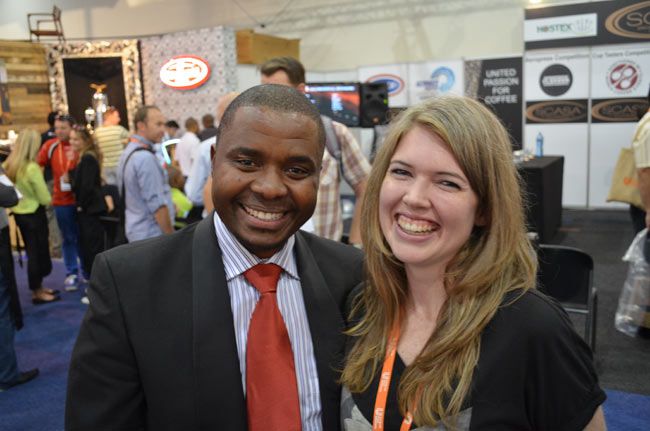 Johnson and TheCoffeeMag's Melanie Winter (ed!)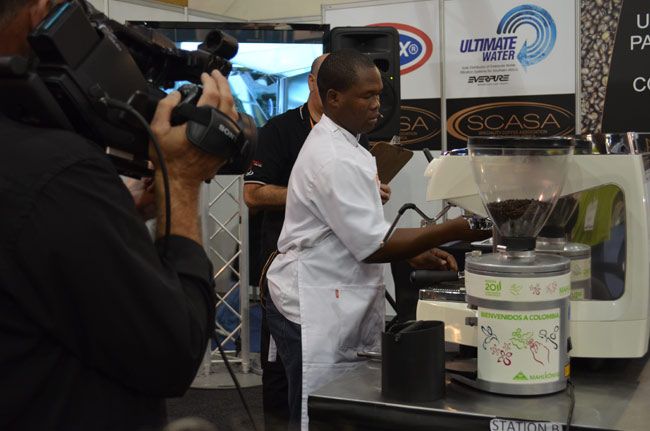 Freddy, a late entrant, but a strong performance.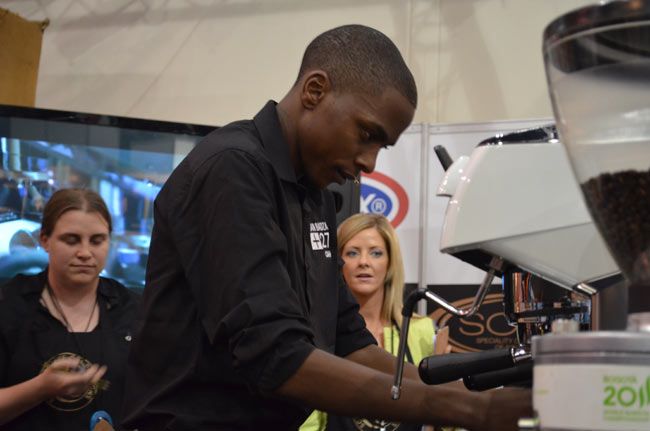 Alban, from +27 cafe in Pretoria.
Got something to say? Then leave a comment!
---
2014 Gauteng Coffee Competition at Hostex
Thursday, 14 March, 2013
The Speciality Coffee Association of Southern Africa (SCASA), the governing body of competitive coffee competitions in SA, and who are affiliated to the World Barista Champs (WBC) kick off the first of the Regional Coffee Competitions for the 2014 cycle this coming week. The Gauteng Regional Barista Championships is taking place at Hostex, at the Sandton Convention centre from 17-20th March.
There are some very exciting names returning to the competitive arena this year, with 2-times National Champion, and current Aeropress champ, Ishan Natalie from TriBeca, due to make a comeback. Other exciting names to watch out for are the lyrical Freeman Mhlanga (Bean There) current Latte art champ Phumlani Sibeko (Still.coffee), a return of the evergreen Wayne Burrows and the up and coming young Ori Cohen.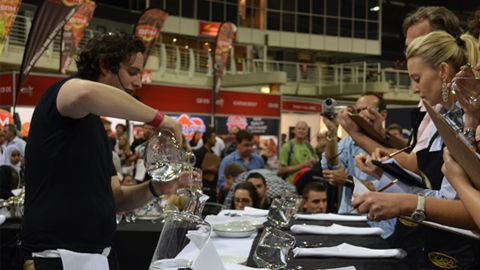 Ori Cohen in action at last year's National Finals.
There are 4 regions in SA that participate in competitive coffee competitions, namely Gauteng, Western Cape, Eastern Cape and KZN. The Gauteng regionals at Hostex is the 1st of the 2014 cycle, and from each of these regional competitions, 6 finalists qualify for the Nationals, and from that a National Champion is crowned, who will then represents SA at the WBC event in 2014.
GP: Regional Coffee Competitions
17 – 20 March 2013: 10h00 – 17h00
Hostex: Sandton Convention Centre
SCASA Barista Championship Theatre: Barista competition, Latte Art competition, Cup Tasters competition and Aero Press competition)
17th March:

18th March:

19th March

20th March

Follow all the action on this page as the competition unfolds, we will be loading results photos, videos and interviews here for the duration of the event.
Got something to say? Then leave a comment!
---
SCASA National Coffee Competition Line-up
Monday, 18 February, 2013
All you brilliant baristas and coffee enthusiasts, take note of these dates! These are the official SCASA Coffee Competition dates for the 2013/2014 cycle. It's your chance to get involved!
Gauteng Regional Coffee Competitions
17 – 20 March 2013: 10h00 – 17h00
Hostex: Sandton Convention Centre
(Barista, Latte Art, Cup Tasters, Aero Press)
Western Cape (Held in CT) Regional Coffee Competitions
23-26 May 2013
Good Food & Wine show – sponsors needed
Disciplines: Barista, Latte Art, Cup Tasters, Aero Press
Eastern Cape (Held in PE) Regional Coffee Competitions
June 2013
Disciplines: Barista, Latte Art, Cup Tasters, Aero Press
KZN (Held in DBN) Regional Coffee Competitions
8-11 August 2013
Good Food & Wine show – sponsors needed
Disciplines: Barista, Latte Art, Cup Tasters, Aero Press
New competition: National Roasting Competition
End August 2013
Cape Town – to be confirmed
National Coffee Competition 2013
Gauteng: GFW: 21-24 September 2013
Disciplines: Barista, Latte Art, Cup Tasters, Aero Press + New competition: Cup brewers
World Competitions
23-26 May 2013
Melbourne, Australia -
World Barista Championship
and World Brewers Cup featured at the Melbourne International Coffee Expo (internationalcoffeeexpo.com)
Our very own Lovejoy Chirambasukwa, will be competing at this event. Look out for a feature on him in the upcoming 3rd edition of TheCoffeeMag.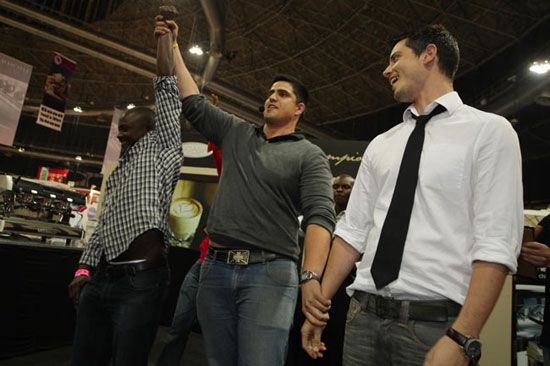 26-28 June 2013
Nice, France - World Latte Art Championship, World Coffee in Good Spirits Championship, World Cup Tasters Championship, World Coffee Roasting Championship featured at the SCAE World of Coffee event (www.worldofcoffee-nice.com)
The lovely and talented
Miss Maxine Keet
will be representing the RSA!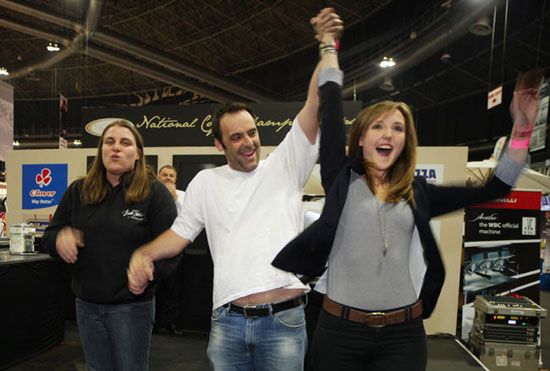 ---
Got something to say? Then leave a comment!
---
Sprada and CoffeeCentral promotion
Tuesday, 5 February, 2013
Got something to say? Then leave a comment!