2013 SCASA National Coffee Competitions.
Wednesday, 12 September, 2012
National Barista Champs Day 2 of Semi-Finals: 23/09/2012
Watch the highlights package here: http://www.youtube.com/watch?v=qgr-kvgAKdM&feature=youtu.be
This was not your average Sunday. Normally a time for slow mornings and lazy brunches, the first barista of the day Azhar Khan was scheduled to begin at 9.30am. Good thing there was great coffee around. The National Coffee Championships arena was definitely the first part of The Good Food and Wine Show to get underway, no surprises there.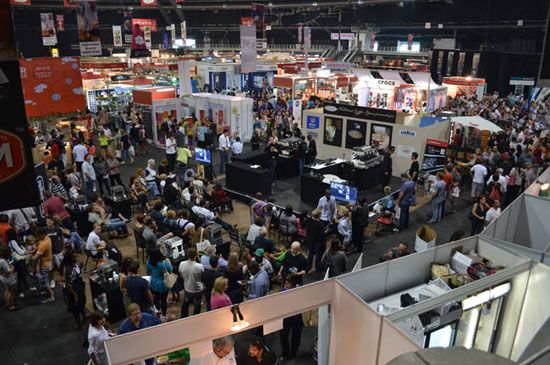 There was an air of anticipation following a successful first day of semi-finals. There was a lot to live up to for the baristas of Day 2, but they came prepared. Prepared to knock our sensory socks off.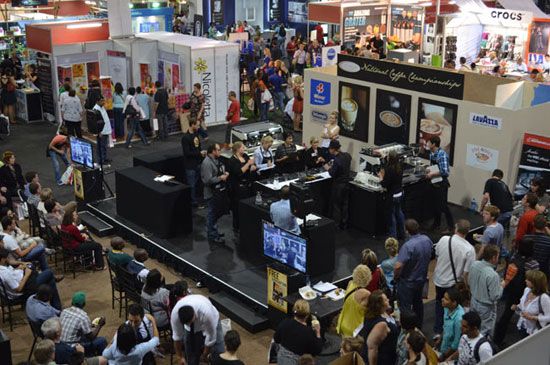 First up Azhar Khan (KZN) woke the judges up with a dry ice display that had the judges table covered with a seductive mist.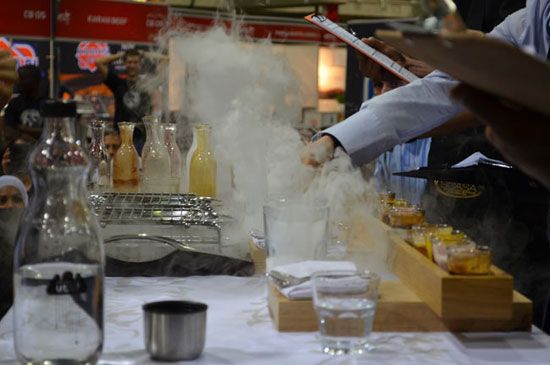 Samantha Moodley, another KZN contestant, delivered her signature polished and professional performance, as smooth as her gorgeous microtextured cappuccinos.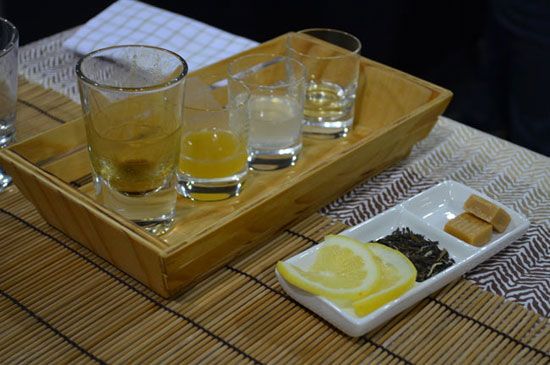 The Deconstructed Espresso-Sam's signature drink

Ori Cohen (Gauteng) produced not one but two reductions for his signature drink (this is all in 15 minutes!), one strawberry and the other black pepper, interesting combination!
Khanyisa Fica (KZN) delivered the judges a little something for the morning with her Breakfast Bliss creation.
Danny Spence (Gauteng) gave up professional cycling for a career in coffee and this passion was evident for this 1st time competitor.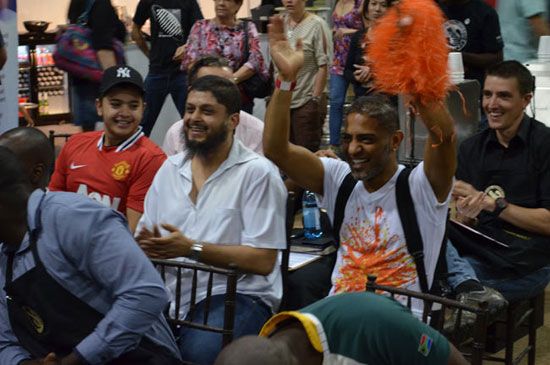 And the crowd went wild!

Martin Ten Krooden came out in style! Training to be head roaster at Tribeca, he showed off his supreme knowledge of his chosen bean.
Lovejoy Chirambasukwa (WC), trained by current SA Barista Champ Wayne Oberholzer, was technically superb.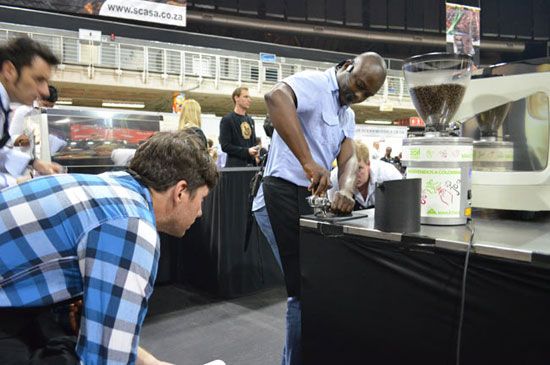 And we all bend together. Everyone watching Lovejoy tamping like a champ.

Sisa Mapetu (EC) in his first time competing, inspired by the way coffee brings people together, came to have fun and learn and will definitely be back.
The last section of the semi-finals was all the Regional Champions one after the other, what a way to end the day!
Charles Ngwarai (EC) showing that the Eastern Cape after a very short time of being part of the Nationals, are worthy contenders. He has a real shot at being EC's first champion!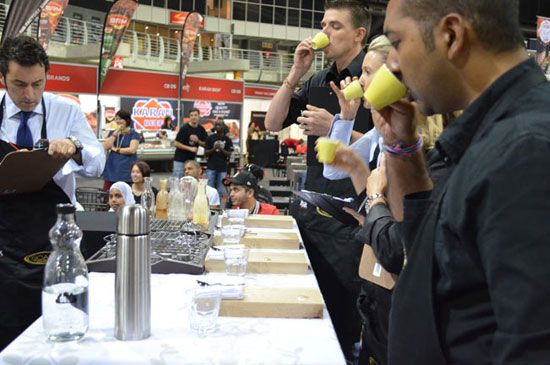 Gerald Charles (WC)packed an hours worth of enthralling information into his 15minute set, and battled technical difficulties with ease, leaving the audience on the edge of their seats!
Craig Sampson (KZN)bopped and weaved to his soundtrack, enjoying every second of his entertaining display and charming both audience and judges.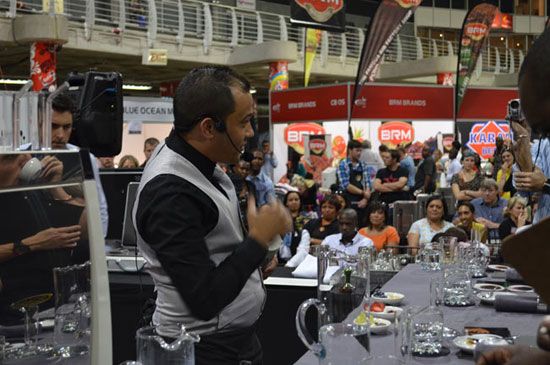 Phumlani Sibeko (Gauteng), a definite crowd favourite, being GP's current No 1 gave a solid performance although he was slightly disappointed with the extraction of his espresso, by his very high standards.
Scores were quickly tallied and soon, Lani Snyman (SCASA Board of directors) and Wayne Oberholzer were on stage making the announcement of the Top 6 baristas who will compete today:
(in the order they will be competing)
Romeo Chimunya (WC)
Stephan Brits (WC)
Craig Sampson (KZN)
Gerald Charles (WC)
Lovejoy Chirambasukwa (WC)
Charles Ngwarai (EC)
So the Western Cape dominate the Top 6, but the Championship crown and a place at the WBC 2013 in Melbourne next year are still up for grabs. Today these baristas lay it all on the judges table. Watch this space.
In the other categories today:
The Cup Tasting Final between two brilliant ladies of coffee, Cuth Bland (GP) and Maxine Keet (WC), vying for a position at the World's held in Nice, France next year.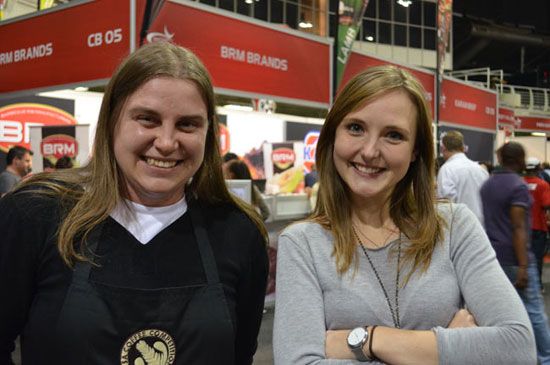 The Latte Art Final between Phumlani Sibeko(GP) and Stephan Brits(WC)
And the announcement of the Aeropress winner, between 2 previous Barista Champions, Ishan Natalie (GP) and Wayne Oberholzer (WC) will also be announced.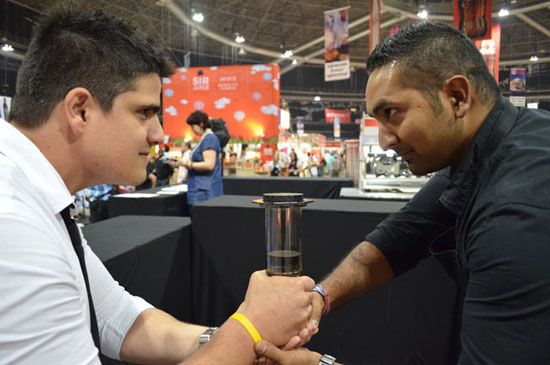 ---
Barista Championship Highlights 22/09/2012
Saturday at The Good Food and Wine Show. The place was heaving. We rushed in after our early morning trek from Durbs and followed our noses to the Creative Coffee Theatre.
Everyone had to agree, the buzz in the arena was incredible. Not a seat was empty as the baristas took the stage to strut their stuff. Months of training and perhaps years of dreaming were finally taking shape before a lively crowd. And of course the judges. Ah the judges. Each barista is joined by no less than 7 judges up on that stage, with every granule of coffee being accounted for.
The goal of events like these(other than the winner flying off to the World Barista Champs to compete) is to promote the culture of coffee and the profile of the professionals who make us amazing coffee everyday. People passing by simply had to stop and engage with the action.
The baristas are all champions, the amount of guts and passion it requires to get up there deserves kudos. Everyone had something unique to offer, especially when it came to choosing their specific competition beans. They tailored their entire performances, including complimentary signature drinks, around these flavour profiles, technical and tasty stuff.
Jamie Braun did KZN proud, opening the competition with some smooth operating at her first National event.
Donovan McLagen (you may have seen him on the latest Checkers ad?)of the Eastern Cape, last years cup tasting champ, this year tackled the barista discipline and produced a memorable signature drink including a vanilla mousse.
Simpiwe Adams' signature drink was inspired by the sun coming up over the sea in his home-town of PE.
Marinus Wijnbeek of Gauteng used a glass tablet with a drawing of a tongue to illustrate the different flavours of his espresso.
Stephan Brits has years of experience in the hospitality industry and his passion for all things delicious certainly shone through today.
Romeo Chimunya of the Western Cape was a rock star (he definitely had the most lively supporter: Jonathan of Bean There) and made a delightful citrus jelly for his signature drink.
Bruce Manning of KZN definitely provided us with the most memorable set up, including a hospital IV drip and a vacuum sealer.
Sipho Mabaso of Gauteng brought us a signature drink titled 'Brown Betty', need we say more?
Collins Odhiambo of the Western Cape had his coach, current SA Barista Champ Wayne Oberholzer, pacing with nerves, but there was no need for that with a spectacular display of knowledge and skill to wrap up the day's play.

Check out the video of events here:

Tomorrow there are 12 more baristas who will have their chance to impress the judges and the crowds. We can't wait.
---
Win 2 tickets to the Joburg Good Food & Wine show here!
---
This is a video that was produced around the 2010 World Barista Champs in London. Look at the massive crowds of supporters. Look at the intensity of the judges. Listen to the baristas. This is for real. The winner of this weekend's National Barista Championship held at The Good Food and Wine Show in Joburg will be going to Melbourne to compete in an event like this. Do you yourself a favour and come out to clap for damn fine cappuccinos this weekend.
21st-24th September 2012
The Good Food and Wine Show, Coca Cola Dome
3angrymen_Clapping For Cappuccinos from 3angrymen on Vimeo.
PS. In this vid you can see our own Ishan Natalie doing his thing on stage!
---
2013 SCASA National Coffee Competitions.
The Speciality Coffee Association of South Africa (SCASA) will host the National Coffee Competitions at The Johannesburg Good Food & Wine Show which takes places at the Coca Cola Dome in Johannesburg from September 21 to 24.
This begins the build-up to the SA National Barista Champs. And we are excited!
The stage is set for an amazing event at The Good Food and Wine show. The competition in SA has grown remarkably over the last few years and the level of performance has become increasingly high. There are 4 parts to the competition:
The National Coffee Competitions include the Barista Championship, Latte Art competition, Cup Tasters competition and for the first time an Aeropress division.
The National Barista Championships will take place at The Creative Coffee Theatre, which is the area dedicated specifically dedicated for National Coffee Competitions at the Goof Food & Wine show. The winners will represent South Africa at the World Championships in Melbourne in 2013. In addition, there will be an interactive theatre for visitors, with demonstrations and hands-on help from baristas on how to pull espresso shots, steam milk, do latte art and help visitors learn about creating perfect cups of coffee.
Defending champ Wayne Oberholzer will not be defending his National Barista title, but will be there to support all the baristas and will compete in the Aeropress category: "The barista championships is an amazing platform for showcasing baristas and their skills. I'm looking forward to seeing what the guys and girls do to impress the judges this year"
Current SA Barista Champion Wayne Oberholzer.
"I'm excited to interact with the public and get them involved, to actually show them how the machines work and to include them as part of the event, said Wayne.
This video shows Wayne representing SA at the recent WBC event and gives an idea of how the competitions are run at the highest level.

Download the Schedule of events- click here.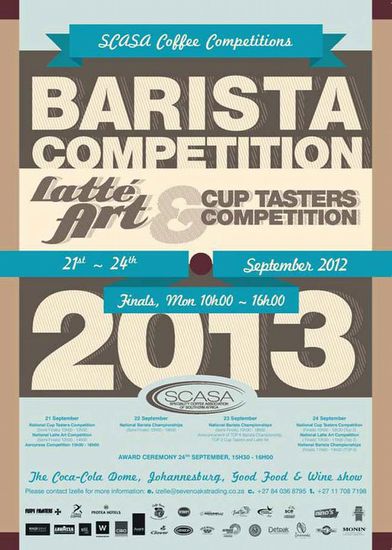 ---
More about the Johannesburg Good Food and Wine show...
Among the international chefs visiting the show is George Calombaris who become famous with South African television viewers as one of the judges of the hugely popular TV show MasterChef Australia and will once again keep viewers glued to the screen when the highly anticipated Junior Masterchef starts on M-Net later this year.
Says George: "I am thrilled to be coming to Johannesburg. I had to cancel last year because of filming commitments. There are going to be a few little surprises during the demonstrations. It's an opportunity for people to come and meet me and get a good idea of who I am and why food has played such a major part in my life."
Other international chefs coming to the food extravaganza include Indian cookery expert Anjum Anand; popular Masterchef Australia winner Adam Liaw on his second visit to Joburg thanks to overwhelming public demand; Rastafarian musician turned Caribbean cooking fundi Levi Roots and popular children's TV presenter Sid Sloane.
Adam Liaw wowed audiences at last year's Jozi Good Food & Wine Show. What can audiences expect this time around? "I want people to go away and make the dish. They must leave with a few tips and understand how I feel about food. It's not about showing them what a great cook I am but how easy it is to make food in your own home."
Entrance tickets to the show (R!35 for adults and R50 for children; children under 2 are free) can be bought through Computicket. This year the ticket price allows visitors access into the popular Chefs in Action theatre to watch the international chefs in action. (In previous years extra tickets had to be bought for this arena.)
Win:
Win 2 tickets to the JoBurg Good Food & Wine show
Got something to say? Then leave a comment!
---
Win 2 tickets to the JoBurg Good Food & Wine show
Thursday, 20 September, 2012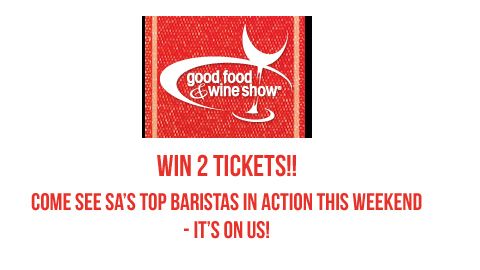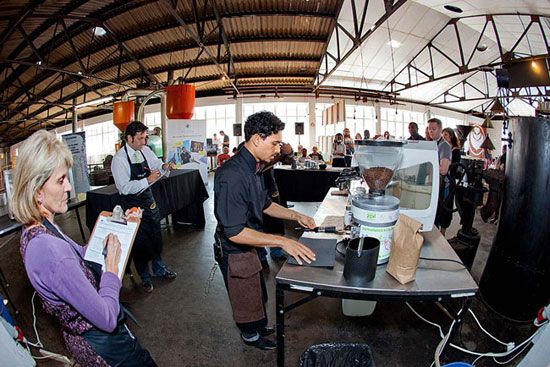 Win 2 tickets to the JoBurg Good Food & Wine show
Got something to say? Then leave a comment!
---
InFood Coffee Society: The Business of Brewing
Thursday, 6 September, 2012



Andre Lategan
Coffee Lover. Surfer. Poker Player.
---
Hello aficionados, amateurs and general enthusiasts of coffee! I consider myself amongst the latter category. On Tuesday the 4th September I was lucky enough to attend the second module of Coffee Culture Classes hosted by InFood Coffee Society, the brainchild of the owner, Jane.
The module was on manual brewing methods and this naturally went hand in hand with the type of grinds and blends best suited to each method.

From the most fine (Turkish, basically a fine powder) to espresso, filter, plunger and lastly the largest granules being percolator and 'moerkoffie'.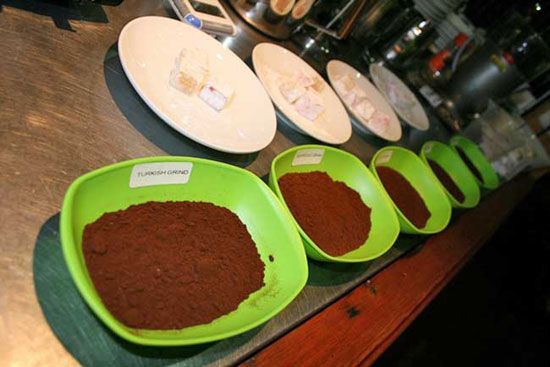 Next on the programme were demonstrations of the most popular brewing methods. They're listed below, with a just a little of the useful info we were given on each.
Moerkoffie
As the name implies, this is an Afrikaans favourite and it's said that the farmers (boers) like their teaspoons to be able to stand upright in it. Coffee mud!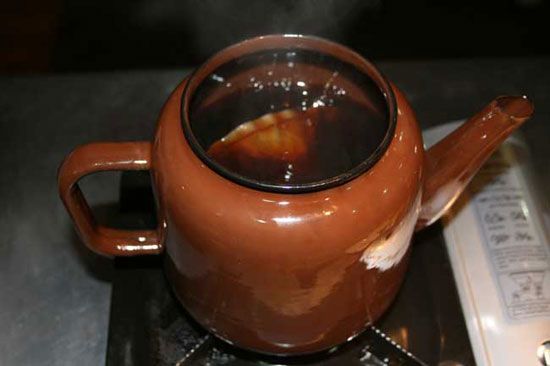 Takes 1 1/4 hours to brew in a muslin cloth bag. The grind is very coarse so as not to seep through the cloth.
Plunger
Probably the most widely used method, it can get you a wonderful cup if you do it right.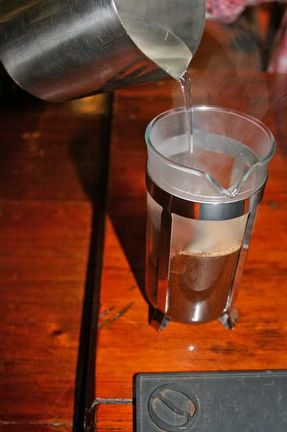 The trick with the plunger is to get the correct grind and then remember not to pour boiling water over it, as it burns the coffee. Let it soak for at least 3 minutes or to your taste.
For something different try a shot glass with condensed milk in the bottom and a shot or two of coffee poured over-aka an Italian bon-bon. For a Spanish bon-bon use espresso over condensed milk.

A sweet and delicious variation!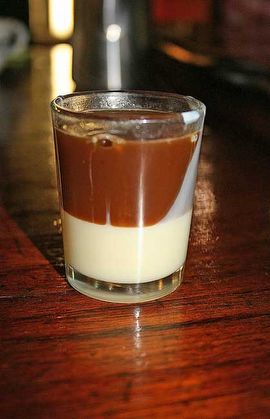 One Cuppa
Great for travelling or at the office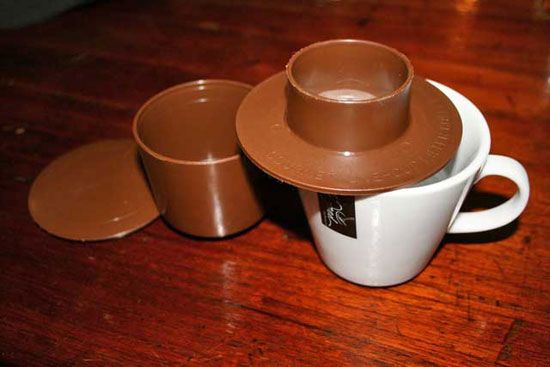 It's very simple: pour water over ground beans and let it filter slowly through into your cup.
Ibrik
This is the ancient Turkish method. It was quite complicated but to me the best tasting of the night.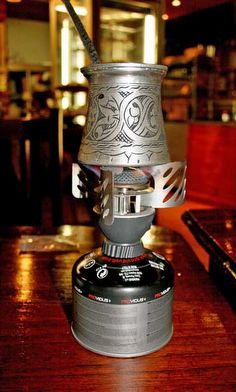 Bring the ultra finely ground pasty coffee with sugar pre added to the boil three times. Spoon out the crema equally,pour the remaining coffee into the cups (to avoid drinking mud avoid agitating the brew once on the bubble). Top off with a Turkish Delight, mmmhmmm.

Moka pot
Italian Espresso style coffee,these pots are traditionally aluminium but newer models tend to be stainless steel.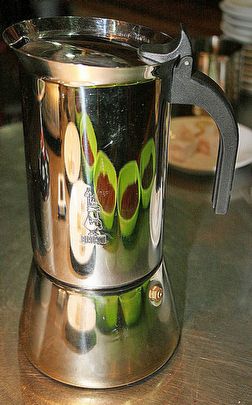 The pot is placed directly on the stove-top and the steam from the boiling water in the bottom compartment pushes through the finely ground coffee, to the top compartment, creating a moka espresso.
Aeropress
A relatively new contraption, that pushes out a smooth brew.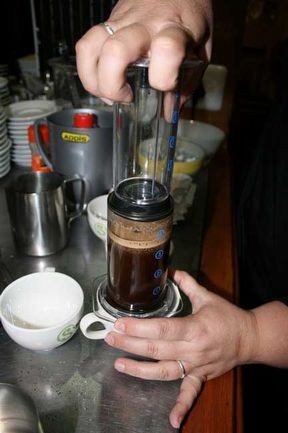 Similar to espresso but uses a syringe type of force to push the hot water(not boiling)through the filter. This is the fastest method of brewing, taking 30 seconds in total.
To conclude our module we touched on important factors that affect brewing and you can look out for to make your home coffee experience better. For example, water that is over chlorinated, beans that aren't fresh, dirty equipment and the coffee to water ratio.
It blew my mind to see the variety of brewing methods and blends available that ensure that each and every one of us coffee lovers can satisfy his or her personal taste.
---

We're looking forward to the last module in the series. If you want to get involved, contact Jane and her team. Is there a similar event happening near you, we want to know about it!

Got something to say? Then leave a comment!
---
KZN Regional Barista Championship 2013
Thursday, 23 August, 2012
25th Aug 2012
Day 3 - FINALS DAY!!
It was a day of high drama and tight finishes as the KZN Barista Regional Championships wrapped up in front of a good crowd at the Factory Cafe, Colombo in Durban.
Craig Sampson (Ciro / Lavazza) took the overall honours as the new KZN Champ, followed closely by runner up, Azah Khan (Continental Butcher, Baker Deli). In 3rd place was Samantha Moodely (Woolworths), 4th Bruce Manning (Tribeca) 5th Jamie Braun (Mokodor) and 6th Khanyisa Fica (Elangeni)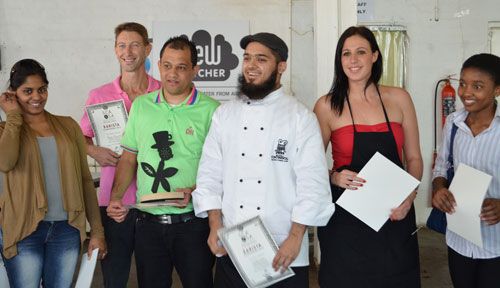 (Left to Right) Samantha, Bruce, Craig, Azah, Jamie, Khanyisa
All the speciality awards (Best Overall, Best Espresso, Best signature drink, Best cappuccino ) were shared by Samantha and Azah.

All these baristas will travel to JHB for the Nationals at the end of next month.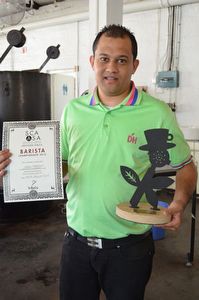 The new champ! Craig Sampson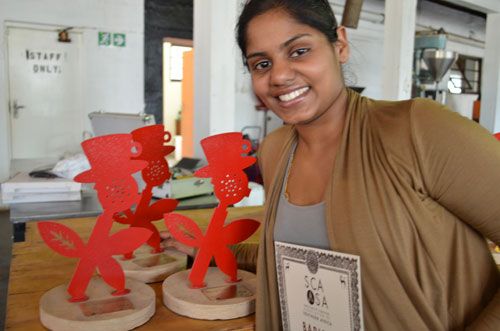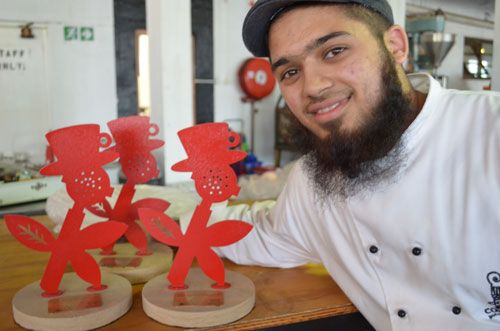 Samantha and Azah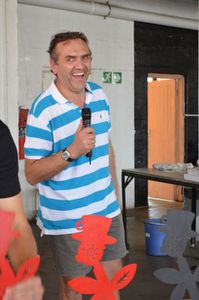 George Karatzas from SCASA at prizegiving.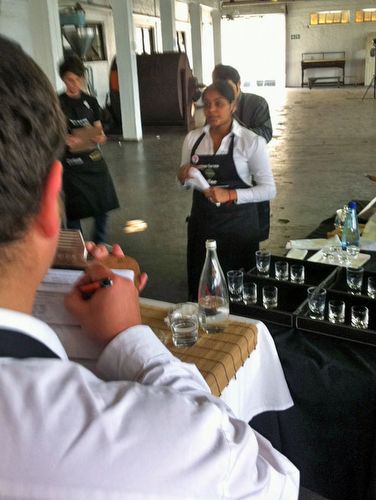 Samantha in action.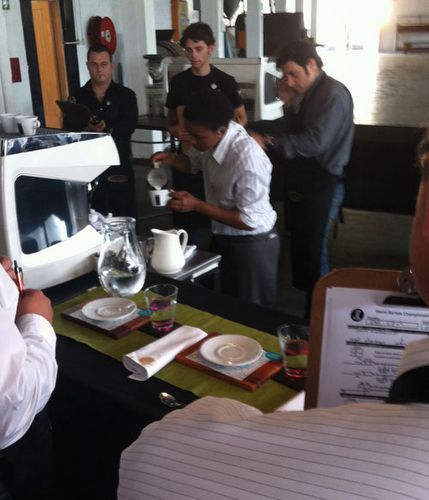 Khanyisa pouring her cappuccinos
---
24th Aug 2012
Day 2. Round 1. Inspiration comes standard.


By the beginning of Day 2, everyone was well into the groove of the competition. The baristas had seen the standard to beat and were focused and determined. The judges seemed to move a little faster. The crowd had grown as word had spread about what was happening down at The Factory Cafe. The MC, our own Iain Evans, had the spectators prepped and kept things running as smoothly as possible with a Greek and an Italian as the Head Judges and supposedly in charge.
Samantha Moodley, no stranger to the competition, got things off to a cracking start with an elegant and exciting performance. Rory Rosenberg of Bean Green Coffee Roastery weaved a story of his Burundian bean that had the judges entranced. Chris Rootman of VDP Distributors treated the judges with a smooth performance . Lindo Bhengu of Hilton Hotel kept his cool under pressure as he experienced some trouble with his grind.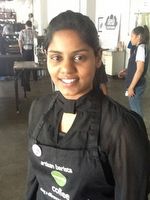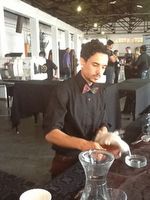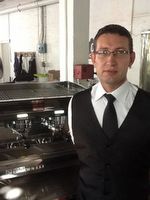 Samantha, Rory, Chris

Phumelele Nzama, oozed confidence and enthusiasm that had us all convinced this couldn't be her first time. Dayle Visser (with a strong homeground crowd cheering him on) was classy and sincere, his passion for coffee obvious. The day was rounded out by two knock-out performances from Ayanda and Khanyisa, both of The Elangeni Hotel and both having placed in the Top 6 last year, hoping to repeat that result again this year.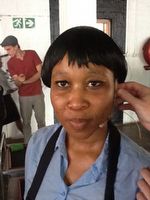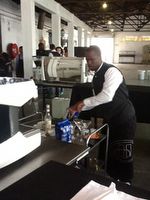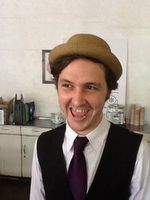 Phumelele, Lindo, Dayle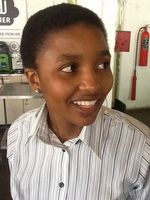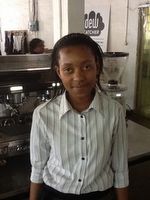 Khanyisa, Ayanda
There was an excruciating wait to hear the announcement of the Top 6, all of whom have booked their places through to the Nationals in Johannesburg at the end of September.
And then it was time. KZN's Top 6 Baristas are (in no particular order):
Samantha Moodley
Azhar Khan
Jamie Braun
Craig Sampson
Bruce Manning
Khanyisa Fika
They are competing today again to determine the order. Who will win and be crowned the KZN Champ, follow @iainevans on Twitter for updates!
---

23rd Aug 2012
Day 1. Round 1. Things are heating up.


As the espresso machines were turned on and the judges and competitors trickled into the Factory Cafe this morning, the anticipation was palpable. The KZN Barista Champs had landed. Soon International Hotel school students were being directed every which way, setting up the competition stations. The sound guy stood on the side of Magwaza Maphalala Street eagerly awaiting the mics for the baristas. The cafe was pumping out coffees at a rate of knots for their normal trade plus all the coffee industry addicts waiting for the games to get under way.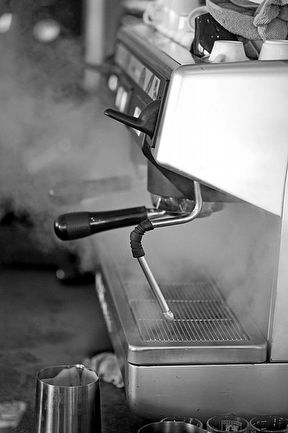 First up was the lovely Jamie Braun of Mokador Coffees. She played the floor like a pro even though she was first up and it was her first time competing. Azhar Kahn of Continental Bakery and Deli delivered his signature professional performance. Clint Singh of Nino's, also a first-timer, was passionate and slick serving up an all-african blend.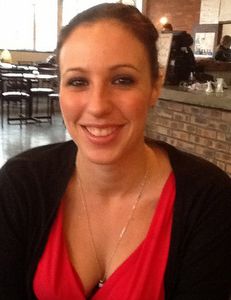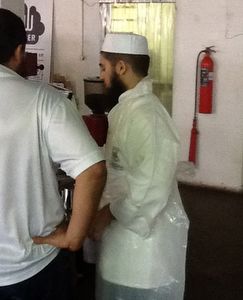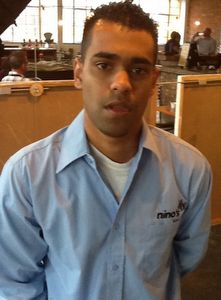 Jamie, Azhar and Clint
Craig Sampson of Ciro and Lavazza charmed his way through a set that included a very impressive set of Italian glassware in a 007-esque briefcase. Bruce Manning challenged conventional rule of thumb by playing around with some heavily roasted and oily beans in a very interesting display. Hassan Kahn has a wealth of experience and it shone through in his delivery.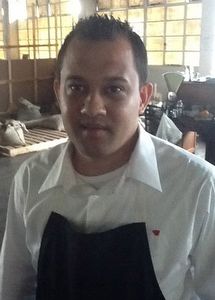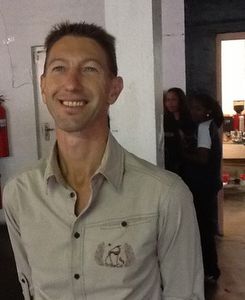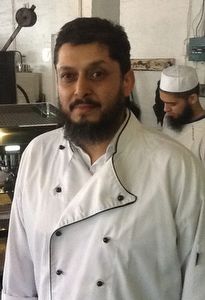 Craig, Bruce and Hassan
Ishaad Naicker delivered a lavender and saffron infused signature drink called "The roadtrip" which had the judges entranced and finally Liesl Gibson from the Hilton Hotel, also a first-time competitor flowed gracefully through her set with time to spare.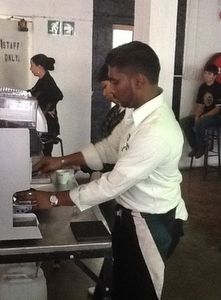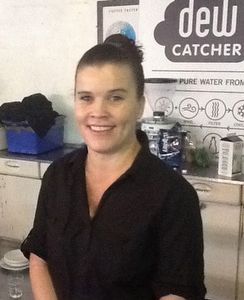 Ishaad and Liesl

The first day's competitors certainly set a high standard for the remaining baristas to follow. It all starts again at 9.30am at The Factory Cafe. Here is the line-up:

Samantha Moodley - Woolworths

Rory Rosenberg – Bean Green Coffee Roastery

Chris Rootman – VDP Distributors

Lindo Bhengu – Hilton Hotel

Phumele Nzama – Nino's

Dayle Visser – Colombo

And 2 competitors from The Elangeni Hotel

---

22nd Aug 2012

This week the KZN Regional Barista Championship will take place at Colombo Tea and Coffee.
What exactly does that mean?
The competition showcases individual barista's skill, knowledge and flair. Each competitor has 15 minutes. In that quarter of an hour, they need to make 4 espressos, 4 cappuccinos and 4 signature beverages (a coffee cocktail if you will, no alcohol allowed) on a beautiful Simonelli (pictured below). Their every move is being watched by 7 judges, 4 sensory, 2 technical and the Head Judge. No pressure.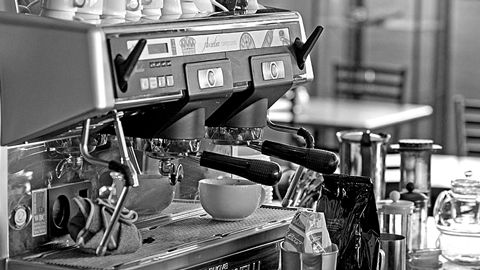 The goal is to achieve the best possible drink in each category, meeting the high World Barista Championship standards. At the same time you have entertain and explain. You can pick your own music, you can use any exotic flavours (one year there was a curried beverage in Durbs-surprisingly tasty!), but the main thing here is your knowledge of the coffee beans. Did the barista use the bean to the best of it's ability? That knowledge only comes from experience and to see the top guys in action is truly inspirational!

The baristas will need to draw inspiration from their coffee surroundings to produce a performance worthy of taking them through to the Nationals in September and then hopefully, Down Under. Yes, the 2013 World Barista Championships will held in Melbourne, Australia, a world leader in coffee culture, with a specialty coffee shop and micro-roastery on every corner, watch the Star Wars (I kid you not) promo here.

If you are a barista in Melbourne, you are a god.

2013 World Barista Championship & 2013 World Brewers Cup from World Coffee Events on Vimeo.


Support your local barista!
Come down to The Factory Cafe, sip on a delicious coffee and watch the baristas in action.
Thursday 23rd: Round 1
Friday 24th: Completion of Round One.

Saturday 25th: Finals (Top 6)
Got something to say? Then leave a comment!
---
InFood Coffee Society
Tuesday, 21 August, 2012

All words and images by Deon Lategan.
JBay. Quantity surveyor. Supers local. Coffee enthusiast.

---

This was the first of three coffee appreciation modules, and it got right down to the nitty gritty of one of the main reasons we love coffee: the taste. To be honest, going in, I had visions of us slowly sipping back expertly brewed cappuccinos all night and giving each other little nods of approval, coupled with semi pompous banter. I was way off.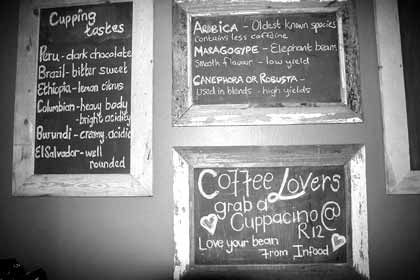 Our experts Deidre and Claire, from Sumatran Premium Coffee, threw us straight into some tasting, but not with coffee, with warm water flavours. We tasted everything from dark chocolate to raw potatoes to garlic to lime, it ended up being a good warm-up for the tastebuds.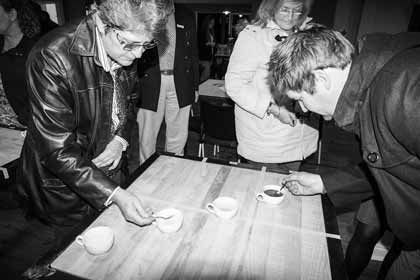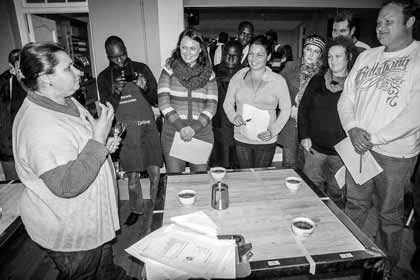 After some really informative information on what effects the taste of coffee, we finally got to taste some. In the form of cupping, we compared an Ethiopian Sidamo with a Guatemalan single origin. We could not only pick up on various differences between the two, but were amazed by the changes in flavours as the same brews sat. We also learned a useful excuse for slurping - you're actually supposed to slurp the coffee to get the best overall flavour – so slurp away.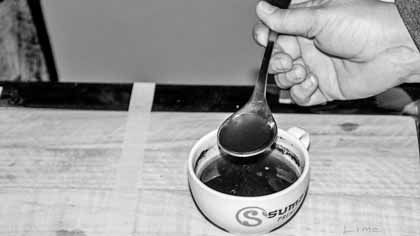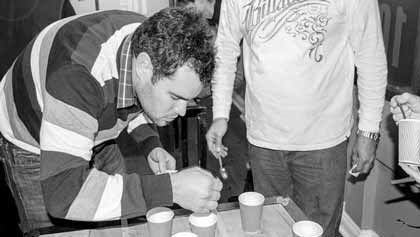 Next up, our noses were put through their paces with some aroma comparisons. We fared very well, and I for one was feeling rather upbeat going into the final challenge: a simple "odd cup out" test. Not so simple. I realised I still had l a while to go to becoming an expert.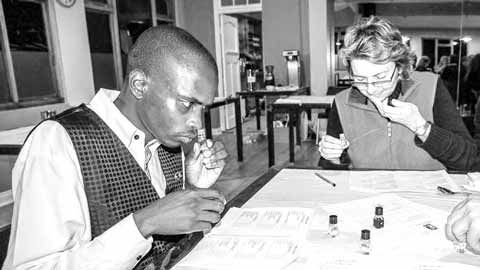 This very informative evening finished off with a bit of Q&A and some of Infood's delicious Lasagne and Salads.

Although I have by no means been transformed into the coffee guru I was optimistically hoping to become, I still learned so much. Now with each cup of coffee, I'll be searching for those various flavours and aromas instead of the current "this is nice", and in that way I'm appreciating my coffee experiences more.

---
The next leg of the coffee instruction course is on the 4th of September and focuses on different brewing methods. If you would like to attend, check out InFood's really cool website (http//infood.co.za/coffee/) to book your spot.
Something interesting happening with coffee at your local?
Got something to say? Then leave a comment!