Eastern Cape Champions announced!
Friday, 26 July, 2013
Here in the Gourmet Garage at the Homemakers Expo, the creme de la creme of the Eastern Cape baristas have delighted and enthralled us this weekend from handmade coconut ice cream to stage fright to scoring debacles to the amazing Angeline McLagan to klein melk terts and an enthusiastic PE crowd.
We have been streaming the action live, here is the announcement:
Congratulations to the Eastern Cape Champions!
Barista Champion: Donovan McLagan - Urban Espress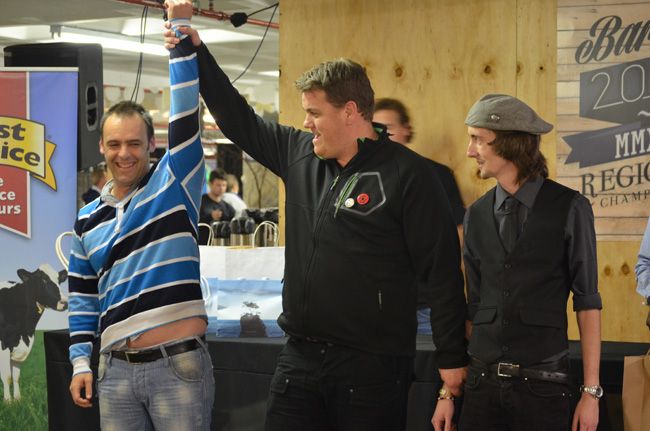 The moment of glory!!


Latte Art Champion: Siya Tyumre - Woolworths/Tribeca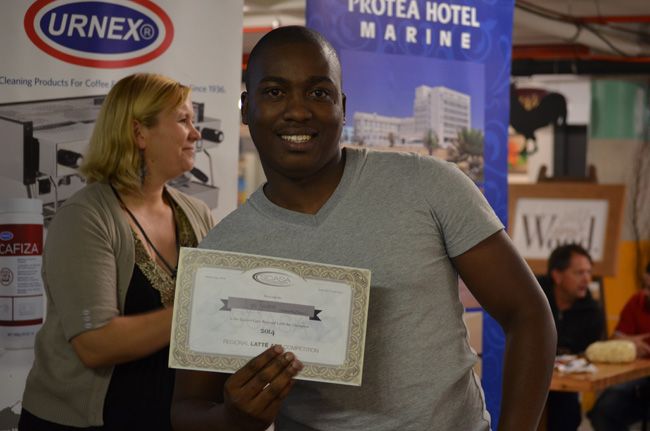 Cup Tasters Champion: Simpiwe Adams - Kaffeine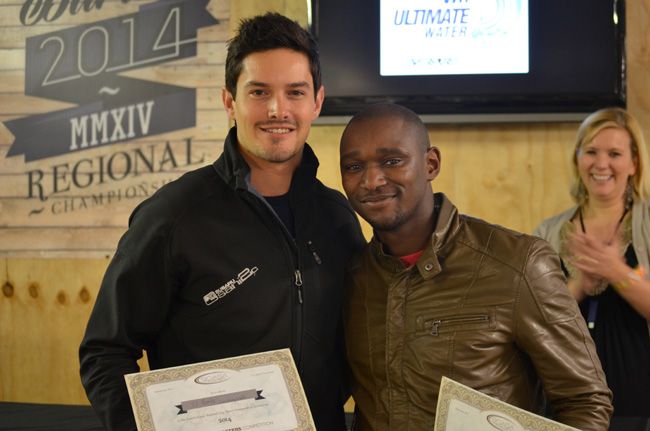 Runner up JJ Maritz and the Cup Tasters Champ, Simpiwe!
Big thank yous to all the judges who give of their time and palates with little reward (other than delicious coffees). The Barista Daddy Shaun Aupiais who looked after all the baristas behind the scenes. Gino, the MC for the event. Donovan McLagan for building tables to put beneath the beautiful Simonelli T3. To the sponsors, without which their wouldn't be the opportunity for these passionate baristas to get to the World Barista Championships. Thank you to VDP Distributors for sponsoring the Live streaming of this event, f
ollow us here to get live updates
at our events. And last but certainly not least, thank you to Angeline McLagan, wonder woman, event organiser and giver of the best hugs!
All of the Top 6 of the Barista Champs will go through to the Nationals in Joburg at The Good Food and Wine Show 21-24 September. Those Baristas are:
1. Donovan McLagan
2. Byron Keet
3. Joe Tewa
4. Vitalis "Victor" Mandinenga - InFood
5. Zuko Ntuntwana - Wimpy Boardwalk
6. Roberta Jusson - Lavender Blue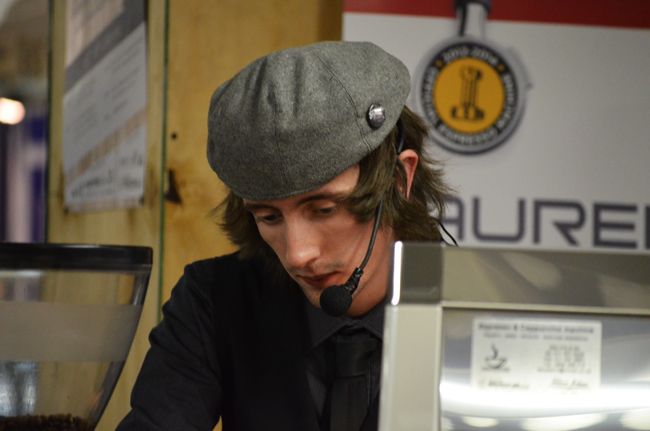 Byron Keet - The Friendly Stranger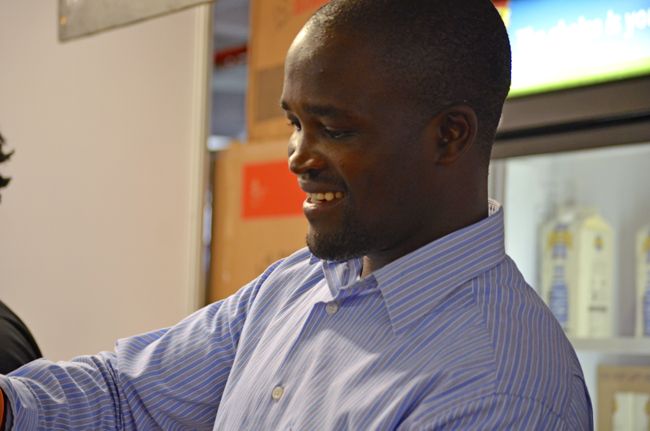 Joe Tewa - Urban Espress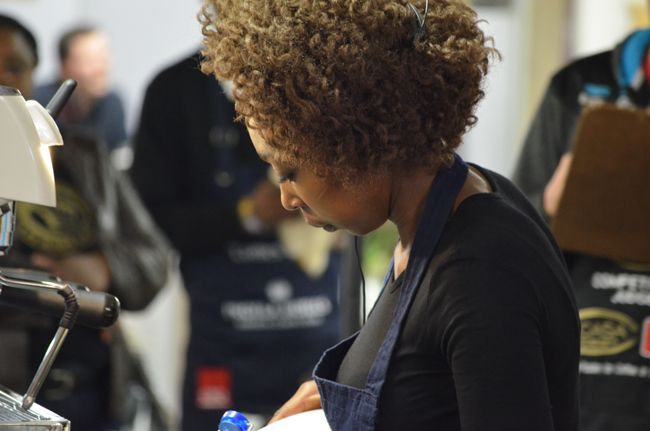 Zuko - Wimpy Boardwalk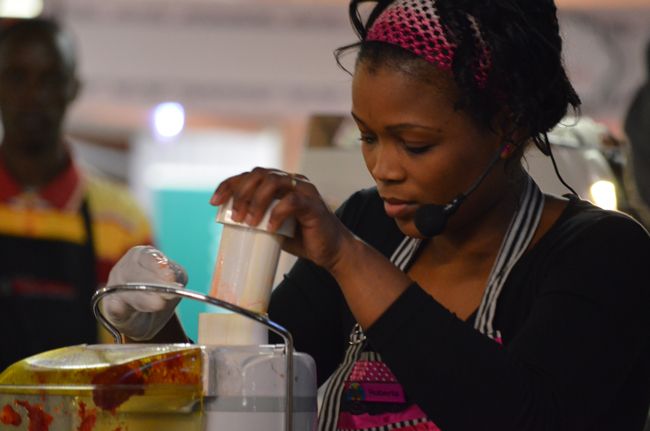 6. Roberta Jusson - Lavender Blue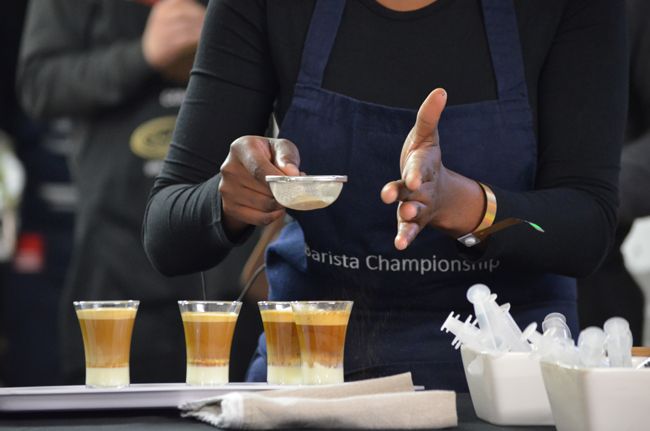 The Deconstructed Milk Tart by Zuko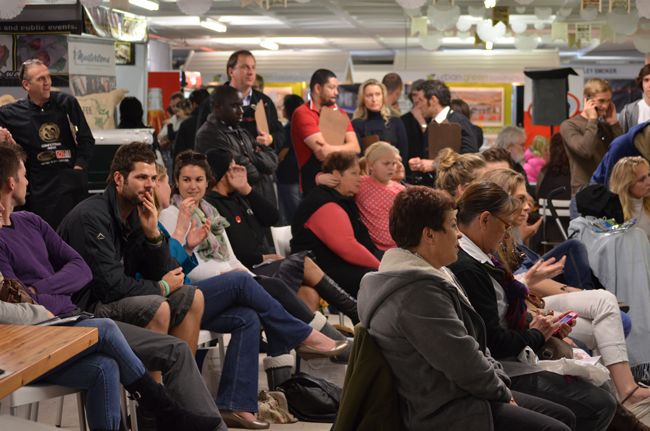 The competition was well supported by the PE coffee enthusiasts.

Tomorrow is the Aeropress champs.
Got something to say? Then leave a comment!
---
Eastern Cape Regionals LIVE
Thursday, 25 July, 2013
This is happening now! And we are here to cover it!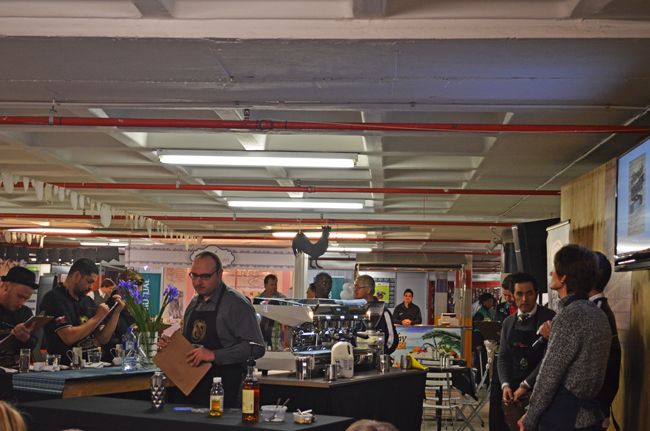 Follow the link to get live updates! This is the first time there has been LIVE streaming of any SA competition, be part of the start.
Got something to say? Then leave a comment!
---
KZN Barista Social!
Tuesday, 9 July, 2013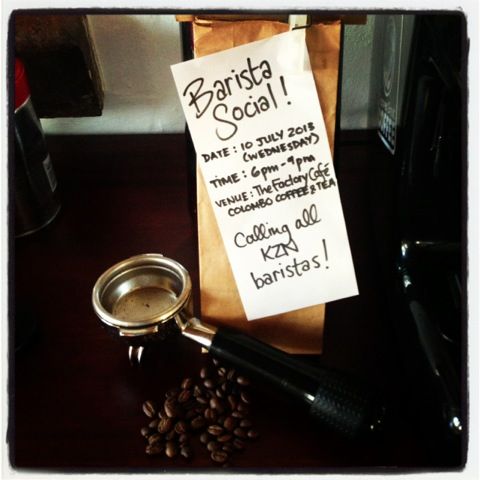 We had a fantastic turn out at the Barista Social held at Colombo Coffee and Tea.
This is what went down...
Thank you to Kyle and Sarah for hosting us, to Iain for organising the projector and guiding us through the evening, to Kyle and Bernard for imparting their knowledge and to Pauline, our Barista Mama, for handling registration. There are lots of new faces keen to compete this year which is really encouraging to see, thank you to all the baristas for their enthusiasm!
If you want to check out the full Prepfest video that we used as a fun introduction,
click here.
And if you want to see a barista champion in action definitely watch Pete Licata.
If you want more information about competing please get in contact!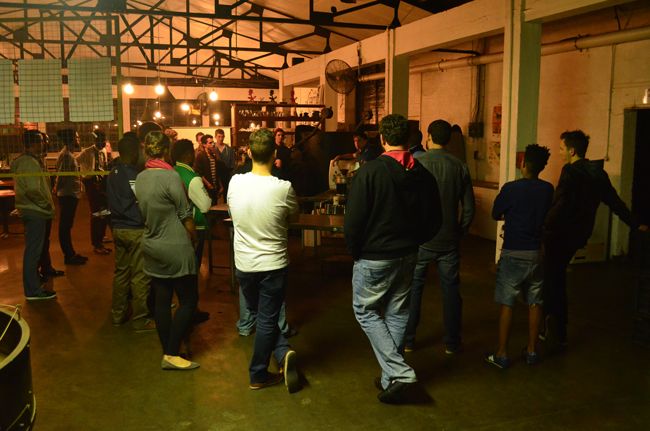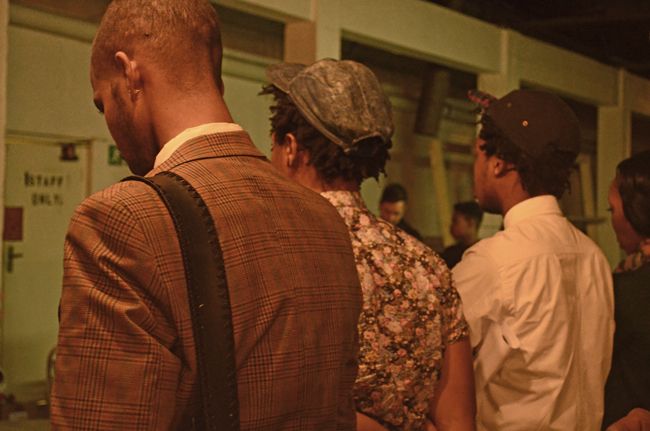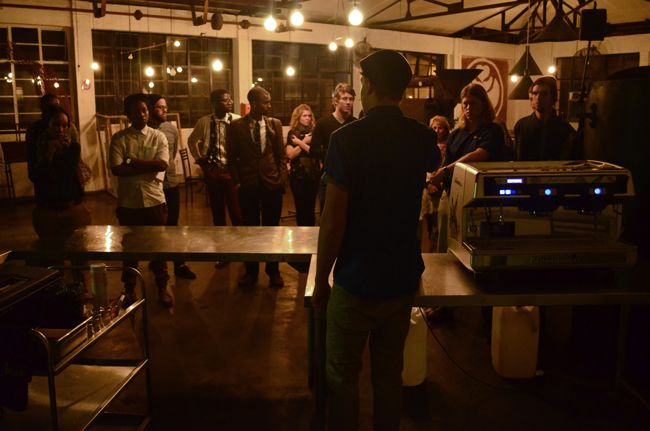 Got something to say? Then leave a comment!
---
Rimini 2014
Tuesday, 9 July, 2013
It was announced today that the 2014 World Barista Championships will be held in the coastal Italian town of Rimini at the World of Coffee Expo. And the Italians know how to do things...

See what I mean? The baristas are in for a treat of Italian decadence and tradition. The SA Nationals hosted by SCASA at The Good Food & Wine Show will be fiercely contested with a trip to Italy to perform on the world stage up for grabs!
The Gauteng and Western Cape Regionals have already taken place. We have 12 worthy baristas in the mix so far, Eastern Cape will show what they're made of at the Home Makers Expo from 25th-28th July and the KZN comp is at The Good Food & Wine Show 8-11 August.
For more information on these events, keep in touch with us! For details on how to become a member of SCASA and get your favourite baristas involved contact Amanda at amanda@imbizi.co.za.
If you liked this article, then you may also like these:
Got something to say? Then leave a comment!
---
Coffee and Chocolate Expo
Friday, 5 July, 2013
Win tickets to the most indulgent event in South Africa with TheCoffeeMag and the Coffee and Chocolate Expo!

In 2 weeks time the first
Coffee & Chocolate Expo
in South Africa is happening! Interest has been overwhelming, forcing the organisers to change venue to accommodate the demand from all the finest coffee and chocolate businesses in the land! Just picture it, Montecasino in Fourways, Sandton will host everything remotely Coffee or Chocolate related and you can be there to taste it!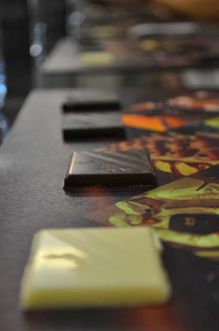 A square of chocolate a day...is not enough!!!
The pairing of coffee and chocolate is an interesting one indeed, we did a whole experiment with these two delicious ingredients in Issue 3 of TheCoffeeMag with a host of excellent coffee roasters in Cape Town, including Union Hand Roasted, Kiara Coffee Roasters, Tribe Coffee and Legado Coffee Roasters and the team from Lindt.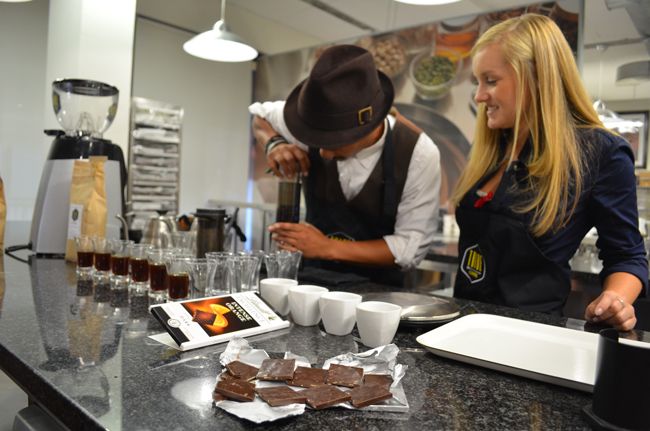 Here Adrian and Kate of Tribe Coffee pair a Nicaraguan bean with Lindt Intense Orange Chocolate.
TheCoffeeMag will be there getting into the spirit of things and joining in the tasting fun, as well as signing up subscribers and giving away a few goodies of our own! We can't wait! The Expo runs from 10h00 - 18h00 each day, that is a lot of hours of sensational experiences :)
Ticket Prices
Friday: R100 each
Saturday & Sunday: R120 pre-booked
At the door: R150
Children under 3: Free
Children age 3 – 16 and pensioners: R80.
You can go
book here
, do it, do it!
And if you like TheCoffeeMag on
Facebook
or follow us on
Twitter
(or if you've already done that leave a comment for us), you could win one of three sets of double tickets to the event, on your choice of day, Friday, Saturday or Sunday. We will announce the winners next week Thursday!
Got something to say? Then leave a comment!
---
Aeropress Championships!
Wednesday, 3 July, 2013
By David Coleman (Current Western Cape Barista Champ)
---
Young up and coming coffee fiend Rodrick Nzirainengwe (Union Hand Roasted Coffee) took top honours at the Cape AeroPress Flavour Championships hosted by Truth Coffee and More Flavour (distributors of the famous AeroPress).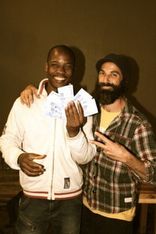 Rodrick pipped finalists Wayne Oberholzer (SA 2012 Barista Champ) and Khanyiso Dunisana (Bean There Cape Town roaster) to claim the R1000 jackpot prize.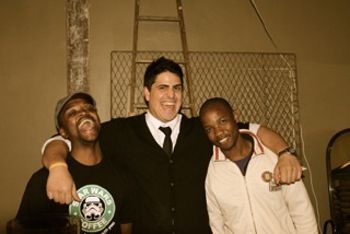 Gerald Charles (head judge and roaster): "Roddy's recipe delivered all the flavour characteristics we look for in my Ethiopian Yergacheffe. Caramelized sugar, lemon and lime acidity, and a balanced ginger and bergamot bitterness. And very important, a clean cup is what you expect from an AeroPress. The winning coffee had all of these and deserved the jackpot."

Roddy's Wining recipe:
Dosage: 20g coffee
Water: 225g
Grind: Filter if you are using a ditting grinder but a little bit finer,
Temp: 90 degrees
Brew Time: 1min30
Notes: Because we were using a very sweet ginger, lemon and citrus coffee, I wanted to brew very gently and calm so i first poured 150g of water, and stir right from the bottom going up to the middle until I get a shiny glassy golden yellowish creamer on top. Then pour another 75g of water to top it up. Stirring will help u get that very clean end cup.
The Aeropress Flavour Championship tour now moves to PE, 28th July, KZN mid August and finally Gauteng in September. To enter any of these events email
please@moreflavour.co.za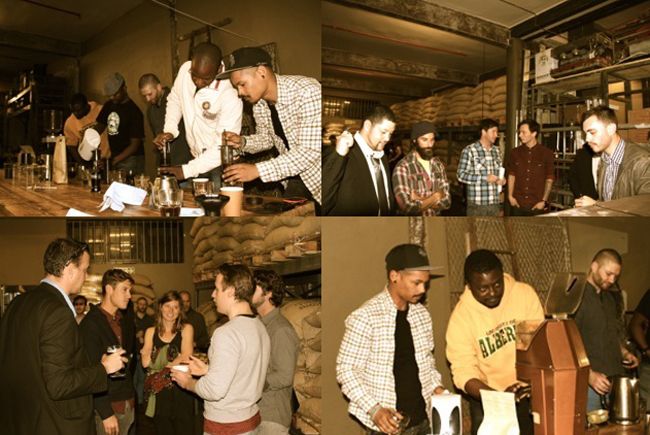 Got something to say? Then leave a comment!
---
TheCoffeeMag at the Mr Price Pro
Monday, 1 July, 2013
This week sees the inaugural food and wine exhibition at the Mr Price Pro at La Montagne resort running 2nd, 3rd, 4th July.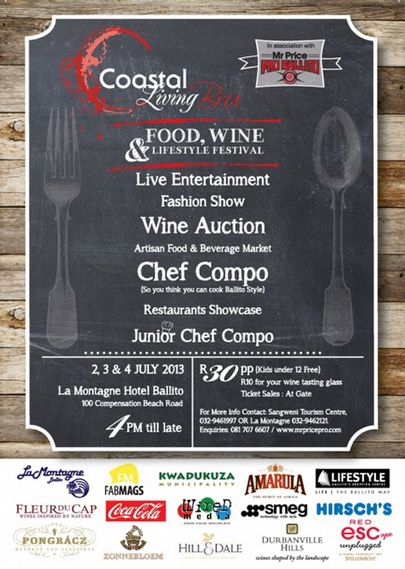 "We are very excited to be expediting the inaugural Coastal Living Bru Food & Wine Lifestyle Festival, and showcasing the best the North Coast region has to offer in the way of local produce and fine cuisine. Our programme is bursting with an assortment of activities that will tanalise the taste buds and promote South African artestry to its best."
KwaDukuza municipality events co-ordinator, Collette Bundy
There is going to a lot going on, with a packed schedule of deliciousness planned across the three days, but we are especially excited about the coffee section!
We will be there to show you the wonders of coffee! Find out about different methods of brewing coffee, sign up to receive a quarterly edition of
TheCoffeeMag,
download the
Discover Great Coffee App
, hear about our Discover Great Coffee Club. There will be demonstrators showing off home espresso machines from De Longhi.
There will be baristas on hand to pour latte art and tell you their special tips and tricks for making the best coffee. KZN Barista Champ 2012 Craig Sampson will be there, bringing with him some of his best Lavazza coffee. The boys from Colombo Coffee and Tea are getting involved (rated Cafe Society Number 1) and Rory from Bean Green Coffee will also be there. We're even getting the surfers involved!
There will be fun caffeinated competitions running and coffee beans up for grabs.
So come find the coffee festival for a cup of coffee on us, and a chat that will change the way you think about coffee!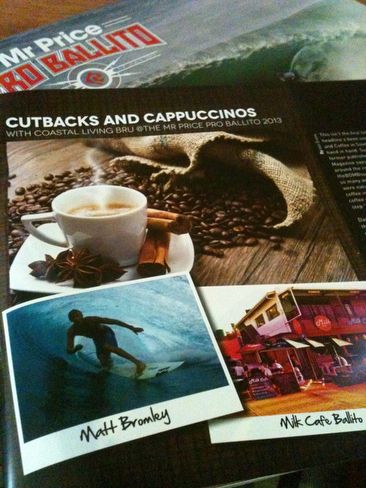 We can't wait to see you there between 3pm and 9pm each evening! For more information on the Coastal Living Bru event,
click here!
---
Got something to say? Then leave a comment!
---
SCASA Champions!
Monday, 27 May, 2013
Three new Western Cape Barista SCASA Coffee Competition Champions were named today at the Cape Town Good Food & Wine Show, after 4 days of grueling competition in front of an expectant crowd.
David Coleman, the self-proclaimed dark horse of the competition, from Ours Café in Kalk Bay won the main Barista Championship title. Head judge Alessandro Morricco said, "He's still a bushman and he needs a shave, but he embodies all the best of what specialty coffee should be. He really cares about coffee and he was the best man on the day."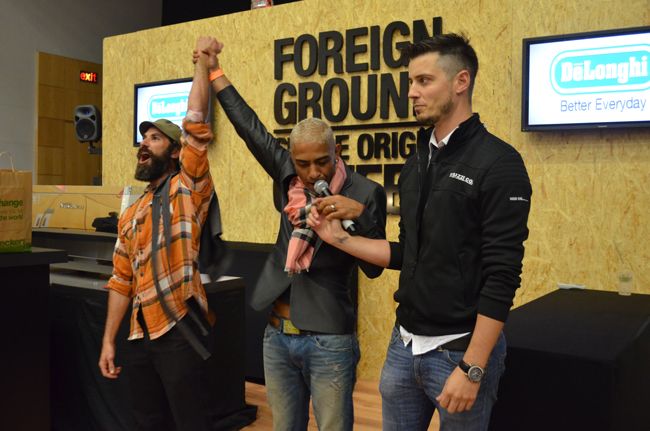 The announcement was met with jubilation!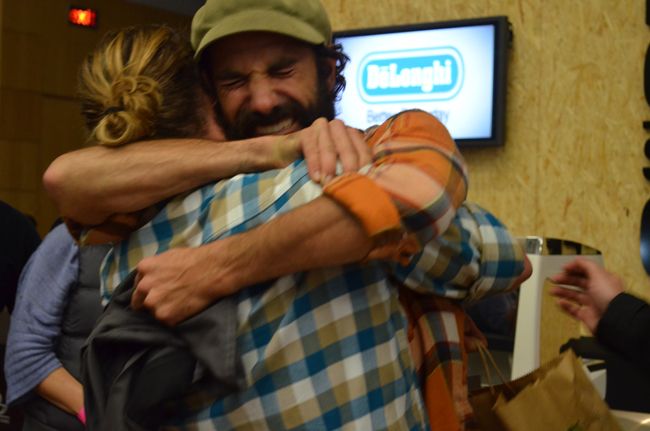 This is a tight knit community and all the baristas were extremely happy for their champion. It was emotional!
Tyrone Bester from Global Coffee won the Cup Tasters title. He and Charlie Pass also of Global Coffee made it through to the Cup Tasters final.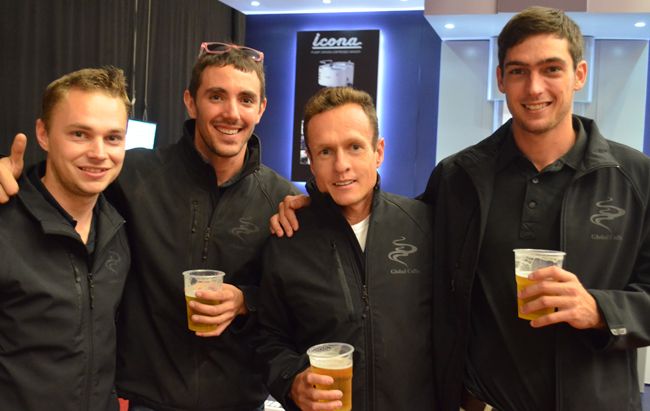 Tyrone, Wesley, Oli and Charlie of Global Coffee, celebrating their colleague's victory with a well deserved beer.
Luyolo from Hazz Café (Stellenbosch) won the Latte Art title, after wowing the judges with his perfectly identical and beautiful caffeinated artworks, seen below.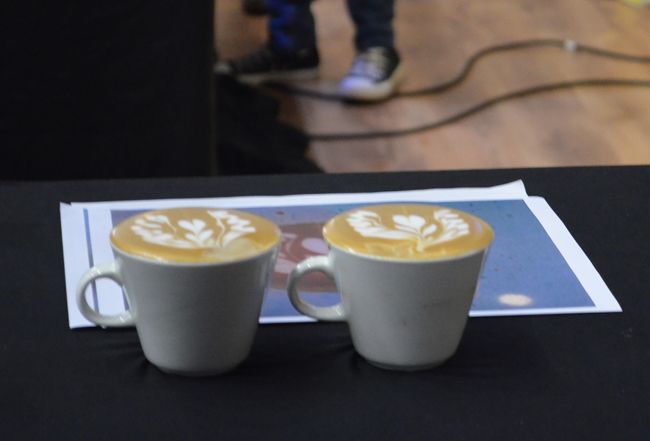 The top 6 of the barista, top 2 cup tasters and top 2 Latte Art finalists from this Western Cape competition, advance to the National Finals to be held in Johannesburg in September to compete against the rest of the Regional finalist for the National Barista Championship title. The winner of the National Title competes at the World Title event in Italy in 2014.
Meet the Top 6 Baristas here, just after giving their all in their final performance:
Bilbo Steyn was awarded Best Cappuccino and Best Technical during the First Round. Rodreck Nzirainegwe won Best Espresso, Best Signature and Best Overall from Round 1.
A big thank you to all the judges who gave of their time to taste hundreds of coffees and score these baristi, so that they can pursue their dreams.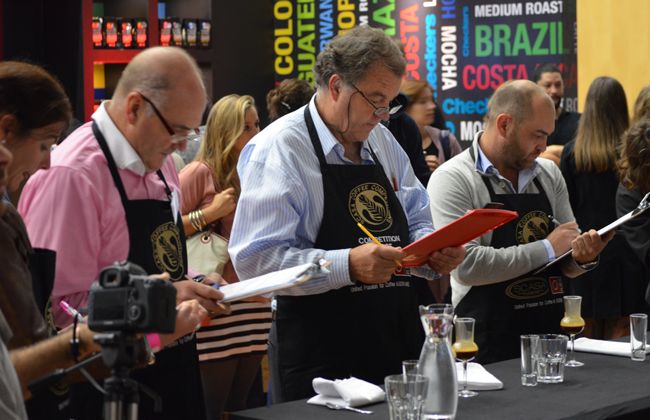 Special mention must be made of Gerald Charles who stepped up to the plate and worked logistical miracles to keep the competition running smoothly and supported each barista through their journey with care and consideration. Thank you Gerald! You are a legend!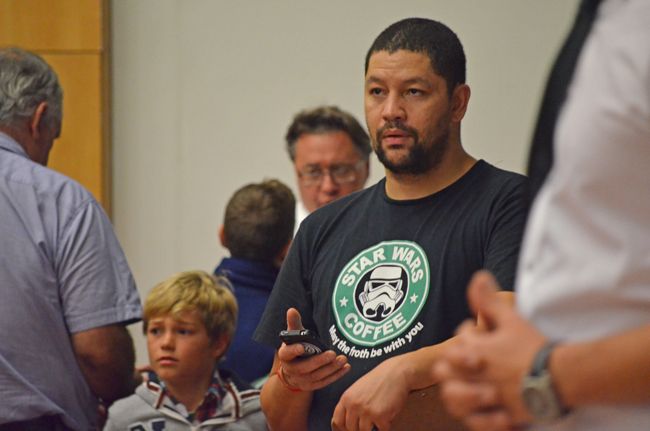 If you liked this article, then you may also like these:
Got something to say? Then leave a comment!